Ziplock Pickled Vegetables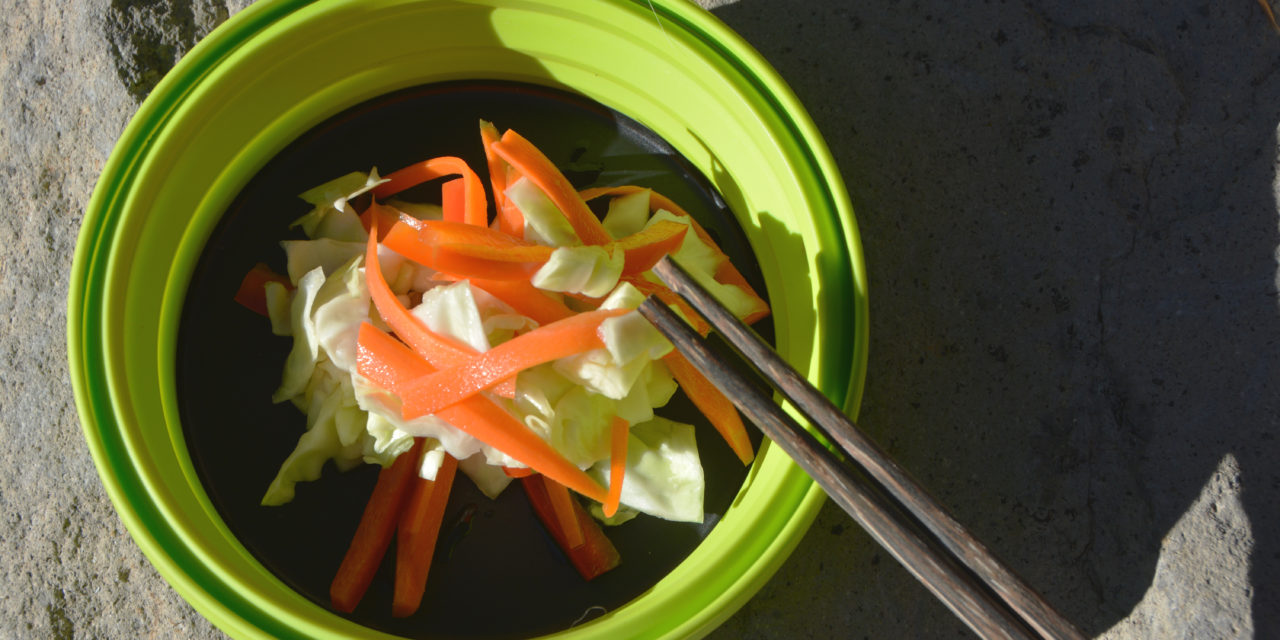 Packing fresh ingredients on long trips can be difficult since most fruits and vegetables spoil quickly or are too heavy to carry. Preserve your perishables with ziplock pickling.  Pickling is a method of preservation by filling a vegetable with acidity, which discourages the growth of bacteria.
HOW TO PICKLE VEGETABLES
Trail pickling might sound like a wild idea, but Ziplock Pickling is a creative way to preserve vegetables in the backcountry.  If done in small batches using light vegetables, you can keep the weight of each pickled bag minimal.  The bags are easy to pack and will last for a week if stored properly.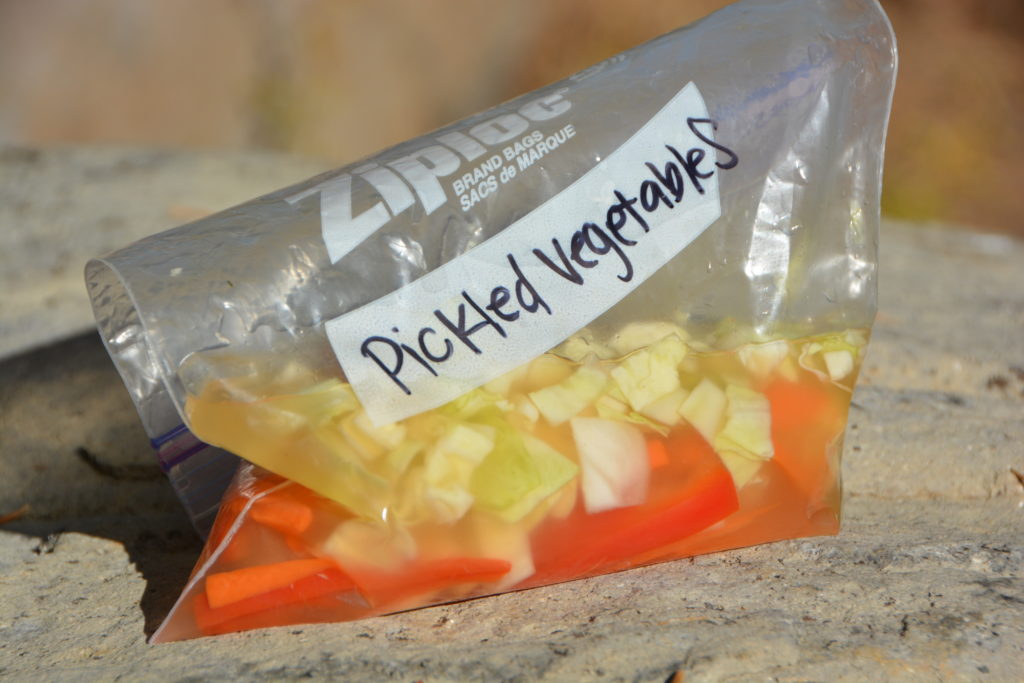 Which vinegar to use when pickling
Use any type of vinegar with at least 5% acid.  Three of the most common pickling vinegars are:
White Wine Vinegar – mild, moderately tangy
Balsamic Vinegar – intense flavor, concentrated dark color
Apple Cider Vinegar – mellow, fruity flavor
For trail pickling we recommend Bragg's Organic Apple Cider Vinegar because it contains vitamins C, E, A, B1, B2, B6, as well as beta-carotene and bioflavanoids. In addition to its excellent potassium supply, apple cider vinegar also contains trace minerals including calcium, magnesium, phosphorus, boron, – all important in the formation and maintenance of strong, dense bone structure.
Apple Cider Vinegar benefits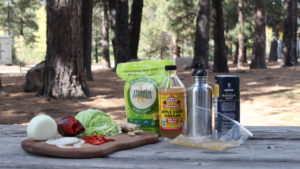 Apple cider vinegar (ACV) is a wildly popular tonic with many reported health benefits that could be beneficial when traveling in the backcountry.  After eating your preserved vegetables, mix the pickling juice with water or drink straight for a rehydrating trail elixir.
Want a fantastic recipe to pair with pickled vegetables? Check out our Ultralight Asian Peanut Noodles
Trail Pickling Recipe
To pickle on the trail all you need is water, vinegar, salt, sugar, 2 tight sealing bags, and your favorite fruits and vegetables.  At home or at a campsite combine ingredients (recipe listed below) into a bag and remove all air.  This is a very important step, because air causes bacteria growth.  Once you open the bag and expose the contents to the air the pickling process is over – you cannot re-seal the bag and keep preserving.  When the seal is broke eat all of the contents within a few hours.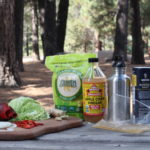 Trail Pickled Slaw
Pickled coleslaw made in a ziplock bag
Ingredients
1/4

bag

Coleslaw Mix

1/2

cup

Apple Cider Vinegar

1/2

cup

Water

1

tsp

Kosher Salt

1

tsp

Sugar
Instructions
Mix vinegar, water, salt and sugar and pour into a Ziplock Bag

Add coleslaw mix. Squeeze ALL air from the bag and tightly seal. Make sure that all pieces of the coleslaw mix are submerged in liquid to prevent bacteria growth. Tightly seal

Double bag and tightly seal to prevent any leakage

On the trail open the bags - use pickled slaw as a topping or eat plain for a refreshing treat. Drink the pickling juice straight or mix with water.
Recipe Notes
Coleslaw mix can be found in the salad isle of most grocery stores.