Beach Ceviche
Make your next trip to the beach delicious with easy to make Ceviche.  This is a great recipe for anglers, beach goers, and there is even a backcountry version listed below for long distance trail sports.  Watch how we make Ceviche at the beach using fresh fish and shrimp, and save our recipe below for a refreshing afternoon snack.

What is Ceviche?
Ceviche is a raw fish dish that is cooked using the juice of citrus. Citric acid changes the fish's proteins and alters the physical and chemical properties.  This process, called denaturation, turns the flesh white and firm, similarly to how that the fish would look if cooked over heat.
Ceviche originated among the Incas, but has since evolved into many styles; each with different spices, citrus and salsas.  You can find a local variation of Ceviche in many coastal Central and South American towns.  However, the most important factor when making and buying this meal is to ALWAYS use fresh fish!  Citrus does not kill bacteria the same way that heat does, so it's important to be extra careful when choosing the freshest fish.
Looking for easy to pack beach snacks? These are our top 5 beach snacks.
How to choose fresh fish
Worried about buying fish?  If you see a beautiful fish sitting in an ice bath, but it's been in the sun all day is it okay to eat?  Follow this link for fish freshness tips and pictures from ChefSteps.com so you can make an educated decision when you purchase fish.
Backcountry Ceviche Recipe
There are two ways to make Ceviche in the backcountry.  1: Catch fresh fish or 2: bring canned fish.  If you're relying on fresh fish, it never hurts to have some canned fish on hand just in case.  For an ultralight version, make the canned fish recipe at home, dehydrate, then re-hydrate on the trail.  The backcountry recipe listed below is a lightweight and long-distance variation to the traditional fresh fish ceviche.
———————————————————————————————————————————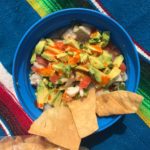 Ceviche
Raw fresh fish that is cooked using citrus juice.
Cuisine:
Mexican, Stoveless
Ingredients
Fresh Fish Ceviche
1

fillet

fresh raw Fish

5

medium

fresh & cleaned raw Shrimp

4

Limes

2

cups

Pico de Gallo Salsa

1

tsp

Tajin Seasoning

1

Avocado

8

dashes

Tapatio Hot Sauce

1

bag

Tortilla Chips
Backcountry Ceviche
1

can

Sustainably Caught Fish

1/4

tsp

Citric Acid

1/2

tsp

Water

1

tsp

Tajin Seasoning

2

packets

Tapatio Sauce

1

handfull

Tortilla Chips or Crackers
Instructions
Fresh Fish Ceviche
Clean and de-bone fish and *shrimp, then chop into quarter-sized pieces. Add pieces of fish to your tight sealing bag or container.

*The shrimp is optional in this recipe, and can be substituted with an additional fillet of white fish, or scallops. For inland anglers, fresh trout works great for ceviche.

Half the limes and squeeze the juice into the bag. Add two cups of Pico de Gallo salsa. Sprinkle in 1 tsp Tajin Seasoning.

Seal the bag, and using your hands, gently massage the ingredients until everything is mixed evenly. Store bag in cooler with ample amounts of ice, and let 'cook' for 20 minutes.

After 20 minutes check to see if the color of the fish has changed. When the flesh of all the pieces of fish and shrimp have turned white the Ceviche is ready. If the inside of the pieces of fish is too raw for your liking, keep cooking for an additional 15 minutes.

Garnish with avocado and Tapatio hot sauce, and serve with tortilla chips.
Backcountry Ceviche
Mix 1/4 tsp citric acid with 1/2 tbsp water in a bowl or pot. Add 1 can fish*, 1 tsp Tajin Seasoning, and 2 packets of Tapatio Hot Sauce.

*Canned fish can be sardines, tuna, salmon....whatever your preference is. But make sure you buy unflavored canned fish.

Stir ingredients together and serve with tortilla chips or crackers.

*The backcountry version of ceviche is not an authentic ceviche since the canned fish is already pre-cooked. The goal with this meal is to bring some familiar flavors to a backcountry staple.
Emerging Sports TV
This recipe can be seen on Emerging Sports TV episode 203 "Alone Together in Paradise".  Check out Emerging Sports TV for event coverage, athlete profiles and the "3rd wave of Sports Broadcasting".
The Space Cartel
Original music for this episode was composed and performed by Denver based band, "The Space Cartel".  Check them out on SoundCloud for more great songs!