Outdoor Enchiladas
Bring a fiesta into the backcountry with this easy to make recipe for Enchiladas Verde!  The ingredients are pack friendly and will last many days without refrigeration.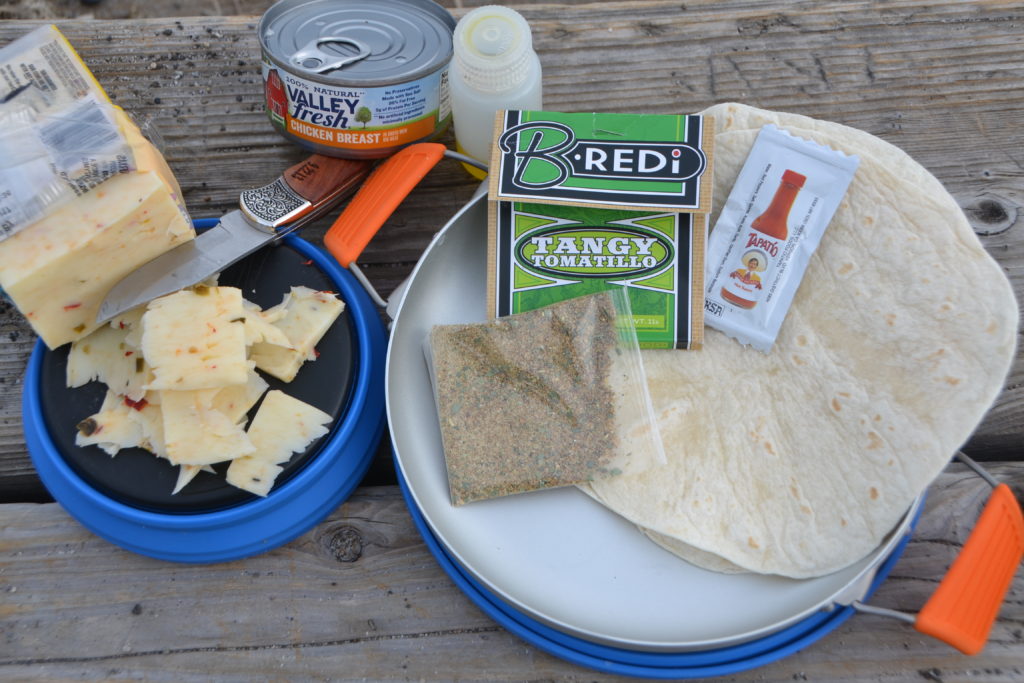 Outdoor enchiladas?
Enchiladas are tortillas wrapped around a savory filling, that is topped with sauce and then baked.  This traditional Mexican food can be filled with a variety of ingredients including meats, cheese, potatoes, beans, vegetables, seafood, or any combination.  The sauce that covers the enchiladas infuses delightful flavors into the tortilla and adds the vibrant spices which make this meal positively delightful.
Enchilada sauce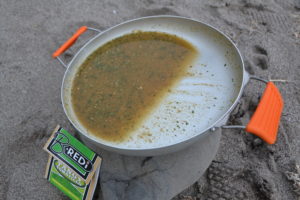 A challenge with making a great enchilada is finding the right sauce; which can be difficult when cooking trailside since few enchilada sauces are easy to store in a backpack.
Thankfully one brand took their famous salsa recipe and dehydrated it!  B.Redi Salsas from Oregon taste outstanding and they have been around for over 25 years.  Customers began asking for a dehydrated salsa to use for camping, sporting events or to keep on hand at home, and B.Redi responded with three delicious salsa flavors.
Can't get enough Mexican food? Check out this authentic trail recipe for Carnitas Tacos
The 4th day meal
We like to consider our enchiladas the "4th day meal" because they still taste great near the end of a multiple day trip.  Enchiladas are easy to pack, store, and carry; and the ingredients last weeks without refrigeration.
This recipe can be prepared on any backcountry stove with low heat.  In case you are out of fuel by the 4th day, no problem, you can still enjoy enchiladas cold.
The Adventure Sports Podcast
Check out this episode of The Adventure Sports Podcast for step by step instructions on how to make backcountry enchiladas!  On this episode Curt Linville interviewed Michelle Shea on what inspired this recipe, and why its a home run meal that you won't want to miss!
—————————————————————————————————————————–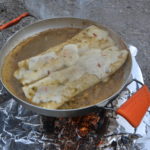 Enchiladas Verde
Use dehydrated B.Redi Salsas to make enchiladas in the great outdoors.
Cuisine:
Mexican, One Pot
Ingredients
1

package

B. Redi Tangy Tomatillo

1

cup

Water

1

tbsp

Olive Oil

1

can

Chicken

2

cup

Cheese

4

Flour Tortillas
Instructions
Empty B.Redi Salsa into cooking pot, add one cup of water and stir together using spoon or knife.

Pour salsa into cup and set aside while you prep the tortillas.

Add 1 tablespoon Olive Oil to the bottom of the pan. Use to coat bottom to prevent sticking.

Slice and chop cheese into small, thin pieces. Lay a tortilla flat on a clean surface (or hold in hand) and add a line of cheese, chicken and light salsa. Fold the right side of the tortilla over to the left side, then tuck and roll. The roll secures the cheese, chicken and salsa inside of the tortilla.

Take rolled tortilla and place on pot with the opening on the bottom. Repeat stuff, tuck and roll 3 more times.

Pour remaining salsa back into pot over the rolled tortillas. Top each tortilla with a line of cheese. Cover pot with lid or aluminum foil. Cook at a medium temperature for 15 minutes, or until the cheese on top is thoroughly melted.

For minimal clean-up eat directly out of pot. Always clean up any mess and remember to Leave No Trace!