Healthy Vegetarian Couscous
Trail Maven's CEO and Chief Maven, Sasha Cox, knows what goes into making a great meal in the backcountry.  Sasha leads groups of dynamic women on camping and hiking adventures throughout California's wilderness. On Trail Mavens trips Sasha empowers "urban women" by teaching basic camping and backcountry survival skills, and of course, she also teaches the culinary art of backcountry cooking!
How to make Nutty Veggie Couscous, a one-pot backcountry recipe with Trail Maven's Sasha Cox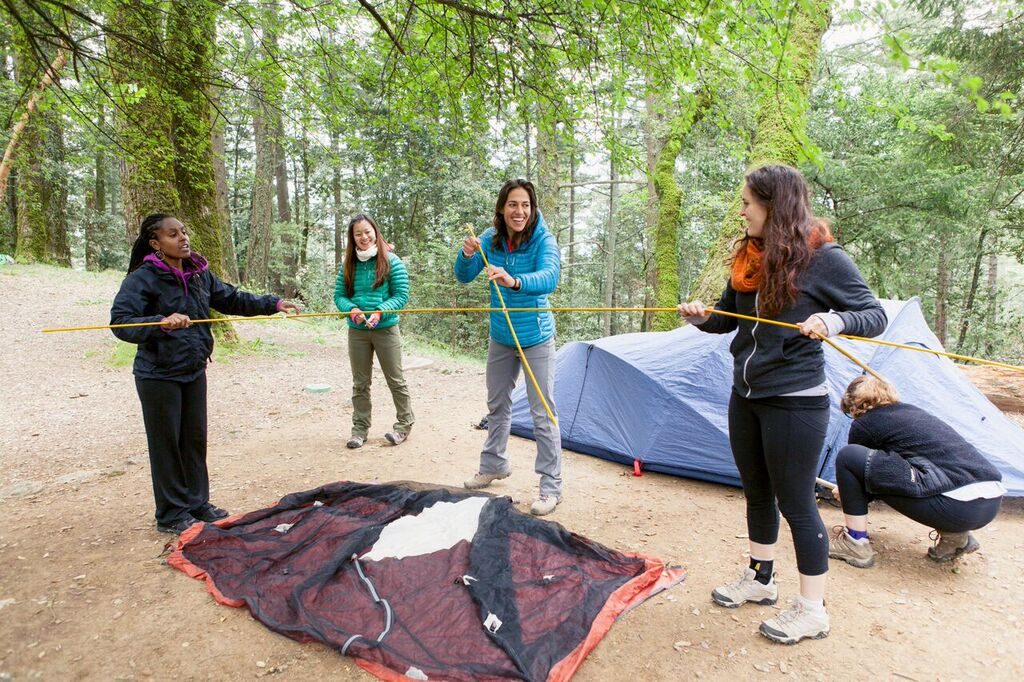 Photo by: Kara Brodgesell
Sasha is a big fan of fresh ingredients on the trail, and she tries to bring real food that last long and taste great.  One of her favorite trail meals is her "Nutty Veggie Couscous".  This is the ultimate backpacking meal because its packed with flavor, easy to prepare, and feeds a big group.  And, couscous, which is merely small pasta, requires a minimal amount of fuel (this is especially important if you're spending multiple days in the backcountry).
Weather you're cooking for a group or out on a solo-mission Sasha's "Nutty Veggie Couscous" is a delicious meal that pairs perfectly with the great outdoors.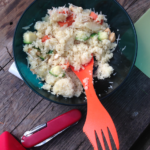 Trail Maven's Nutty Veggie Couscous
Trail Maven's CEO and Chief Maven, Sasha Cox, knows what goes into making a great meal in the backcountry. This is her recipe for one of her favorite dishes featuring couscous.
Stove: MSR Pocket Rocket

Ingredients
1

box

Couscous with seasoning

(Sasha gets her couscous from Whole Foods)

1

Carrot

1

Onion

1

Zucchini

4

tbsp

Olive Oil

(pack in a container that seals tight)

1

cup

Parmesan cheese

grated

2

cups

Cashew Nuts

1 1/4

cup

Water
Instructions
Dice onion, carrot and zucchini. Turn stove on medium. Coat bottom of a deep pot with 2 tablespoons of olive oil.

When oil is hot add onions. Cook until onions begin to sweat. Add carrots, cook for 2 minutes, then add zucchini. To speed up cooking time, add a splash of water and cover the pot with a lid.

When vegetables are cooked to your liking, turn off stove and empty vegetables into a pot lid or bowl. Set vegetables aside.

Pour 1 1/4 cup water into pot and turn stove on high. While waiting for water to boil, add seasoning packet, stir, then place the lid back on the pot.

When water starts to boil, turn off stove. Empty couscous into water, and stir. Place lid on the pot and let sit for 5 minutes.

After 5 minutes have passed, remove lid and stir ("fluff") couscous. Pour 2 tablespoons olive oil over couscous and add vegetables to pot. Stir veggies and oil into couscous.

If you have bowls, divide the contents for your hungry crew. Or, if you don't want to do extra dishes, eat right out of the pot. Garnish with grated parmesan and cashew nuts.