Damper: Australian Campfire Bread Recipe
Fresh bread is a delightful addition to a campfire dinner, which is why this easy to make recipe is a must make for your next trip!  Damper, a campfire bread, is an iconic Australian side dish.  This easy to make version of Damper is the perfect camp food to share with all your mates.
What is Damper?
Damper is an Australian bread that is cooked over hot coals in a fire pit or stove.  Traditionally this bread was made with wheat flour, water and sometimes milk.  However, this is a very plain version of Damper that was made out of necessity by bushmen in remote Aussie locations.  Nowadays campers expanded on this basic recipe to make a more palatable bread, by adding salt, spices, even dry fruits and chocolates.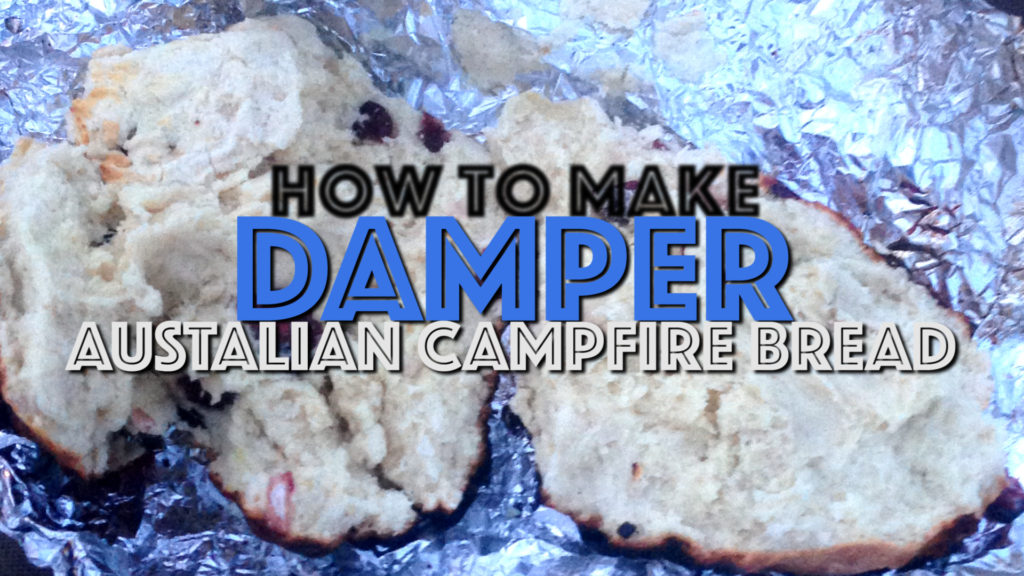 How to make Damper, an Aussie bush bread, baked over campfire coals
Speaking of mates, I was joined by my good friend Keri Herman for this episode.  We were desert camping and decided to make Damper, a bread we were first introduced to when camping with some Aussie friends on the West Coast of New Zealand.  Our friend, Anna, re-created a recipe she had made camping as a kid, that consisted of wheat flour, water, fresh milk, salt, and sultanas (raisins).  It was raining and windy out that night, so we used the old wooden stove inside the cabin to make the homemade bread.  The Damper turned out incredible!  It was crispy on the outside with a soft, warm interior.  Keri and I decided the next time we went camping we had to steal Anna's recipe and make Damper!
Keri Herman's bread recipe
Keri wanted to get fancy with our camp bread, so she added dried cranberries.  The great thing about  Damper's recipe is that you can easily add dried fruits, local herbs, spices, even chocolate for a sweet dessert.  And don't forget to bring your favorite spreads like butter, honey, jam, or the Australian favorite Vegemite.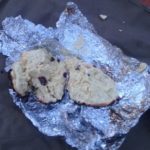 Damper
Damper is an Australian bread that is cooked over hot coals in a fire pit or stove. Follow the instructions for Keri Herman's version of desert Damper.
Ingredients
2 1/2

cup

Flour

5

tsp

Baking Powder

1

tsp

Salt

1

tsp

Sugar

1

tbsp

Coconut Oil

1

cup

Milk

1

cup

Dried Cranberries

2

big sheets

Aluminum Foil
Instructions
Build a roaring fire with a base of hot coals

Melt coconut oil over fire in a pot

Stack sheets of aluminum foil and lightly dust with flour

Mix remaining flour, baking powder, salt and sugar into a bowl. When coconut oil is melted, add coconut oil and milk to mix. (If you don't have fresh milk you can use rehydrated powdered milk)

Add dried cranberries to the mixture and knead ingredients together with hands. When dough becomes springy remove from bowl and set the dough on top of aluminum foil. Sprinkle flour over dough and lightly cover with aluminum foil.

Make sure dough is sealed inside foil, and burry Damper in your fire's hot coals. Cover with additional coals and build fire around Damper.

Let cook for 20 minutes. Remove Damper from fire and check on progress. Carefully lift foil, without ripping, and check on the bread. If It has a crispy crust then it is getting close to being finished. If the crust is still springy and doughy, cover with foil and return to fire. When the Damper is looking close to being done, move it to the top of the fire and let cook for 5-10 more minutes.

When the Damper has a crispy shell around the whole bread, break off a small piece, or cut in using a knife, and make sure the middle of the loaf is cooked.

When everything is looking good, remove Damper from fire and let cool until the bread reaches a comfortable touch temperature. Break off a big piece of Damper and cover with butter, honey, jam, Nutella, Vegemite, Marmalade...or whatever topping you prefer.

When you finish eating, be sure to properly dispose of all trash and clean your cooking and eating area.
Recipe Notes
This recipe can also be prepared in a conventional oven at home, but its so much more fun to make bread over a campfire! Try different versions of Damper with chocolate bits, raisins, nuts, coconut flakes...get creative and personalize your Damper recipe!