Damper: Australian Campfire Bread Recipe
Damper, a campfire bread, is an iconic Australian side dish.  Our easy to make recipe features customized suggestions, making Damper the perfect camp food to share with all your mates.
What is Damper?
Damper is an Australian bread that is cooked over hot coals in a fire pit or stove.  Traditionally this bread was made with wheat flour, water and sometimes milk.  However, this was a very plain version that was made out of necessity by bushmen in remote Aussie locations.  Nowadays campers expanded on the basic recipe to make a more palatable bread, by adding salt, spices, even dry fruits and chocolates.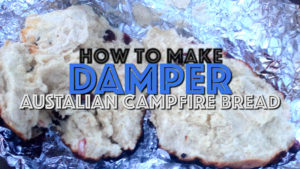 How to make Damper, an Aussie bush bread, baked over campfire coals
Damper was made in the the bush by mixing water with dry ingredients then cooking on a stick or directly over a fire's hot coals.  Our version of this recipe has a few extra ingredients, but is still easy to make.  Simply mix dry ingredients at home (recipe listed below) and store together in a sealed container.  At the campsite add milk or water and mix until you achieve a springy consistency.  Wrap the dough in aluminum foil and cook directly over a fire's hot coals on the outer part of the fire.
Pair your fresh Damper with an artisanal cocktail
Keri Herman's bread recipe
Keri Herman is a professional freeskier with a love for adventure.  Keri was introduced to Damper by an Australian friend on a winter camping trip; watch Keri make her camping version of Damper (recipe below).
Damper recipe
Once you master the basic Damper recipe, try adding some of these combinations to your Damper dough for breads that pair with meals throughout the day.
Breakfast Cinnamon Bread: add sultanas, cinnamon, walnuts and honey
Dessert Sweet Bread: add cocoa powder, powdered sugar, chocolate chips and orange zest
Savory Bread: add ham, swiss and chopped spinach
Fruit Bread: add fresh diced apple, dried cranberries, dried cherries and chopped almonds
Elvis Style Bread: add peanut butter, mashed bananas, honey and chopped bacon
Use your favorite ingredients to make a bread that pairs with your adventure.  This is a great recipe to make with kids, let them come up with fun Damper combinations featuring their favorite flavors.  If you have experience foraging, add local berries and spices for authentic local flavors.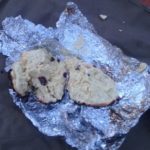 Damper
Damper is an Australian bread that is cooked over hot coals in a fire pit or stove. Follow the instructions for Keri Herman's version of desert Damper.
Ingredients
2 1/2

cup

Flour

5

tsp

Baking Powder

1

tsp

Salt

1

tsp

Sugar

1

tbsp

Coconut Oil

1

cup

Milk

1

cup

Dried Cranberries

2

big sheets

Aluminum Foil
Instructions
Build a roaring fire with a base of hot coals

Melt coconut oil over fire in a pot

Stack sheets of aluminum foil and lightly dust with flour

Mix remaining flour, baking powder, salt and sugar into a bowl. When coconut oil is melted, add coconut oil and milk to mix. (If you don't have fresh milk you can use rehydrated powdered milk)

Add dried cranberries to the mixture and knead ingredients together with hands. When dough becomes springy remove from bowl and set the dough on top of aluminum foil. Sprinkle flour over dough and lightly cover with aluminum foil.

Make sure dough is sealed inside foil, and burry Damper in your fire's hot coals. Cover with additional coals and build fire around Damper.

Let cook for 20 minutes. Remove Damper from fire and check on progress. Carefully lift foil, without ripping, and check on the bread. If It has a crispy crust then it is getting close to being finished. If the crust is still springy and doughy, cover with foil and return to fire. When the Damper is looking close to being done, move it to the top of the fire and let cook for 5-10 more minutes.

When the Damper has a crispy shell around the whole bread, break off a small piece, or cut in using a knife, and make sure the middle of the loaf is cooked.

When everything is looking good, remove Damper from fire and let cool until the bread reaches a comfortable touch temperature. Break off a big piece of Damper and cover with butter, honey, jam, Nutella, Vegemite, Marmalade...or whatever topping you prefer.

When you finish eating, be sure to properly dispose of all trash and clean your cooking and eating area.
Recipe Notes
This recipe can also be prepared in a conventional oven at home, but its so much more fun to make bread over a campfire! Try different versions of Damper with chocolate bits, raisins, nuts, coconut flakes...get creative and personalize your Damper recipe!