Artisanal Cocktails: Drinks Inspired by Travel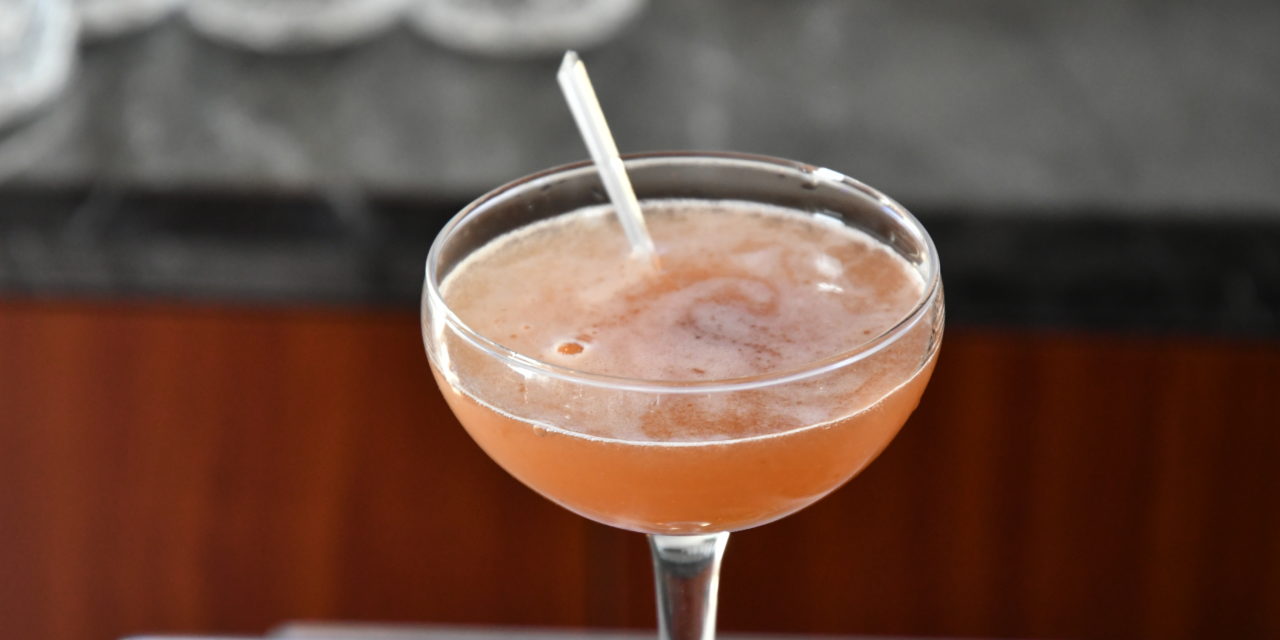 Collecting spices from foreign markets is a creative way to infuse exotic flavors into traditional cocktail recipes.  While traveling through the Medina market in Tangiers, Morocco I became obsessed with fresh Moroccan spices.  After purchasing an assortment of colors and flavors, I started to experiment, and these spices soon became the star of every dish.  Thanks to a challenge from Eric Goldring along a Seabourn trip, I used my spices to develop flavors in craft cocktails.
What are craft cocktails
What sets a craft cocktail apart from an ordinary drink is the freshness of the ingredients and the flavors developed within the beverage. Crafting a cocktail is becoming a work of art, perfected by artesian artists.Bartenders and mixologists infuse ingredients, concoct creations and develop flavors.  A successfully executed beverage enlightens the senses with balance and originality.  This is how to use fresh market flavors inspired by travel to make creative cocktails.
How to use herbs and spices
Like baking, cocktails follow recipes.  You can substitute flavors and ingredients based on simple variations to make personalized concoctions.  The best way to explain is to show examples:
The Sour Cocktail
A "sour" is a combination of spirit, citrus and sugar.  This recipe is the foundation for hundreds of different cocktails, with some of the most popular being a daiquiri, margarita, lemon drop, and whiskey sour.  The sour recipe is typically:
2 oz spirit,
3/4 oz citrus and
3/4 oz simple sugar
shaken, strained, and served up or over ice (rocks)
Popular cocktails
A 2 oz rum, 3/4 oz lime, and 3/4 oz simple syrup, shaken and poured over ice is a daiquiri. A 2 oz vodka with 3/4 lemon and 3/4 simple syrup shaken and strained into a martini glass with a sugar rim is a lemon drop.  A whiskey sour is the same recipe as a lemon drop, but with bourbon instead of vodka, no sugar rim, and an optional egg white for additional authenticity.
As you can see, the recipe varies slightly, depending on the available ingredients…but ultimately the cocktail follows the same "sour" recipe.  Now that you understand the example, let me show you how to use this "sour" recipe to infuse a cocktail with fresh spices:
DIY cocktail
Feature the spirit that is traditional to the region you want to represent.  For example, tequila for Mexico, Pisco for Peru, Rum for the Caribbean, Vodka for Russia.  And mix with your sour and sweet flavors.  Use fresh citrus found at markets and infuse local sweet flavors such as honey, cane sugar, and agave into the simple syrup.  Next, add a few pinches of your favorite local spice or herb.  A mojito follows this simple format and it consists of:
Mojito recipe
2 oz rum
3/4 oz fresh lime juice
3/4 oz simple syrup
Fresh mint
Soda water
To make this cocktail shake mint with spirit, citrus and sugar; strain over ice and top with soda water. Garnish with mint and lime wedge.  By adding the fresh mint to a sour, you were able to infuse a big local flavor that enhances the beverage without straying too far from the original recipe.
Another example is a similar cocktail with fresh cucumber:
Cucumber gimlet recipe
2 oz gin
3/4 oz fresh lime juice
3/4 oz simple syrup
Fresh sliced cucumber
Shake cucumber with gin, lime and simple syrup; strain into a chilled martini glass and you have a cucumber gimlet.  The cucumber brings a refreshing taste to this cool cocktail.
Looking for tips on how to shop for food in a foreign market? Eat local with Street Foods!
Travel inspired cocktails
The final step to making your travel inspired cocktails is to choose your favorite spices and herbs, and feature their enhanced flavors in your drink.  Closely examine the spices/herbs by sampling and noting their prominent tastes.  Is the ingredient spicy?  Dry?  Earthy?  Sweet?  The easiest way to test an unfamiliar flavor in a cocktail is to add a little bit to your plain "sour" recipe.
Original sour recipe
Try a pinch of fresh turmeric, or a few leaves of fresh rosemary.  Does a little bit change the overall flavor of your sour?  How much of the experimental ingredient does it take to enhance the beverage?  Here are some fun drinks that I have made featuring local spices and herbs: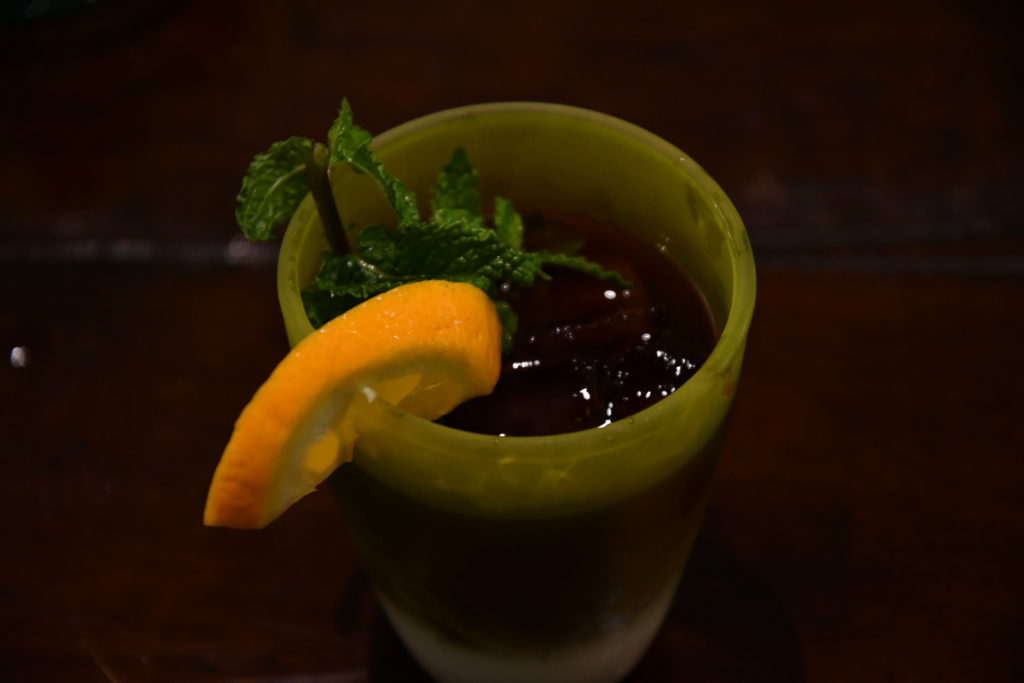 Moroccan Sangria
A sangria cocktail featuring prominent Moroccan market spices
Ingredients
2

oz

Red Wine

.5

oz

Pedro Jimenez OX Sherry

.5

oz

Saffron Simple Syrup

1/8

cup

Diced Apple

1/8

cup

Diced and Peeled Orange

1/16

cup

Dried Raisins
Instructions
Make Saffron Simple Syrup by bringing equal parts sugar and water to a boil while stirring. Turn off burner and add a few strands of saffron. Let saffron soak until sugar water begins to turn light pink. Strain and let cool.

Using a Yarai mixing glass or large pitcher combine Saffron Simple Syrup, Sherry and Red Wine. Gently stir with a bar spoon.

Add ice, Diced Apples, Diced Oranges and Dried Raisins to a tall glass. Pour stirred syrup, sherry and wine over ice and diced fruit. Garnish with a small bunch of fresh mint and an orange wedge.
This next travel cocktail recipe features Turmeric, a spice I found throughout the Moroccan Medina market.  For a backcountry dish using Turmeric, check out this easy to make recipe.
Turmeric Sour
A Moroccan inspired sour featuring antioxidant rich Turmeric
Ingredients
2

oz

Bourbon

3/4

oz

Fresh Lemon Juice

3/4

oz

Star Anise Simple Syrup

1

pinch

Fresh Turmeric Powder
Instructions
Make simple syrup with equal parts sugar (one cup) and water (one cup) brought to a boil. Turn burner to medium and add 2 Star Anise. Cook for 5 minutes, turn stove to low and simmer for 15 minutes, stirring frequently. When syrup has strong Star Anise flavor, strain and let cool.

Add bourbon, lemon juice, Star Anise simple syrup and pinch turmeric to shaker; shake with ice. Strain and serve in chilled coupe.