Best Foods Along Spain's Camino de Santiago
The Camino de Santiago, also known as The Way of St James, could be re-named the Camino de Comida, the road of food. This 500-mile trail is the perfect way to taste the various cuisines of Northern Spain. A person walking the Camino, referred to as a pilgrim or peregrino, will experience a plethora of dining options along this world-famous route.
How to eat along The Way of St. James pilgrimage
Walking Spain's Camino de Santiago is a culinary experience! One food that you're sure to find throughout the Camino is the infamous Spanish Tortilla.  Not to be confused with Mexican flour or corn tortillas, a tortilla in Spain is an egg dish similar to an omelette.  This hearty meal is just the thing a hungry pilgrim needs to refuel their body before heading back out on the trail, and the good news, you can find them in almost every bar and cafe you walk past.
Spanish Camino de Santiago Tortillas
A Spanish Tortilla is a hearty egg dish similar to an omelette. I was taught how to make this version of a tortilla by an Albergue (Pilgrim's hostel) host. This is a very basic tortilla, so follow this base recipe and add your favorite meats, veggies and spices. You can also top your tortilla with salsas, hot sauces, savory chutneys, or sour cream. Traditionally tortillas are served with a side of baguette or french bread.
Tortillas are great travel food because they're easy to prepare, they're hearty, they pack well, and they're served at room temperature.  Make a batch of tortillas at home to enjoy this Camino meal on your next adventure!
How to save money on the Camino de Santiago
Cook your own food: the best way to save money when walking the Camino is to make your own meals.  Stay in Albergues (Camino pilgrim specific hostels) with kitchens and cook your own meals with cheap, local ingredients.
Forrage: collect berries, figs, grapes, and nuts for quick grab snacks that you can harvest and eat while walking. Be warned, make sure you choose carefully! Don't forage from farms or heavily trafficked areas.  Save excess in your pack and integrate into meals.
Share: as you walk you will meet fellow pilgrims from all over the world.  Make friends and cook meals together.  This will help share costs and give you an opportunity to get to know your fellow travelers over a meal.
Spanish Camino Tortilla
A Spanish Tortilla is a hearty egg dish similar to an omelette served at room temperature. Traditionally tortillas are served with a side of baguette or french bread.
Ingredients
1/2

cup

Olive Oil

2

large

Potatoes

peeled and thinly slice into 1/4 inch discs

2

Onions

sliced into rings

6

Eggs

to taste

Salt & Pepper

1

loaf

French Bread
Instructions
Heat 1/2 cup olive oil in a large skillet over medium-low heat. Add the potato slices, and cook, stirring occasionally, until just tender, 15 to 20 minutes. Gently toss potatoes with salt and pepper to taste. When done, remove potatoes to a large bowl, leaving oil in the skillet.

Stir in onion rings, and gently cook until soft and golden brown, about 15 minutes. Spoon onions into bowl with potatoes.

Whisk eggs in a large bowl until smooth. Gently fold in cooked potatoes and onions.

Heat the skillet with the reserved oil over low heat. Pour in the egg mixture, and gently cook until the sides have started to set and the bottom has turned golden brown, 8 to 10 minutes. Loosen the tortilla with a spatula if needed, then carefully slide onto a large plate. Turn the skillet upside down and place onto the uncooked side of the tortilla. Turn the skillet right-side-up, and remove the plate. Return the skillet to the stove, and continue cooking until the tortilla has set in the center, about 4 minutes.

Slide the tortilla onto a serving plate and allow to cool to room temperature. Cut into six wedges and pack for your adventure.

Tortilla are commonly served with french bread. Pack 1/4 loaf per wedge of tortilla, and don't forget a salsa or hot sauce.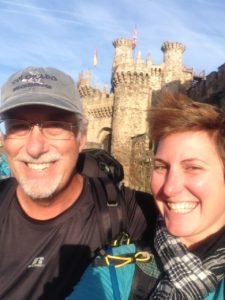 Behind the Scenes from the author: 
In the fall of 2014 my dad and I undertook the journey of walking the Camino's most popular route, Camino Frances. As I walked I became surprised by how different this journey was compared to any other type of backpacking I had done. I had a bed and a hot shower at the end of every day, the trail was well marked, and there was drinkable water everywhere. But, the most luxurious part of the Camino was the food! I was spoiled by the easy accessibility to great food along this route. Restaurants and cafes were everywhere. The furthest I ever walked without seeing food for sale was five miles. Five miles! The Camino is a foodies dream.  I dream about going back and eating my way through Spain regularly.