Backpacking Group Dinner
Cooking for a group in the backcountry is challenging, which is why we came up with Turmeric Couscous, an easy to make meal that feeds a tired group with sore muscles.  Our Turmeric Couscous dinner is a one pot meal with unforgettable flavors.  Make this dish a part of your next big adventure….
Healthy group recipe
For many devout backpackers couscous is considered a trail staple due to its long shelf life and ease of preparation.  We love it because there are seemingly endless varieties of spices and flavors that can be added to enhance the flavor of the dish and the nutritional health benefits.  For this dish we used turmeric to bring exotic aromas as well as inflammation fighting curcumin to sooth tired muscles after a long day.
What is turmeric
Turmeric powder is derived from turmeric root (looks similar to ginger root), which contains the chemical curcumin. Curcumin is linked to treating conditions that involve inflammation, as it lowers two enzymes in the body that cause inflammation.  After a long day on the trail your tired muscles will appreciate an anti-inflammatory spice that is also packed with free-radical fighting antioxidants.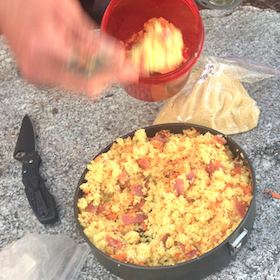 How to cook couscous
Couscous is a small version of pasta made of semolina and wheat flour.  The benefit to cooking with couscous is that it is a very fast cooking pasta that doesn't require a lot of precious fuel to prepare. Boil water, add spices, add to dry pasta, cover, let the flavors absorb into the couscous, and follow the instructions below for a tasty group backcountry meal.
The best stove to boil water
The best stove to boil water is one that brings water to a boil quickly without burning through too much precious fuel.  We made this dish using a JetBoil Flash Cooking System and an ultralight backpacking pan with an aluminum lid.
This recipe can easily be split in half and made in 2 installments if you prefer to use only one pot. The carrot should last unrefrigerated for 2-3 days, if unsure omit from recipe.  For a vegan option substitute vegetarian stock for chicken and replace the salami with a vegan friendly protein.
Turmeric Couscous: Group Meal
This is a great dish for feeding a hungry group in the wilderness. This recipe can easily be split in half and made in 2 installments if you prefer to use only one pot. The carrot should last unrefrigerated for 2-3 days, if unsure omit from recipe.
Use a Jetboil or quick cooking stove to heat water.
Cuisine:
One Pot, Propane Stove
Servings
:
6
Hungry People
Ingredients
2

boxes

Plain Couscous

5 servings in each box, or 10 servings in total

1

cube

Chicken Stock

can substitute with veggie stock for vegan option

1

tbsp

Turmeric

1

tsp

Cinnamon

4

cups

water

2

cups

Chopped Salami

1

Grated Carrot

1 1/2

cup

Chopped Dates

2

cups

Crispy Onions

6

pieces

Flat Bread or Pita
Instructions
At Home
Put ingredients into trail safe bags and label with cooking measurements and instructions. Chop or smash chicken stock cube for faster cooking and combine in a bag with turmeric and cinnamon.
On the Trail
Pour 4 cups of water into pot. Add bag with seasonings (chicken stock, turmeric and cinnamon) and bring water to a boil.

If you have a large enough pot, empty couscous into water, stir, then add lid to pot and let sit for 8 minutes. If you need to use another pot: empty couscous into pot, add boiled water with seasonings, stir, cover and let sit for 8 minutes. (I didn't have a lid for my extra pot, so I covered with aluminum foil and it worked perfectly). *Another option is to break this recipe in half and use two regular sized pots

When couscous is ready, use a fork or spoon to fluff. Add carrots, salami, dates and stir until everything is mixed together. Top with crispy onions. Serve and devour!!! If you have dietary restrictions in your group, I recommend setting the carrots, dates, salami and onions on the side and letting everyone add their own toppings based on their personal preferences.

I also bring flat bread for each group member. This way there is something extra for the super hungry people, and you can use the bread to scoop the last pieces of couscous from the bowl.

Be careful of little pieces of couscous that might fall to the ground. Clean up all messes and be sure to always leave no trace!