Hiking With Dogs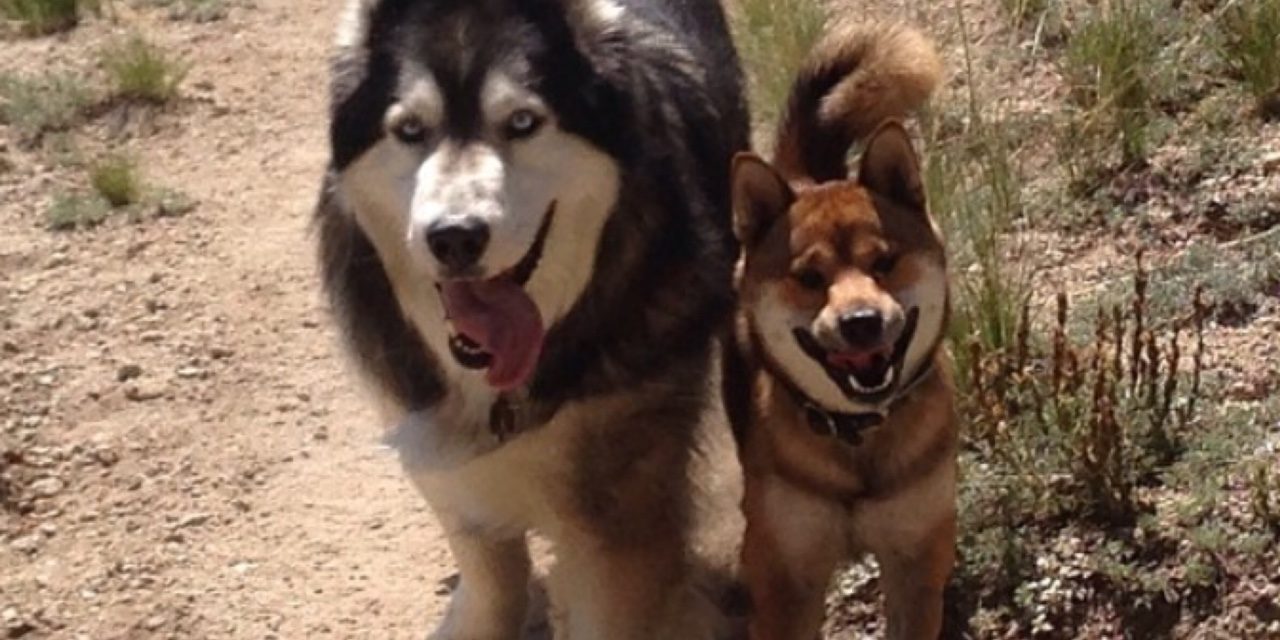 Traveling with a dog in the wilderness?  Like people, dogs need specialized nutrition on the trail.  We want to make sure your pet stays safe and eats proper, so we assembled a list of important things to take into consideration when traveling with a dog in the backcountry.
Dog nutrition
For a full day of exercise most trail experts recommend doubling the amount of food you give your dog.  Unfortunately, this means twice as much pack weight!  Choosing the right dog food can have a direct impact on your pet's health and trail performance.  It is important to research and experiment pre-trip to find the best lightweight alternative pet foods for you trip.  These are a few of our favorite easy meal replacements:
TurboPUP
Weighing in at 2.2 oz and packed with 250 nutritious calories, TurboPUP 'Complete K9 Meals on the Go!' are: Interchangeable with regular dog food; Safe on sensitive stomachs; Made with 100% American sourced, human grade, all-natural, grain-free ingredients. TurboPUP meal replacement bars  were invented for active dogs and come in single serving pouches.
Freeze dried dog food
Stella & Chewy's Freeze-Dried Raw Meal Mixers grain-free dog food toppers are an easy, convenient way to add natural, raw, nutrient-rich meat your dog's meal.  Stella & Chewy's recipes include only simple, limited ingredients with no grains or gluten to best accommodate pets with food sensitivities.  This product can eaten dry or rehydrated with a little bit of fresh water.  Plus, the bag comes with a collapsable bowl….how appropriate!  Dog Food Advisor gave this product very high ratings.
Share!
Many of your favorite backcountry snacks such as jerky, oatmeal, peanut butter and apples are actually great snacks for your pup!  Pack extra to share, or whip up a batch of our 'Pumpkin Peanut Butter Cookies' (recipe below) for a delicious trail snack that you can both enjoy.  Bringing snacks that everyone can enjoy will cut down on pack weight.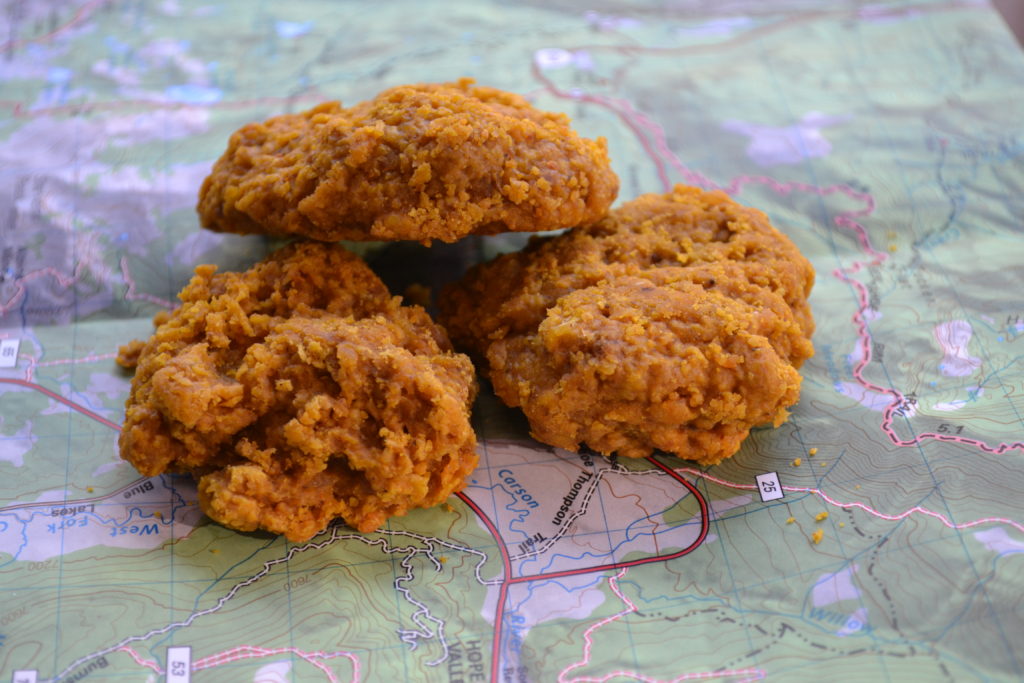 Ultralight dog bowls
Dogs like their routine, and packing a bowl that they are familiar with will make them more comfortable when it comes to mealtime in the outdoors.  At home before your trip try switching out your dog's regular bowl for an ultralight bowl.  When mealtime comes on the trail you dog will be familiar with the bowl's smells and won't hesitate to dig in.
Drinking water
Keeping your dog hydrated is essential to their health.  Dogs require anywhere from ½ oz to 1 oz per pound of body weight, depending on strenuousness of their activity.  If you are traveling in areas where the natural drinking water is unsafe, pack extra supplies for your dog.  Like humans, dogs can get giardia from unclean water, so a good rule to thumb is that if you wouldn't drink from it, than neither should your pup.
If you are traveling in an unsafe natural drinking water area, get your dog a lightweight hiking backpack so they can carry their own water weight.  Having a hard time getting your dog to drink on the trail?  Try mixing a sprinkle of freeze dried food into their water bowl.
Dog Treats
Treats are great incentives to reward and motivate your dog.  Our Homemade Dog Treats are easy share snacks made with all-natural, pet friendly ingredients.  Make your dog feel like one of the pack with a treat that you can enjoy together.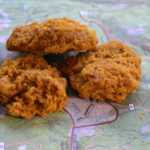 Homemade Dog Treats: Trail Treats
Pumpkin and peanut butter cookies your dog can share with you!
Ingredients
2

cups

Oats

1

cup

Pumpkin Puree

1/2

cup

Peanut Butter

1

Apple

Blend to a mash

1

tsp

Cinnamon

1

tsp

Baking Powder

2

Eggs
Instructions
Add oatmeal, pumpkin, peanut butter, apple mash, cinnamon, baking powder and eggs to bowl or mixer and blend on medium until all ingredients blend together.

Use an ice cream scooper or spoon to to scoop balls of dough onto a cookie sheet lined with non-stick coating or wax paper.

Bake at 375 degrees for 20 minutes.

Cool on rack until completely cooled. Place in airtight container to keep them fresh, or store in the freezer.