5 Healthy Hiking Snacks
Did you know that hiking with a pack works every major muscle group in your body?  In addition to getting a cardio and muscular workout, hiking is great for mental health and overall wellbeing.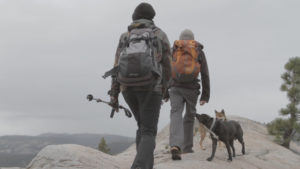 Hiking is one of the least expensive and easiest outdoor activities to participate in, all you need is comfortable footwear and a pack to carry basic supplies.  If you are searching for a fun way to get in shape and shed pounds, make hiking part of your weekly exercise routine!
The best healthy day hike snacks
The best trail snacks are lightweight, quick and easy to eat, and they can withstand bouncing around in a backpack.  These are 5 healthier options to popular hiking snacks:
Cereal
Trail mix is a trail staple, but did you know that one cup of traditional trail mix has 693 calories?  Replace your trail mix with dry cereal for a healthier, lower calorie snack.  Choose from this list of the 3o healthiest cereals, and avoid cereals full of sugar.  Try mixing and matching flavors, or adding some of your favorite dried fruits for an extra boost.
Salmon Epic Bars
Beef Jerky is another trail favorite because its loaded with protein, salt and won't spoil. For a lighter, omega rich option try a Salmon Epic Bar. One piece of beef jerky has 90 calories, the same as an entire Salmon Epic Bar, plus the salmon bar has 13g of muscle building protein.
Healthy Trail Bars
Energy or trail bars are a quick and easy snack to throw in your pack, and with hundreds of different companies your options are seemingly endless!  The most important thing to do when choosing a bar is to read the label and avoid trail bars with lots of sugar and processed ingredients.  Kind bars are a well balanced snack with great flavors and great trail nutrition.  One whole bar contains 180 calories; and with similar flavors to a traditional trail mix, you're getting your sweet and salty fix in a convenient, single serving size.
Whole Grain Crackers
A good way to get complex carbs on the trial is with whole grain crackers. Unlike sugars, which cause a spike in energy, followed by a crash, whole grains are steadily released into your body for sustained energy. Crackers are a lightweight snack that you can pair with hummus, salsa or goat cheese for a satisfyingly healthy trail treat.
Veggie Salad
Eating raw vegetables is a great way to replenish your body with vitamins and minerals that are often lost through sweat during exercise.  Pack a salad with durable vegetables (durable meaning veggies with thick membranes that can handle bouncing around in your pack) and store in a container that won't leak.
Below is our recipe for Healthy Hiking Salad, featuring fresh veggies, onions, herbs and capers.  Capers are an added bonus to this meal, as they are high in quercetin – an anti-inflammatory – which helps sooth sore muscles.  To turn this salad into a full meal, pair with an Epic Salmon Bar.
How to lose weight while hiking
The most important items to bring in your pack are water, snacks and a basic safety kit. The amount of water you need varies on weather, duration of hike, and personal health; but on average, for a 4 hour hike most people need 2 liters of water.
How to calculate calories
Packing snacks can be tricky, especially when hiking to lose weight.  Long distance hikers need fats and calories to survive, but if you are only out for a day hike, you need a different type of diet in order to get in shape and shed pounds.  Be careful, many traditional hiking snacks such as trail mix, jerky and energy bars are full of calories and fats which are more appropriate for a long distance hiker.  On average 1 hour of hiking burns 450 calories.  If you calculate your caloric needs based on your weight and body type, you can determine how many calories your body will use during your hike.
What are the best snacks for hikers?
Knowing when to snack is equally important as choosing the right foods.  The best snacks will fuel your body while supporting physical and mental health.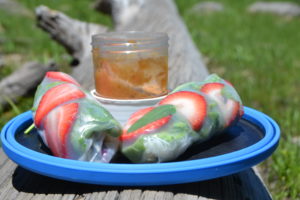 Complex carbs are slow burning, sustained energy, these are best eaten in small does throughout the hike to maintain steady metabolism.  Keep some whole wheat crackers or cereal in your pocket for a quick snack whenever you feel hungry.
If you're starting to get fatigued and need a burst of energy, eat a Kind Bar.  Enjoy an Epic Salmon Bar when you take a break for muscle repairing proteins.  The salmon bar can also be paired with your veggie salad, which is packed with vitamins and minerals that help your body battle the elements and free radicals.
Most importantly, remember to drink water and stay hydrated!  Avoid sodas, juices, and beverages packed with sugar.  If you need more information about trail food nutrition, read this related post.
Healthy Hiking Veggie Salad
Pack this salad in a durable, leak-proof container and bring on a day hike for a refreshing snack.
Ingredients
1

Tomato

1/2

Cucumber

1/8

Onion

1/2

Bell Pepper

2

tbsp

Capers

1

tsp

Black Pepper

1

tsp

Dried Oregano

2

tbsp

Balsamic Vinegar
Instructions
Slice tomato into large pieces. Chop cucumber, bell pepper and onion.

Add all ingredients to the container you are brining hiking. Add the lid and test to ensure container is tightly sealed. *Only use leak-proof container or bag for trail veggie salad.