Pacific Crest Trail Food
In 2015 Justin "Trauma" Lichter and Shawn "Pepper" Forrey became the fist two people to successfully complete a winter thru hike of the Pacific Crest Trail, or PCT.  This is an incredible feat to achieve, especially since the previous people who tried passed away.  Despite bad conditions and suffering through frostbite injuries, Trauma and Pepper reached the Mexican boarder on March 1,  after only 132 days on the trail.  To say these guys are badass is an understatement.

What to eat when thru hiking the PCT
We had the pleasure of meeting up with Justin, Trauma, in Truckee, CA to learn out about the food that fueled his legendary journey.  The most challenging part about eating on the PCT, according to Trauma, was getting enough calories.  Thru hikers carry everything in their backpack, which meant Trauma and Pepper had to pack all their food.
There are no markets on long stretches of the PCT, and many re-supply stations that are open in the summer close for the winter months.  This meant that the boys often had to walk miles off the trail to find food in remote towns.  They also shipped ahead boxes of supplies and provisions to various towns they passed through, this way they had food that they could rely on.  However, the downside to shipping is the food in the boxes has to have a long shelf life to withstand the weeks of waiting at the Post Office before being picked up.  As you can imagine, this doesn't leave much room for elaborate ingredients or fancy meals.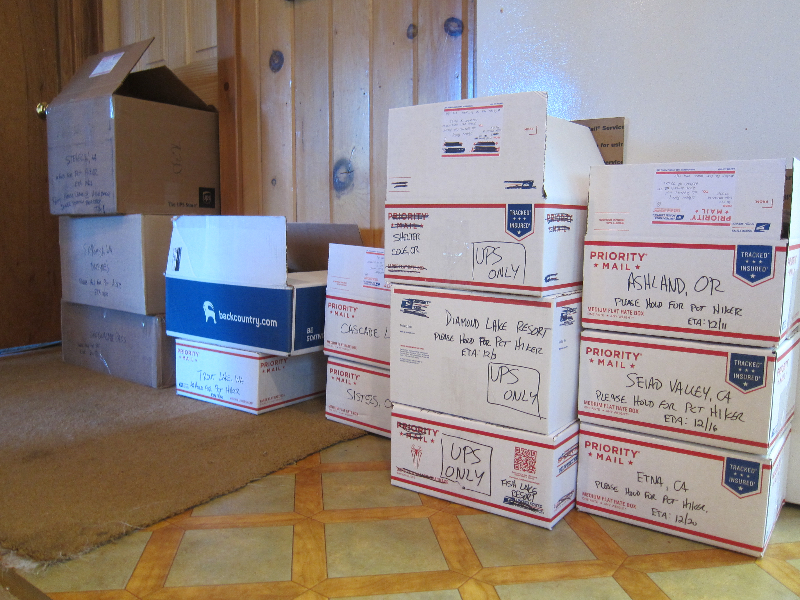 Pacific Crest Trail Food
Trauma said the most important tip for hiking the PCT is to keep food handy.  Pepper and Trauma would stuff their pockets with bars and quick snacks, to eat throughout the day in order to keep calories in their bodies.  With long distance hiking, it is crucial to keep your body fueled to avoid fatigue which could lead to injuries or illness.  Whenever Trauma and Pepper took a break they would eat.  And as they set up camp and cooked dinner, they would have a pre-dinner snack.  In the morning, afternoon, anytime they could, they would eat.  Food is a crucial detail that effects the success of a long distance trek.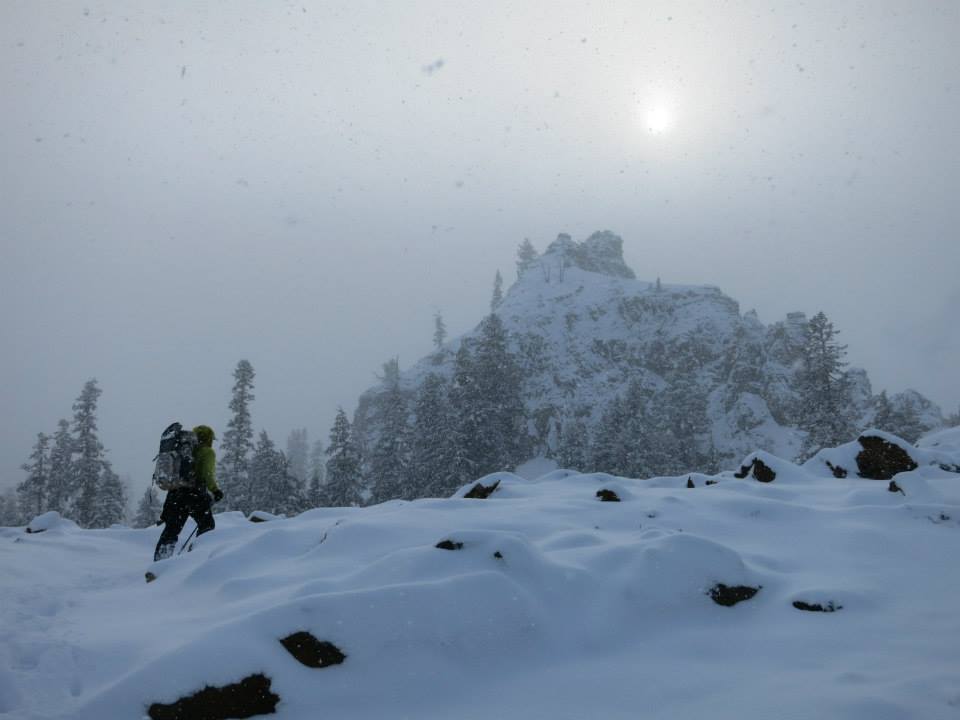 Trauma's tips for ingesting calories on the PCT:
While hiking, keep nutrition bars readily available in jacket and waist belt pockets. This way you have a quick snack handy when you stop for breaks.
Snack while you melt water and cook dinner. Justin's favorite is Justin's Chocolate Hazelnut Butter.
Re-package food items into ziploc bags to save space and eliminate extra waste.
Adding flavor packets to water provides extra calories and helps the water go down faster.
Store fuel in a lighter container, such as a small bladder.
For a quick meal, try instant mashed potatoes, because you can cook without bringing the water to a boil.
Add Top Ramen to sides to double the size of the meal.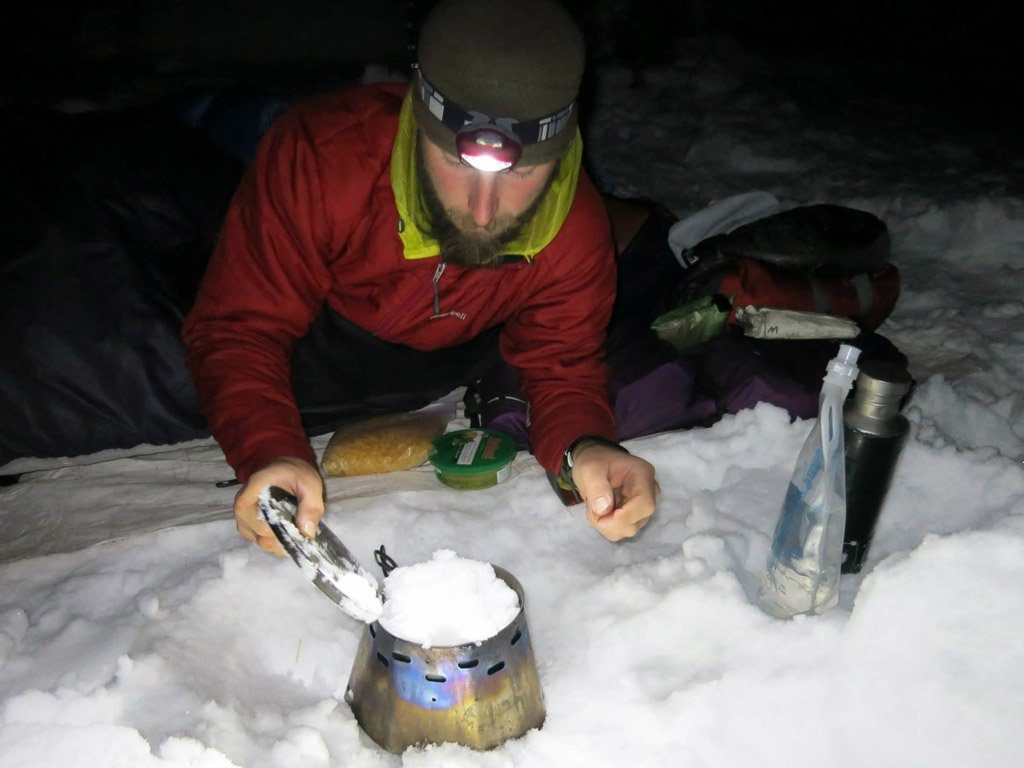 The best lightweight stove for the Pacific Crest Trail
The stove system Trauma and Pepper decided to use is a bit 'unconventional' compared the to gear most alpinists rely on.  They used a Trail Designs Ti-Tri Sidewinder Stove with Caldera cone, fueled by methanol alcohol.  Trauma said the reason they chose this stove setup was because the methanol alcohol is easy to find in most markets, as opposed to backcountry fuel canisters which are mostly sold in specialty shops.  In addition, bringing canisters meant having to carry extra weight and then extra trash when they were used up.  Methanol alcohol burns clean and can be stored in a lightweight bladder to shed a little weight from the packaging.  Most thru hikers look for any way to lighten their pack, which is why the Ti-Tri was the right choice for the journey.
What to eat when thru hiking the Pacific Crest Trail
A thru hiker needs foods that are lightweight and packed with calories. This is a list of some of Justin's favorite things to eat on the PCT: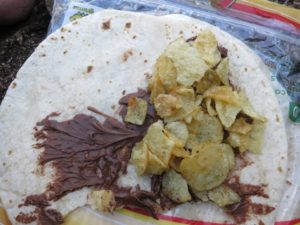 Angel hair past
Instant Mashed Potatoes
Beef Jerky
Water flavored with Crystal Light packets
Lara Bar, Kind Bar, Pro Bar
Justin's Hazelnut Butter
Justin's Dark Chocolate Peanut Butter Cups
Justin's Almond Butter single serving packets
Knorr Sides
Top Ramen
Cheese
Tortillas
Trauma and Pepper are at the upper echelon of long-distance hikers, and learning from their success was a valuable experience.  For more information on Pepper and Trauma's legendary journey check out Trail Design's website, it hosts stories and videos that documented their trip.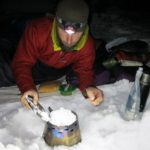 "Trauma's" PCT Dinner
This is a typical dinner that Trauma and Pepper would make after a long day on the PCT.
Ingredients
1

package

Idahoan Instant Mashed Potatoes

(Justin prefers 3 cheese)

1

package

Top Ramen Noodles
Instructions
Ignite methanol alcohol in Trail Designs Ti-Tri Sidewinder Stove with Caldera cone.

Bring water to a boil and add ramen noodles and instant mashed potatoes.

Cook until noodles soften.

Grab spoon and eat right out of the pot.