Print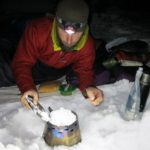 "Trauma's" PCT Dinner
This is a typical dinner that Trauma and Pepper would make after a long day on the PCT.
1

package

Idahoan Instant Mashed Potatoes

(Justin prefers 3 cheese)

1

package

Top Ramen Noodles
Ignite methanol alcohol in Trail Designs Ti-Tri Sidewinder Stove with Caldera cone.

Bring water to a boil and add ramen noodles and instant mashed potatoes.

Cook until noodles soften.

Grab spoon and eat right out of the pot.