Healthy Asian Spring Rolls
Vietnamese Spring Rolls consist of rice noodles, shrimp, pork and fresh herbs wrapped inside a thin rice paper, which when rolled looks like a mini-burrito or a clear egg roll.  You might be surprised to learn that Spring Rolls are a healthy snack that can help you stay hydrated when you are out on the trail.  These are not your typical Vietnamese Spring Rolls, these are backcountry inspired Healthy Hydrating Spring Rolls!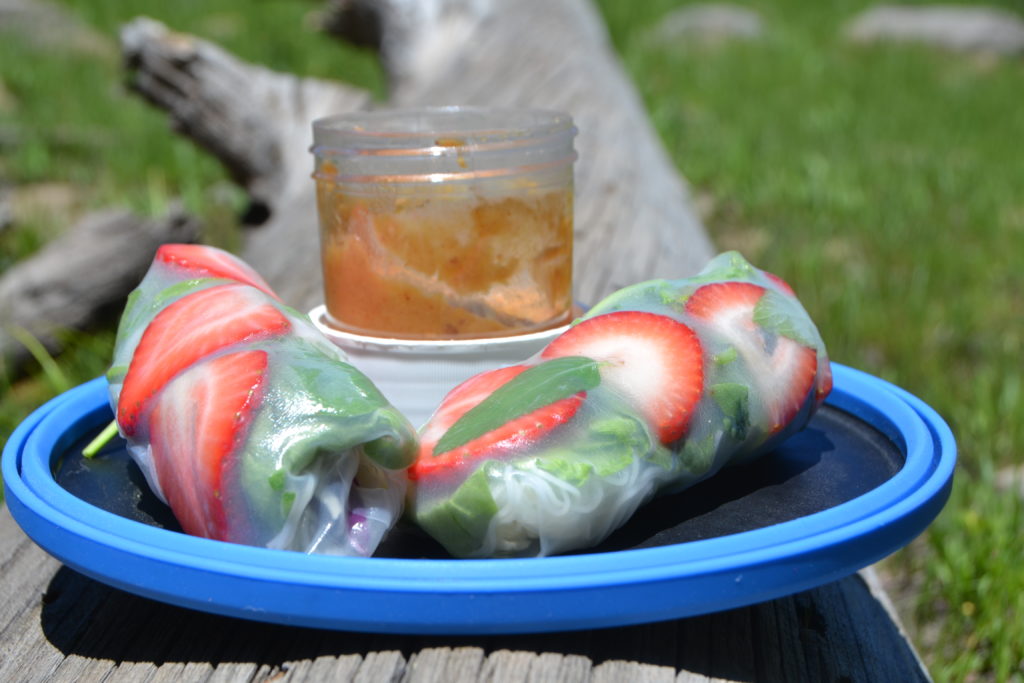 How to make spring rolls
Rice paper is the key ingredient to spring rolls.  To make spring rolls:
Take a sheet of rice paper and soak it in warm water for 30 seconds – until the paper becomes gelatinous.
Remove the sheet from the water and lay it flat on a clean surface.
Place filling ingredients (listed below in recipe) in a row in the center of the sheet
Fold uncovered sides inward, then tightly roll the wrapper
Place rolls in a tight sealing container or wrap with plastic.  Place a wet paper towel in-between layers to prevent sticking.  Store inside a cold cooler.
The benefit to using a rice paper roll is that it holds and protects internal ingredients, and provides an easy to eat membrane.  Rice paper is gluten free, and a healthy substitute for bread.

Spring roll filling
We call these hydrating spring rolls because the ingredients inside the rice paper have a high percentage of water content, and can actually help you stay hydrated.  Being active outdoors can quickly leave you dehydrated, especially if you're in a hot desert environment.  In addition to drinking a lot of water, you can get some hydration from the foods you eat. Water-rich fruits and vegetables provide natural sugars, amino acids, mineral salts and vitamins that are lost in exercise.
Hydrating spring rolls are a fantastic wilderness snack or lunch!  Not only are the flavors vibrant and refreshing, but you are actually eating something healthy filled with key nutrients.  Sick of eating trail bars? Pack Hydrating Spring Rolls!  Have a gluten sensitivity? Spring rolls!  Looking for a healthy alternative to fatty snacks? Spring Rolls!  At home or on the trail, this recipe is too delicious to pass up!
The best high water content fruits
Watermelon and strawberries contain about 92 percent water per volume.
Other fruits with high water content include grapefruit with 91 percent, cantaloupe with 90 percent and peaches with 88 percent water.
Fruits containing 87 percent water by weight include pineapple, cranberries, orange and raspberries.
Apricots hold 86 percent water, while blueberries and plums contain 85 percent water. The water content for apples and pears is 84 percent.
Cherries and grapes contain an average of 81 percent water.
And, a banana's composition includes 74 percent water.
The best high water content vegetables
On top of the vegetables list are cucumber and lettuce, consisting of 96 percent water.
Zucchini, radish and celery are comprised of 95 percent water.
Ninety-four percent of tomato's weight is water, and green cabbage is 93 percent water.
Vegetables that contain 92 percent water include cauliflower, eggplant, red cabbage, peppers and spinach.
Broccoli is 91 percent water by weight.
Additional healthy hydrating foods include carrots with 87 percent water and green peas and white potatoes with 79 percent water.
Outdoor nutrition
If you're looking for more information on backcountry trail nutrition, read up on our outdoor nutrition overview.  You will learn how to balance your diet with foods that optimize your performance in the wilderness.  Always remember to pack lots of water along with a few of these Hydrating Asian Spring Rolls for a mouth watering backcountry meal:
—————————————————————————————————————————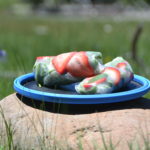 Hydrating Asian Spring Rolls
Whip up a batch of Hydrating Asian Spring Rolls the day before you hit the trail, and refrigerate or store in cooler until you're ready to start. If you're doing rigorous activity, double wrap your Spring Rolls with two layers of rice paper.
Servings
:
10
Spring Rolls
Ingredients
Hydrating Spring Rolls
10

Rice Paper Wrappers

1

cup

Rice Noodles

1

Carrot

2

Strawberries

1/2

cup

Spinach

1/3

Cucumber

1/2

cup

Chopped Red Cabbage

1/2

cup

Fresh Mint

1/4

cup

Chopped Walnuts
Ginger Peanut Dipping Sauce
1/2

cup

Smooth Peanut or Almond Butter

1

tbsp

Hoisin Sauce

1/2

tsp

Sirracha Hot Sauce

1/2

Lime, juiced

1/2

tsp

Fresh Grated Ginger

Hot water to thin
Instructions
Spring Rolls
Prep veggies and fruit by chopping strawberries, spinach, cabbage, and mint. Grate carrots and cucumber. Chop walnuts.

Combine all ingredients in a large bowl, and mix.

In a 6- to 8-quart pan over high heat, bring 3 to 4 quarts water to a boil. Add rice noodles and stir to separate; cook until barely tender to bite, 2 to 3 minutes. Drain. Rinse well to keep noodles from sticking together, and drain again.

Fill a wide, shallow dish with tepid water. Soak the wrappers in the water, one at a time, for about 15 to 30 seconds. The wrappers are ready to use when they are soft and pliable, but don't leave them too long or they'll become too soft.

Lay rice paper flat on a clean surface. Spoon 1/3 cup of mix onto paper. Arrange ingredients in a row in the center of the rice paper.

Gently fold 2 sides of the rice paper over the fruit and veggies.

Take the back (almost square) side of the rice paper and gently fold it over the pocket of ingredients. "Tuck and Roll" by keeping the ingredients locked into the pocket and roll the remaining bit until the spring roll resembles a burrito with all the ingredients tucked inside.

Cover spring rolls with a damp towel or paper towel, and refrigerate overnight. Transfer to a sturdy container for trail travel.

For rigorous trail activity, wrap each spring roll with plastic wrap. You can re-use plastics from bread and dry goods packaging.
Peanut Sauce
Combine peanut butter, hoisin, Sirracha, lime, and ginger to a bowl and whisk briskly.

Pour in small amounts of water as needed to thin the sauce. The desired consistency is that of a dipping sauce, one that allows smooth entry and exit of spring roll.

Refrigerate sauce in a sealed container until use. On the trail use a tight sealing container, such as this Nalgene Bottle, to prevent spills in your pack.
Recipe Notes
Look for rice paper, rice noodles, sirracha, and hoisin sauce at Asian markets, or in the "Asian" isle of your grocery store.