Asian Spring Rolls with Hydrating Fruits and Vegetables
A pressing issue with spending time in a dry, arid desert is keeping your body hydrated. In addition to bringing an abundant supply of water, here is another tip for when you're out exploring: eat your water! Fruits and veggies such as watermelon, lettuce and cucumber have over 90% water content, which is absorbed by your body when eaten. Water-rich fruits and vegetables also provide you with natural sugars, amino acids, mineral salts and vitamins that are lost in exercise.
Eat Your Water: Healthy Hydrating Asian Spring Rolls

The best high water content fruits
Watermelon and strawberries contain about 92 percent water per volume. Other fruits with high water content include grapefruit with 91 percent, cantaloupe with 90 percent and peaches with 88 percent water. Fruits containing 87 percent water by weight include pineapple, cranberries, orange and raspberries. Apricots hold 86 percent water, while blueberries and plums contain 85 percent water. The water content for apples and pears is 84 percent. Cherries and grapes contain an average of 81 percent water. And, a banana's composition includes 74 percent water.
The best high water content vegetables
On top of the vegetables list are cucumber and lettuce, consisting of 96 percent water. Zucchini, radish and celery are comprised of 95 percent water. Ninety-four percent of tomato's weight is water, and green cabbage is 93 percent water. Vegetables that contain 92 percent water include cauliflower, eggplant, red cabbage, peppers and spinach. Broccoli is 91 percent water by weight. Additional healthy hydrating foods include carrots with 87 percent water and green peas and white potatoes with 79 percent water.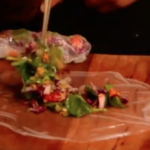 Hydrating Asian Spring Roll
Whip up a batch of Hydrating Asian Spring Rolls the day before you hit the trail, and refrigerate or store in cooler until you're ready to start. If you're doing rigorous activity, double wrap your Spring Rolls with two layers of rice paper.
Ingredients
8

Rice Paper Wrappers

1

Carrot

2

Strawberries

1/2

cup

Spinach

1/3

Cucumber

1/2

cup

Chopped Red Cabbage

pinch

Salt

pinch

Pepper
Instructions
Chop cabbage, spinach and strawberries

Grate carrots and cucumber

Combine all ingredients in a large bowl and mix, and season with salt and pepper.

Individually soak rice paper in warm water until they become rehydrated. The rice paper will take on a gelatinous, gummy consistency when ready.

Lay rice paper flat on a clean surface, and spoon 1/3 cup of mixed ingredients onto paper. Try to arrange ingredients in a line in the center of the rice paper.

Gently fold 2 sides of the rice paper over the fruit and veggies.

Take the back (almost square) side of the rice paper and gently fold it over the pocket of ingredients. "Tuck and Roll" by keeping the ingredients locked into the pocket and roll the remaining bit until the spring roll resembles a burrito with all the ingredients tucked inside.

Store Spring Rolls in a sturdy container and refrigerate overnight. Try lining the top/bottom of your container with wax paper or plastic, as the spring rolls tend to stick to most surfaces. For rigorous trail activity, wrap each spring roll with an additional piece of rice paper, for added support and protection.