Leave No Trace Cooking
The Leave No Trace Center For Outdoor Ethics strives to educate all those who enjoy the outdoors about the nature of their recreational impacts, as well as techniques to prevent and minimize such impacts.  Anyone who spends time in the wilderness is at risk of damaging the delicate nature that surrounds them, which is why it is crucial for everyone to understand and abide by the Leave No Trace seven core principles.  The seven core principles are used to communicate the best available minimum impact guidance for enjoying the outdoors responsibly.
The Subaru Leave No Trace Traveling Trainers
The Leave No Trace Center for Outdoor Ethics has teamed up with Subaru to create the Subaru Leave No Trace Traveling Trainer Program, which consists of teams who promote responsible recreation across the United States while living out of their Subaru Crosstrek Hybrid.  We had the pleasure of working with Sam Ovett and Jenna Hanger, the west coast Subaru Leave No Trace Traveling Trainers, who shared one of their favorite paleo car camping recipe while teaching how to cook a meal that abides by the Leave No Trace Seven Core Principles.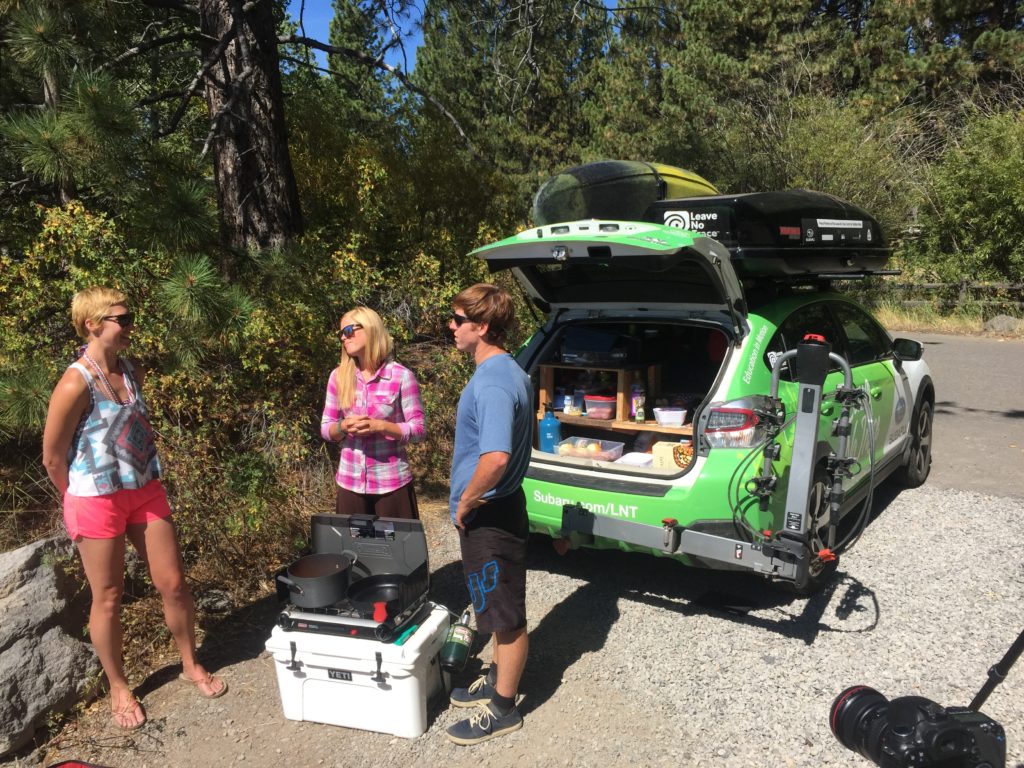 Leave No Trace cleanup and cooking instructions
After spending a year living and working out of their Leave No Trace Subaru, Sam and Jenna have become outdoor cooking experts, and, outdoor cleaning experts!  Always leave your cooking and eating space immaculate by following Sam and Jenna's Leave No Trace's cooking tips:
Plan ahead! Minimize your waste by consolidating packaging before you head out on your trip

Jenna's example: If you have 25 Cliff Bars, take off the packaging and store the Cliff Bars in one large container, "That way you don't have to worry about 25 little wrappers".

Chop and prep ingredients before you start cooking, and keep an eye out for any scraps that might fall on the ground
Make sure you get all the little pieces of food into the cooking pot, this will help eliminate scraps getting lost, and it will make clean-up a little easier
Have a trash bag ready so you can quickly discard of all trash immediately
Plan ahead for dishes. Bring bins and strainer so you can properly discard of waste and sanitize your kitchen using Leave No Trace proper dishwashing.
Pack it in, pack it out. Leave your campsite clean and spotless.
If you're heading into the wilderness, familiarize yourself with Leave No Trace's Seven Principles.  Its everyone's responsibility to always Leave No Trace!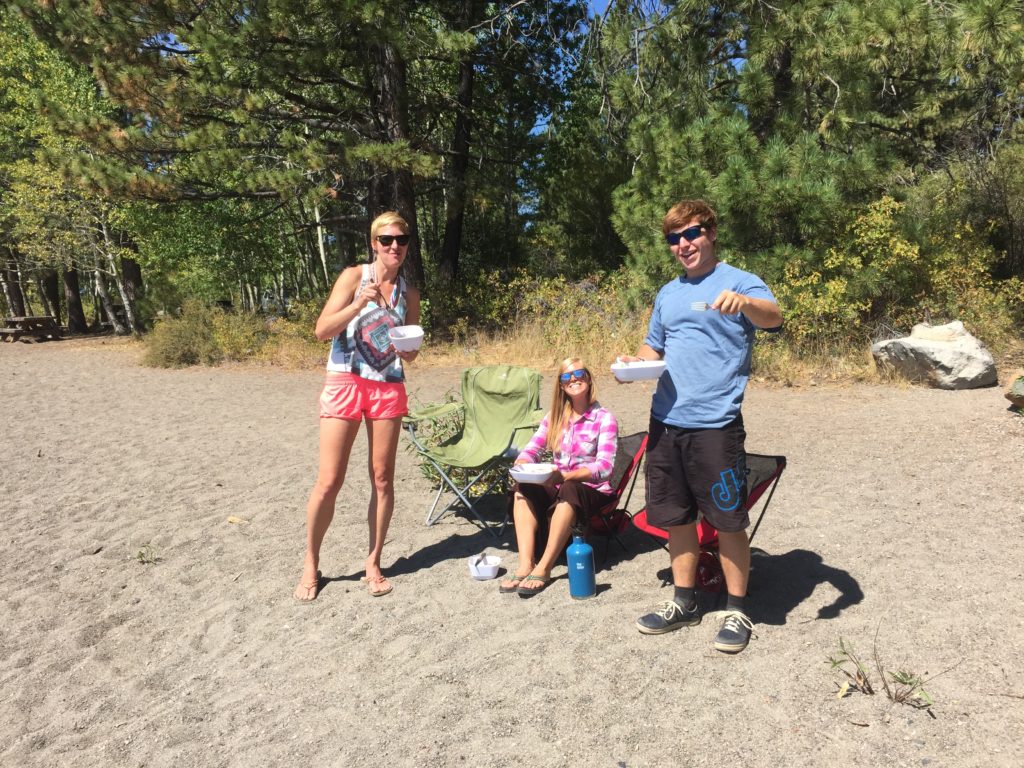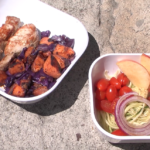 Healthy Paleo Car Camping
Cooking Equipment: 2 burner Coleman Propane Stove with nonstick pot and pan.
Cuisine:
Firepit/BBQ, Propane Stove, Stoveless
Ingredients
Pork
4

Pork Tenderloins

4

tbsp

Garlic

chopped

1

tsp

Salt

1

tsp

Pepper

1/4

cup

Olive Oil
Sweet Potatoes
1

Sweet Potato

chopped

1/2

Purple Cabbage

chopped

1/4

cup

Olive Oil

2

tbsp

Garlic

chopped

1

tsp

Salt

1

tsp

Pepper
Zucchini Salad
1

Zucchini Spiral Cut

10

Cherry Tomatoes

Sliced

1

Apple

Sliced

1

Nectarine

Sliced

1/2

Onion

Chopped

to taste

Coconut Amino Dressing
Instructions
Potatoes and Purple Cabbage
Turn stove on medium. Heat large pot with base of pan coated in 1/4 cup olive oil.

When oil is hot add chopped sweet potato to, stir until potatoes are covered in oil

Season potatoes with 1 tsp salt and 1 tsp pepper

Stir potatoes every 5 minutes. When potatoes start to soften, add chopped purple cabbage, 1 tbsp olive oil, 1 tsp salt, 1 tsp pepper. Continue to stir every 5 minutes until cooked. Turn stove on low when potatoes and cabbage are cooked.

Heat skillet and coat the bottom of the skillet with 1 inch olive oil.

When oil is hot place pork in skillet, add pinch salt and pepper to each pork loin. Place 1 tbsp garlic over each pork loin.


Cook pork on high heat to achieve a sear on each side, then turn skillet to low heat and let cook until inside of each loin is cooked through.


Remove from heat when meat is cooked, serve with potatoes and cabbage.
Zucchini Salad
While meat and potatoes are cooking, prep salad.

Chop onion. Slice tomatoes, apples, nectarine.

Run zucchini through a spiral vegetable cutter, to create zucchini pasta. If you don't have spiral vegetable cutter, use a knife to chop zucchini pasta into thin rounds.

Serve zucchini in a bowl, with onion, tomatoes, apples and nectarine. Top with coconut amino dressing.