Top 5 Boat Snacks
Ahoy! When it comes to packing for a day on the water, do you ever find yourself perplexed about which foods to bring aboard a boat?  Look no further, these are the top 5 snacks for a day of boating.
Boat snacks can be tricky because you don't want to bring aboard anything messy that could leave crumbs or stains all over your boat.  In choppy seas, your snacks are going to bounce around, so avoid fragile foods that might spill or break.  Most importantly, remember to stay hydrated.  One way you can do this is by eating water rich foods.
Best snacks to bring on a boat
After 5 summers working as a boat captain, I can confidently say that I know some of the best foods to bring aboard!  Keeping extra water and snacks on hand is crucial to a successful day on the water.  When it comes to boats there are many unpredictable factors, such as weather, equipment malfunctions, or simply having too much fun that can cause you to spend more time on the water than planned.  With that in mind, if you have snacks aboard you will be ready for anything!  These are my 5 favorite snacks to bring on a boat: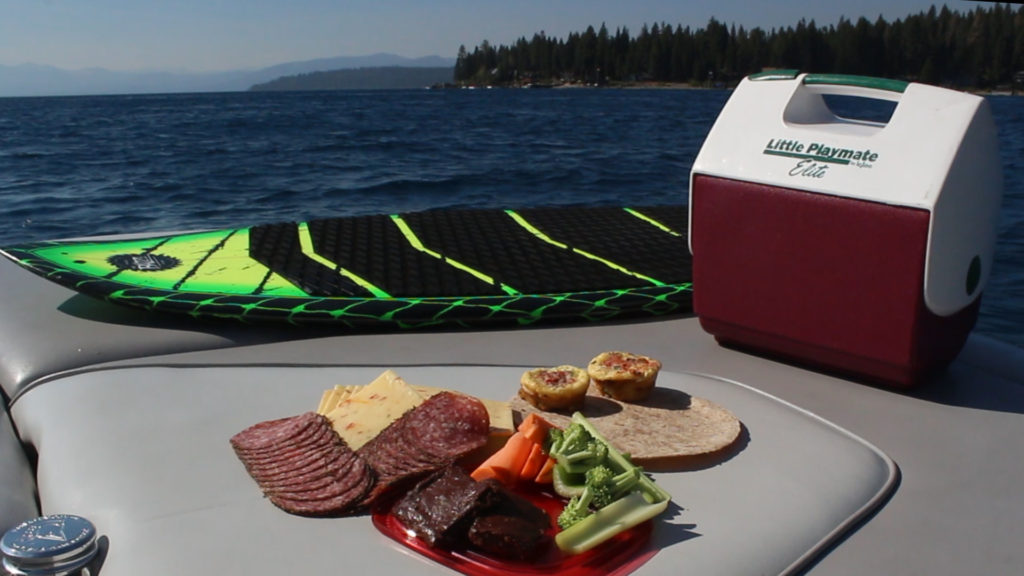 #1: Deli meats and sliced cheese
Sliced meats and cheeses make great boat snacks, because they're easy to eat, easy to share and they can easily be stored inside a cooler or dry cabinet.  The proteins and fats found in meat and cheese will curb your appetite, and they will help provide insulation on cold days.  And, if you happen to run out of bait, fish love meat and cheese!
#2: Hydration packed fruits and vegetables
Not only do fruit and veggies have important vitamins that help protect you from sun damage, but they are also packed with hydration.  Spending time outside on a boat depletes your hydration, which is why hydrating fruits and vegetables make great boat snacks.
#3: Healthy Cocoa Banana Energy Bars
Banana Energy Bars are a well balanced boat snack packed with sustained energy and good fats.  Make at home using overripe bananas and store in an air tight container in the freezer.  Bring the bars boating and store in a cooler over ice, and enjoy this cool treat on a hot day.  And, this recipe has no processed sugar and only cocoa powder, so you don't have to worry about chocolate melting all over your interior.
#4: Ginger, a cure for motion sickness
Ginger is an ancient cure for motion sickness, and some claim this root can be more effective than taking Dramamine.  The TV show Mythbusters even concluded that ginger pills prevented motion sickness.  Ginger is easy to pack and it may help one of your boat companions if they're not feeling well.  I prefer ginger candy, but ginger beer is another refreshing option.
#5: Muffin Tin Huevos Rancheros Burritos
A friend of mine told me that he used the boat's dash board to heat up muffins in the morning.  I decided to give this genius innovation a try, but with eggs.  I tweaked a Muffin Tin Egg recipe a bit and came up with a Huevos Rancheros Boat Burrito (recipe listed below).
Simply place 2 Muffin Tin Huevos Rancheros egg pockets for each burrito in the dash board that is getting the most direct sunshine.  The dash is one of the warmest places on the boat because it's protected from the wind and the sunshine reflects through the glass.  Depending on how warm it is outside, the eggs take an average of 30 minutes to heat up.  When you're getting ready to take a run, place your breakfast in the dash.  By the time your done and dried off you will be ready to enjoy a boat heated burrito!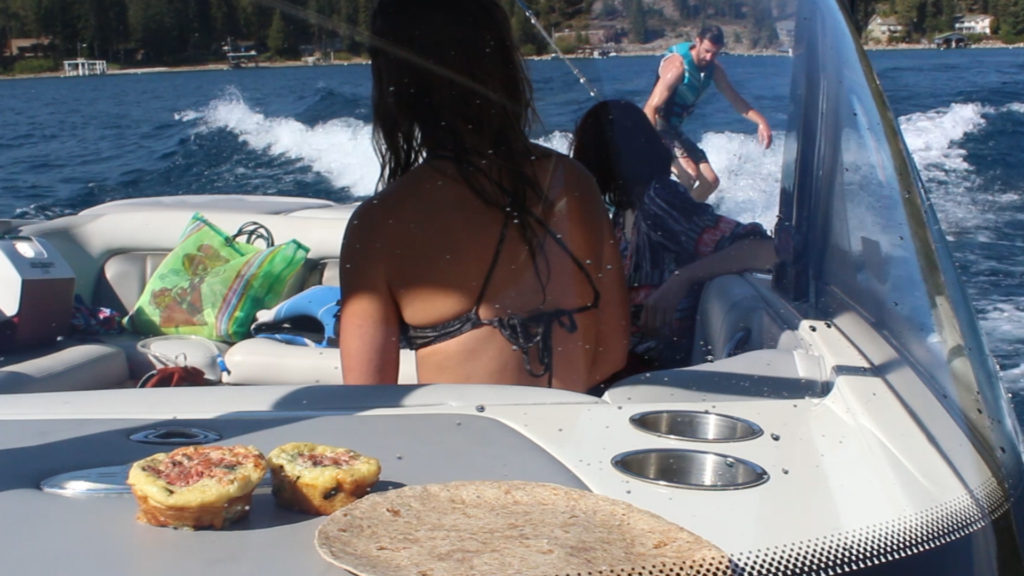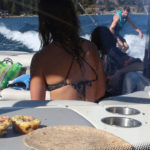 Muffin Tin Huevos Rancheros Burritos
Use a boat's dash board to cook your breakfast with these Muffin Tin Huevos Rancheros Burritos!
Ingredients
At Home
6

Eggs

1/2

can

Black Beans

1/2

cup

Crumbled Queso Fresco

1/4

cup

Cilantro

1

Jalapeno

chopped finely

1/4

tsp

Pepper

1/2

tsp

Salt

1/2

cup

Onion

chopped

1/4

cup

Roasted Red Peppers

1

tbsp

Olive Oil
Instructions
At Home
Preheat oven to 350 degrees F. Lightly grease 6 muffin cups.

Heat a small skillet to medium-high heat with 1 tbsp olive oil. When oil is warm add onion and jalapeño. Let cook for 2 minutes, stirring occasionally. After 2 minutes stir in Roasted Red Peppers, season with 1/4 tsp salt and 1/4 tsp pepper. Cook for 5 minutes, stirring frequently.

After 2 minutes stir in Roasted Red Peppers, season with 1/4 tsp salt and 1/4 tsp pepper. Cook for 5 minutes, stirring frequently. Turn off stove and let sit.


Scoop 1 tablespoon black beans into each muffin slot.

Add 1 tablespoon sautéed peppers, onion and jalapeño to each muffin slot.

Beat 6 eggs. Crumble in 1/2 cup of Queso Fresco. Add 1/4 cup cilantro. Add salt and pepper and beat mixture for additional 30 seconds.

Pour 1/4 cup of egg mixture into the 8 muffin slots already filled with beans and sautéed veggies.

Place on top oven rack and cook for 20 minutes. Check to ensure Huevos Rancheros Eggs are cooked through by making a small incision in one of the egg muffins. Pull apart slightly and peek inside. If inside is still runny, return to stove and cook until fluffy.
On the Boat
Place 2 Huevos Rancheros Egg Muffins on a tortilla and set on the boats dash board by the sunniest part of the window.

Use the sunlight to re-heat eggs. This only works if the dash is by touch very warm to hot. Do not try to heat eggs on a cold dash, it won't work.

Let eggs sit for 20 minutes, then check to see if they're warm. If not, keep them in the window until they get warm. (Theres not set amount of re-heat time....depends on initial temperature of eggs, temp of the dash, and the temperature outside).

When you're happy with the temperature, fold burrito over eggs, and enjoy!