Camping Sushi Hand Rolls
Can you make sushi in the great outdoors?  Absolutely!  Hand rolls are easy to assemble, healthy and lightweight.  Make your next adventure a lavish excursion with these Japanese Camping Hand Rolls.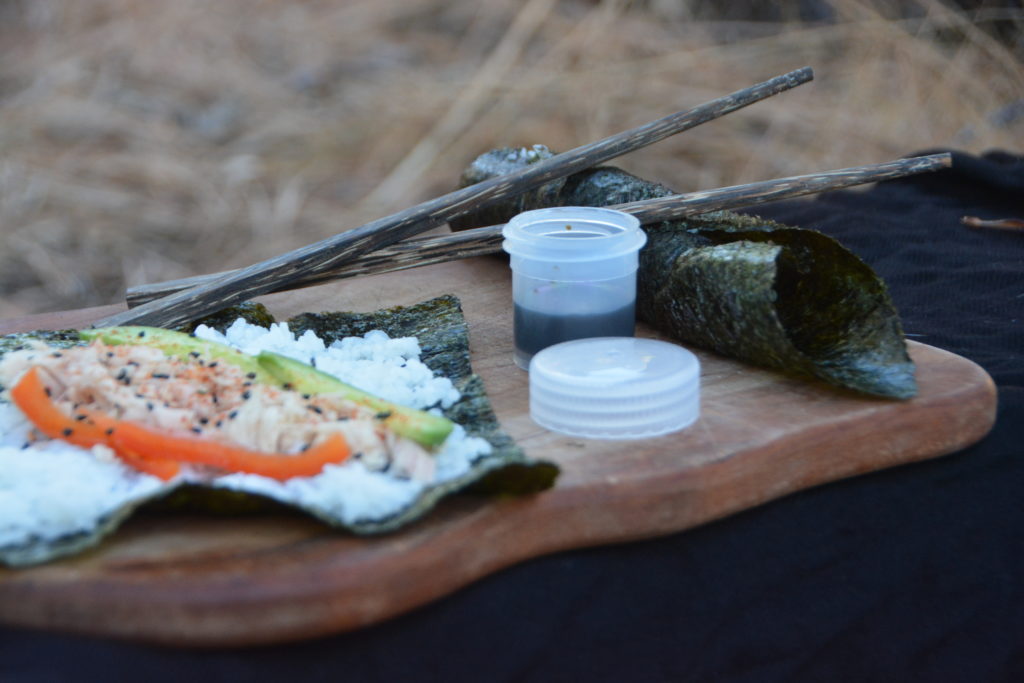 Backcountry sushi hand rolls
When it comes to spending time in the great outdoors, some people are almost impossible to please.  You know the type, the ground is always too hard, the sounds are always too loud and the food never tastes as good as it does back home.  For those who refuse to leave their luxurious lifestyle, we developed glamping inspired Smoked Salmon Hand Rolls.
How to make camping hand rolls
Hand rolls are extremely easy to assemble.  With infinite combination possibilities you can personalize hand rolls to fit individual preferences.  Hand rolls are an outstanding adventure meal that will remind you of eating out at your favorite sushi restaurant.  Here are our tips for making adventurous hand rolls:
Prepare the rice – Warm rice sticks to nori and holds the hand roll together.  Depending on your cooking setup you can make traditional sushi rice or minimalist rice.  The easiest rice to prepare is pre-cooked; simply use a small stove or hot water to heat.  For authentic Japanese sushi rice you simply add rice wine vinegar, sugar, salt and fresh rice.
Lay out hand roll fillings – Prep hand roll fillings by laying out available ingredients.  Every trip is different, but here are some of our favorite fillings:

Canned tuna, salmon, oysters, sardines
Ziplock Pickled Vegetables
Powdered or fresh avocado
Jerky
Cucumber (fresh, dehydrated, or pickled)
Fresh caught fish
Shitake mushrooms
Foraged edible plants
Tofu
Sesame Seeds
BBQ chicken/beef/pork teriyaki

Find a clean, flat surface 
Assemble hand rolls – Lay nori flat. Add a thin layer of rice and spread rice evenly over nori sheet. Lay hand roll fillings in a line down the middle of the rice.  Fold the hand roll into a cone (instructions below in recipe).
Dip and enjoy – Combine soy sauce and powdered wasabi to make a spicy hand roll dipping sauce.  Serve with pickled ginger, miso soup and green tea for an authentic, restaurant style meal.  Nalgene has a line of durable, mini travel kits that work great as a reusable sauce vessel.
Nori edible seaweed
Nori is nutrient-dense, dried edible seaweed used to make sushi.  Seaweed has an impressive amount of nutrients such as vitamins A, B-6 and C as well as iodine and fiber.
Many backcountry diets suffer from lack of vitamins, which can surprisingly be replaced by Nori.  And the best part, nori is ultralight!  This is a backcountry powerhouse and the perfect vessel for an outdoor hand roll.
What is Glamping?
Individuals participating in glamping don't want to "rough-it", they expect modern luxuries in a rustic setting.  If you are unfamiliar with this term, glamping is a combination of glamorous and camping.
Sushi: Glamping's perfect pairing
Throw a sushi party for your next adventure and impress your friends with an unforgettable meal.  Your next trip deserves a glamorous meal, follow our Smoked Salmon Hand Roll recipe below: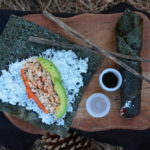 Smoked Salmon Hand Rolls
A fantastic lunch for everyone from glamorous to extreme.
Ingredients
6

sheets

Nori

1

package

Pre-Cooked Rice

1

tsp

Rice Vinegar

1/2

tsp

Salt

2

packets

White Sugar

1/4

cup

Dehydrated Shitake Mushrooms

1/8

cup

Water

1

package

Patagonia Provisions Smoked Salmon

1

Avocado

1

tbsp

Sesame Seeds

1/2

tsp

Wasabi Powder

7

packages

Soy Sauce
Instructions
At Camp
Find a clean, sturdy surface for cooking and meal prep.

Heat rice by cooking in bag or emptying contents into a cooking pot. Add a splash of water if cooking with pot to prevent sticking

While rice is warming, rehydrate shiitake mushrooms in a separate container. Add 1/8 cup water and 1 packet of soy sauce to shiitake mushrooms. Let mushrooms soak for 10 minutes, or until they become squishy.

When rice and mushrooms are ready, lay a sheet of Nori on clean surface.

Scoop 1/4 cup rice onto center of Nori. Spread the rice to 3 corners of the Nori, but leave 1 inch space from edge of Nori to rice. Leave one side of the Nori 3 inches rice-free. (rice is in shape of a triangle).

Top rice with Patagonia Provisions Smoked Salmon diagonally on top of the rice so they point towards the bottom corner of the nori. Add slices of avocado to the side of the salmon, following the same direction. Top with shiitake mushrooms and a sprinkle of sesame seeds.

To fold, gently grab the right side of the nori sheet and pull it over the ingredients. Lightly tuck and roll, securing the ingredients together.

Pull the other side of the nori, and tightly wrap the remaining around the sushi so it forms a cone.
Dipping Sauce
Serve with wasabi powder and soy sauce.