Glamping Sushi
When it comes to spending time in the great outdoors, some people are almost impossible to please.  You know the type, the ground is always too hard, the sounds are always too loud and the food never tastes as good as it does back home.  You might not be able to please these individuals all the time, but rest assured you can make them a luxurious meal.  Smoked Salmon Hand Rolls are a pack friendly backcountry variation to traditional sushi, that will surprise and delight your toughest critics.

Backcountry sushi hand rolls
Can you make sushi in the great outdoors?  Absolutely!  Hand rolls are easy to make, healthy and lightweight.  Below is a recipe for basic backcountry hand rolls, invented with the minimalist in mind.  But, if you're on a lavish excursion, and perishable items such as avocado, cucumber, and fresh fish are no concern, roll them up inside the Nori.  Watch how we assemble our Smoked Salmon Handrolls.
Nori is a nutrient dense piece of dried seaweed used to hold ingredients inside of hand rolls.  Seaweed has an impressive amount of nutrients such as vitamins A, B-6 and C as well as iodine and fiber. Many backcountry diets suffer from lack of vegetables, which can surprisingly be replaced by Nori.

Best fish for sushi
The best fish for backcountry sushi is already cooked (or smoked) and vacuum sealed in a tightly sealed container.  For a great store-bought option, check out Patagonia Provisions Wild Sockeye Salmon.  Patagonia has a line of sustainable foods packaged and prepared for the wilderness, and their salmon tastes fantastic wrapped inside a hand roll.
What is Glamping?
Individuals participating in glamping don't want to "rough-it", they expect modern luxuries in a rustic setting.  If you're unfamiliar with this term, glamping is a combination of glamorous and camping.  For example, someone who glamps might have a bunk bed cot with down pillows and blankets, as opposed to a traditional camper who sleeps on a rocky floor.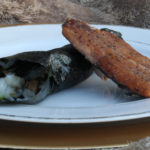 Smoked Salmon Hand Rolls
A fantastic lunch for everyone from glamorous to extreme.
Ingredients
4

sheets

Nori

1

package

Patagonia Provisions Smoked Salmon

1

package

Pre-Cooked Rice

1

tsp

Wasabi

1

splash

Water
Instructions
Glamping/Camping
Empty the contents of Pre-Cooked Rice into backcountry stove.
Glamping
Empty contents of rice and splash of water into a pot. Heat over stove or bbq.

When rice is warmed thoroughly remove pot from heat. Careful not to overheat the rice, otherwise it will burn or stick to the pan. Think of this step as a quick steam to make the rice warm.

Lay a sheet of Nori on a clean, flat surface.

Spread a thin strip of Wasabi from one edge of the nori to the opposing edge. Use a very light amount, the wasabi is very strong and takes some getting used to!

Scoop 1/4 cup rice onto center of Nori. Spread the rice to the 4 corners of the Nori, but leave 1 inch space from edge of Nori to rice. Leave one side of the Nori 3 inches rice-free.

Next add 1/4 of Patagonia Provisions Smoked Salmon to the center of the rice topped Nori (follow along wasabi). Arrange the salmon into a line from one corner to the opposing corner.

Gently fold the nori as you wrap the salmon. Roll and fold carefully, and be sure not to puncture the Nori.

Pull the other side of the nori, and tightly wrap the remaining around the sushi so it forms a cone.
Ultralight
Use Wasabi powder in exchange for Wasabi. Sprinkle in a very light amount of powder to the rice as you heat the rice.

Also, If available substitute salmon for dehydrated fish or fish jerky; and substitute rice for quinoa or a lighter grain. (Check Asian super market for dehydrated fish).