Asian Peanut Noodles & Pickled Slaw
We invented a lightweight Asian Noodles that is quick and easy to prepare, and costs a mere $1.40 per serving.  This versatile recipe can be made on a one pot stove, or no cook.
Easy backcountry meal
Store bought dehydrated meals for wilderness travel are a staple for many outdoor expeditions.  Unfortunately, paying $4-$12 per bag can get expensive very quickly, and many purchased purchased meals are not known for tasting great.  Do not suffer through another expensive bag of mush, follow the recipe and make your own light weight, dehydrated Asian Peanut Noodles featuring common store-bought ingredients.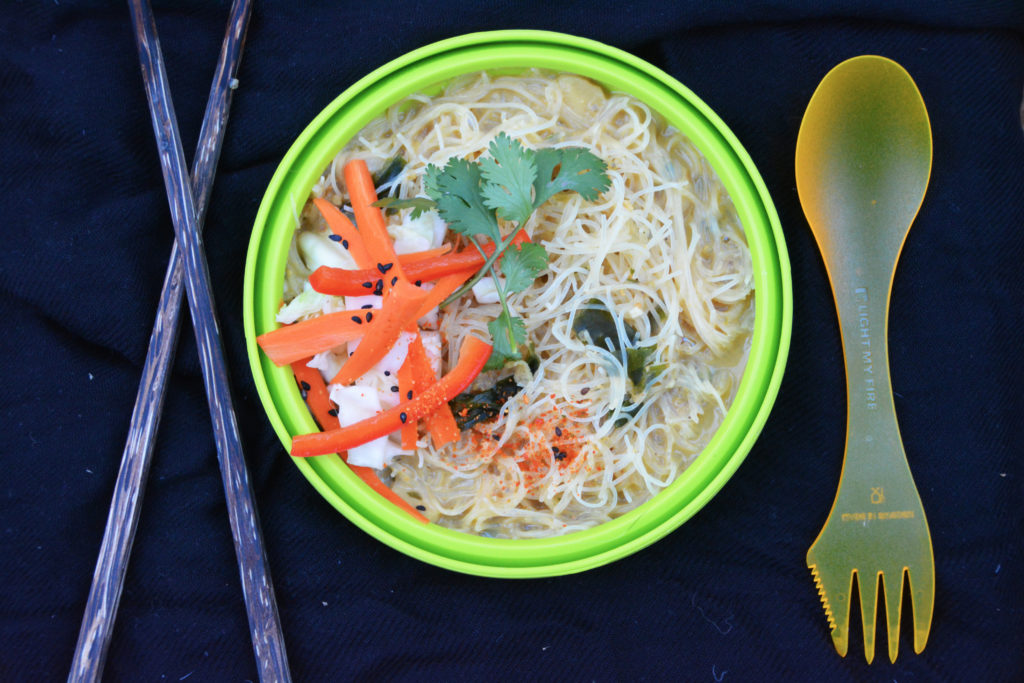 Asian Noodle Bowl Ingredients
Most of the ingredients for this DIY dehydrated meal can be found at most chain grocery stores.  If you are having trouble locating some of the items, check an Asian Supermarket or purchase online.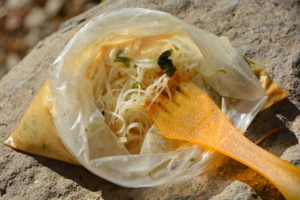 The star of this dish are the rice noodles.  These thin gluten free noodles are simply rice flour and water that become gelatinous when immersed in warm and cold water.  Rice noodles are a versatile ingredient with a long shelf life.
In addition to rice noodles, Asian Noodle Bowls are loaded with healthy ingredients packaged for ultralight wilderness travel.
Sesame seeds – good source of calcium, phosphorus, magnesium, iron, zinc, molybdenum, vitamin B1, selenium and dietary fiber
Powdered Peanut Butter – protein packed PBfit Powder
Coconut powder – gluten free, high in fiber, protein, healthy fats
Ginger powder – an excellent source of dietary fiber, vitamin E
Powdered wasabi – provides a spicy kick
Miso powder – high in sodium to replenish salt lost through sweat
Garlic powder – rich in carbs, protein, dietary fiber, and iron
How to pickle vegetables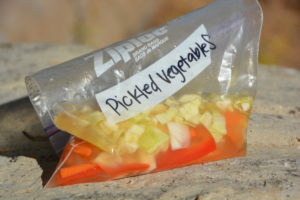 Top Asian Peanut Noodles with pickled vegetables for bring a vibrant, fresh flavors to this dish.  Ziplock Pickling is a creative way to preserve vegetables in the backcountry.  Bringing fresh ingredients on long trips can be difficult since most fruits and vegetables spoil quickly or are too heavy to carry.
Rehydrate with pickle juice
The vinegar based picking liquid from the slaw is a replenishing tonic that can be drunken alone or mixed with water.  The pickle juice has sodium and vinegar — both necessary in aiding athletes in re-hydration.  You can add some water to the ziplock bag, or pour the liquids into a cup.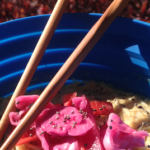 Asian Peanut Noodles with Pickled Slaw
This meal is a dehydrator-free dehydrated meal. The slaw is optional, but highly recommended (read 'recipe notes' for benefits of slaw).
Enjoy warm as a one pot recipe, or cold as a no cook meal
Ingredients
Asian Peanut Noodles
2

tbsp

PBfit Powdered Peanut Butter

1 1/2

tbsp

Coconut Powder

1/4

tsp

Ginger Powder

1/2

tsp

Dried Minced Garlic

1/8

tsp

White Pepper

1/8

tsp

Wasabi Powder

1

tbsp

Sesame Seeds

2

tbsp

Dried Miso Soup

(Kikkoman's Miso is in most 'Asian' aisle of grocery store)

2

oz

Rice Noodles
Pickled Slaw
1/8

cup

Cole Slaw Mix

(in grocery store's salad bags section)

1/2

tsp

Grated Ginger

2

tbsp

Vinegar

(make sure it has at least 5% acidity)

1

tbsp

water

1/2

tsp

Sugar

1/2

tsp

Salt

2

Reliable Sealable Plastic Containers

(strong Ziplock bags)
Instructions
At Home Noodles
Combine noodles, miso, chia, wasabi, white pepper, garlic, curry and coconut powder into Ziplock bag. Label: "Curry Noodles Add 2 cup water. soak. flash boil".
At Home Pickled Slaw
Mix vinegar, water, sugar and salt in a Ziplock bag until salt and sugar dissolve

Add carrots, cabbage and ginger to Ziploc, and gently shake ingredients until fully immersed in liquid.

Remove all air from Ziploc and seal. Double check seal to make sure its tight.

Double bag Ziploc with 2nd bag
On the Trail
Empty contents of Curry Noodle Ziplock into cooking pot and add 2 cups water (for soupier noodles, add more water)

Let noodles and sauce soak in water for 10-15 minutes. *For no cook noodles soak 20+ minutes until desired noodle consistency is reached, then eat cold out of pot.

For warm noodles turn stove on high and heat noodles until steam rises through pot. Turn off stove. Grab chopsticks or spoon.

Add vegetable slaw to the top of your noodles, but save the pickled juice! Noodles are ready, eat up!

Drink pickling juice straight or add to water.

When you finished eating, be sure to clean your prep and eating area and always leave no trace behind.
Recipe Notes
No cook: try these cold noodles on hot days. Simply add water ahead of time and let the noodles soak and rehydrate.
One pot: use a one pot stove to heat water. Boil soup ingredients, or add boiling water to dry mix, stir and let sit for 2 minutes,
Ziplock pickled slaw adds bright flavors and an elegant crunch to this meal. Vinegar is a rehydrating tonic paced with electrolytes, mix with water or drink straight.