Boat Breakfast Burritos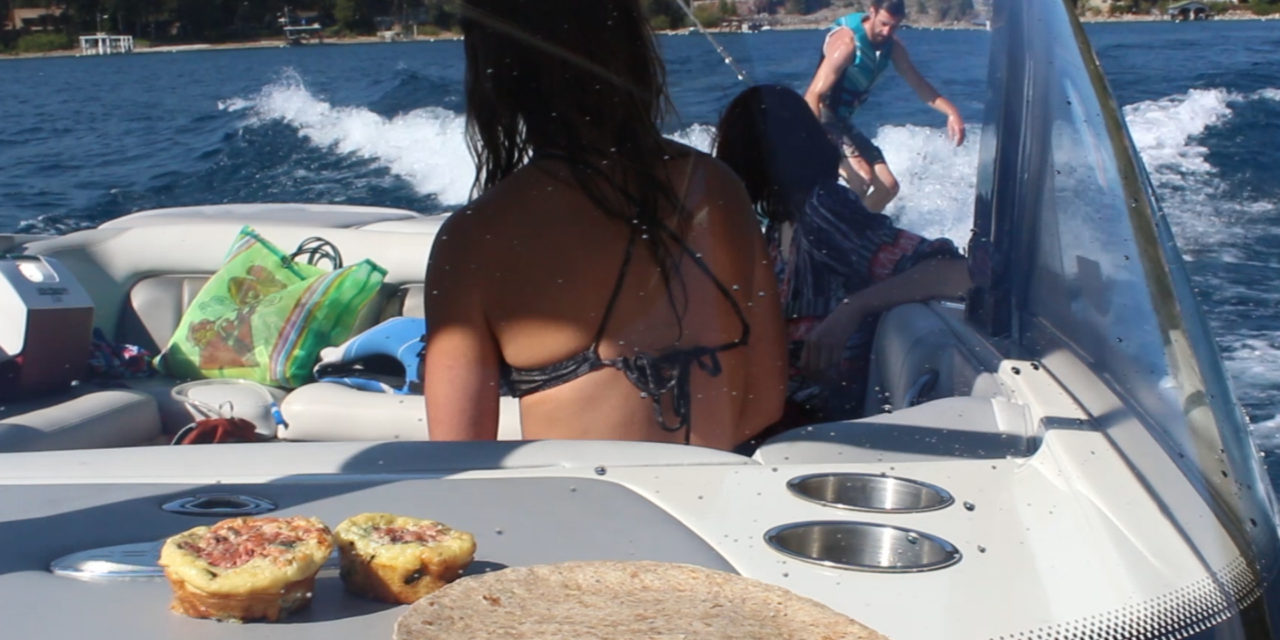 Have you ever made breakfast burritos on a boat's dashboard? If you're spending time on a boat this summer, this is a must try recipe!  Use a boat's dash board to make breakfast burritos by simply placing cooked eggs and tortilla on the hot dash.

How to cook on a boat
A boats dash board is a consistently warm place on the vessel.  This area is typically located above the steering wheel and control panels and in-between the helm's window.  The glass protects the dash area from wind and spray, and creates a sun room that traps all the heat passing through the glass.  The heat reflects off of the dash, and bounces back to the glass, which creates a makeshift solar oven.
Boat Snacks
Looking for more boating snack ideas? Check out some of our favorite foods to bring on the boat!
Breakfast Burritos
Use a boat's dashboard to warm breakfast burritos.  Follow the directions below for our Muffin Tin Eggs – a simple recipe that binds all ingredients one would find inside a breakfast burrito for easy dash warming.
Make Muffin Tin Huevos Rancheros Eggs at home (recipe below)
On the boat: Place pre-made Muffin Tin Eggs and large tortilla on the warm dash board
Let eggs and tortilla sit until warm
Wrap Muffin Tin Eggs in tortilla
Enjoy with your favorite salsa or hot sauce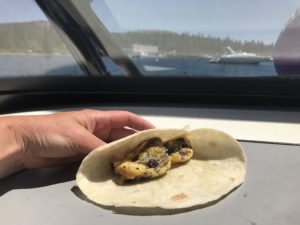 Muffin Tin Eggs Recipe
Make the Muffin Tin Eggs at home and store in a cool place until you're ready to eat.  The self contained Muffin Tin Eggs are easy to make, and they hold all the burrito ingredients together, which makes them easier to re-heat and easier to eat.
Our recipe for Huevos Rancheros Muffin Tin Eggs is easy to customize.  Try adding your favorite veggies, meats and cheeses for a delicious start to a day on the water!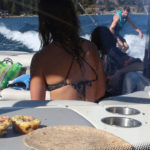 Muffin Tin Huevos Rancheros Burritos
Use a boat's dash board to cook your breakfast with these Muffin Tin Huevos Rancheros Burritos!
Ingredients
At Home
6

Eggs

1/2

can

Black Beans

1/2

cup

Crumbled Queso Fresco

1/4

cup

Cilantro

1

Jalapeno

chopped finely

1/4

tsp

Pepper

1/2

tsp

Salt

1/2

cup

Onion

chopped

1/4

cup

Roasted Red Peppers

1

tbsp

Olive Oil
Instructions
At Home
Preheat oven to 350 degrees F. Lightly grease 6 muffin cups.

Heat a small skillet to medium-high heat with 1 tbsp olive oil. When oil is warm add onion and jalapeño. Let cook for 2 minutes, stirring occasionally. After 2 minutes stir in Roasted Red Peppers, season with 1/4 tsp salt and 1/4 tsp pepper. Cook for 5 minutes, stirring frequently.

After 2 minutes stir in Roasted Red Peppers, season with 1/4 tsp salt and 1/4 tsp pepper. Cook for 5 minutes, stirring frequently. Turn off stove and let sit.


Scoop 1 tablespoon black beans into each muffin slot.

Add 1 tablespoon sautéed peppers, onion and jalapeño to each muffin slot.

Beat 6 eggs. Crumble in 1/2 cup of Queso Fresco. Add 1/4 cup cilantro. Add salt and pepper and beat mixture for additional 30 seconds.

Pour 1/4 cup of egg mixture into the 8 muffin slots already filled with beans and sautéed veggies.

Place on top oven rack and cook for 20 minutes. Check to ensure Huevos Rancheros Eggs are cooked through by making a small incision in one of the egg muffins. Pull apart slightly and peek inside. If inside is still runny, return to stove and cook until fluffy.
On the Boat
Place 2 Huevos Rancheros Egg Muffins on a tortilla and set on the boats dash board by the sunniest part of the window.

Use the sunlight to re-heat eggs. This only works if the dash is by touch very warm to hot. Do not try to heat eggs on a cold dash, it won't work.

Let eggs sit for 20 minutes, then check to see if they're warm. If not, keep them in the window until they get warm. (Theres not set amount of re-heat time....depends on initial temperature of eggs, temp of the dash, and the temperature outside).

When you're happy with the temperature, fold burrito over eggs, and enjoy!