Camping Bloody Mary Recipe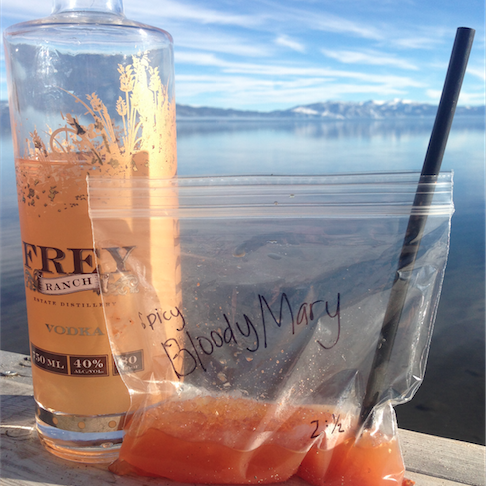 How to make a Bloody Mary
The Bloody Mary is a tomato based cocktail that is the perfect excuse for infusing nutrients with alcohol at any time of the day.  We invented a dehydrated Bloody Mary with a base that can also be used for sauces, soups and dips.
To make this beverage outdoors, combine the dehydrated ingredients listed below with vodka.  Believe it or not, but vodka has many useful functionalities that make this spirit a wilderness multi-tool.  If you prefer a different spirit, try a Bloody Maria with tequila, or a Cesar with gin.
Use Bloody Mary mix for soups and pastas
The Dehydrated Bloody Mary is unique because it is more than just a beverage….use the dry ingredients from the Bloody Mary to make pizza sauce, pasta sauce or soup!  This tomato powder based recipe was invented to be a lightweight and inexpensive meal that accompanies you on any outdoor adventure.  Follow the recipe to create your own Dehydrated Bloody Mary, and then check out the directions for a backcountry pizza sauce, pasta sauce and soup.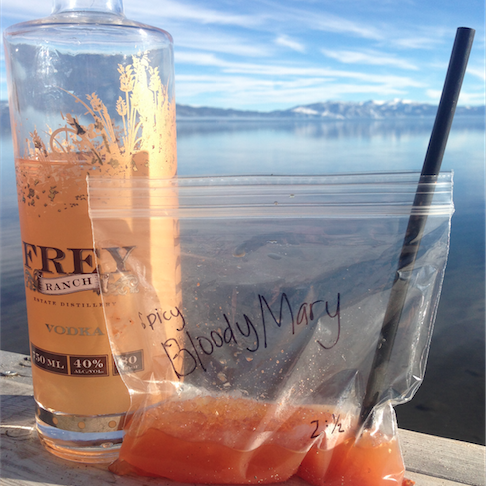 Dehydrated Bloody Mary
This drink is best served over ice. I use a palm-sized ball of snow for each cocktail. If you don't have snow or ice, try and get your vodka and water as cold as possible when adding to the dry mix. I recommend putting your liquids in a sealed bottle and immersing it in a cold alpine lake or stream to drop the temperature a few degrees.
Ingredients
Dry Ingredients
1

tsp

Tomato Powder

(purchased from nuts.com)

1/4

tsp

Celery Salt

1/16

tsp

Wasabi Powder

1/8

tsp

Black Pepper

1/16

tsp

Jalapeno Powder

1/8

tsp

Brown Sugar

1

pinch

Dried Garlic Flakes

1

pinch

Lemon Powder
Wet Ingredients
1

small handful

Snow or Ice

4

oz

Water

2

oz

Vodka
Instructions
Store dry ingredients in a sealed container or vessel.

Add water and vodka, mix thoroughly.

Top with snow or ice.

Drink and enjoy!
Recipe Notes
Alternative uses for the Dehydrated Bloody Mary Powder:
1: PIZZA SAUCE:  Add 3 oz water to dry ingredients. Mix until all powder is wet. Use on top of bread or crackers for a rich sauce. Try adding oregano and parmesan for more flavor!
2: PASTA SAUCE:  Add 4 oz water to dry ingredients. Mix until all powder is wet. Add sauce to pastas or try on rice.  Also great with parmesan.
3: TOMATO SOUP STOCK:  Add 8 oz water to dry ingredients. Mix until all powder is wet.  Stir in your favorite meats, cheeses, and vegetables, and heat over stove or campfire.