Spiked Hot Chocolate
Did you know that vodka is a backcountry multi-tool?!  The best way to save pack weight in the outdoors is to bring supplies that serve multiple purposes.  Believe it or not, but vodka has many uses that could make your next adventure surprisingly versatile.  Our boozy hot chocolate recipe, invented by professional bartender Heather Stinson, features vodka paired with common backpacking ingredients to make Heather's Snugglers.
Easy hot chocolate recipe
Heather Stinson, a professional bartender in Lake Tahoe, was inspired to make a backcountry version of one of her most popular cocktails, the "Snuggler".  Traditionally her Snugglers are make with hot chocolate, vodka, schnapps, and topped with whipped cream.  She made a few adjustments to her bar recipe and came up with and easy to make backcountry version listed below.
The mint in Heather's recipe replaces the schnapps and adds refreshment to this otherwise densely chocolate drink.  This is an undocumented claim, but from our experience, Peppermint Altoids can help with motion sickness and aid in digestion.  Surprisingly, the vodka used for Snugglers can also be used for more than just consumption…
Health benefits of vodka
Vodka was historically was used for medicinal purposes when Eastern Europeans began distilling the spirit back in the 8th century.  Even though the original recipe has undergone many changes, the high percentage of alcohol by volume found in vodka can be used as an antiseptic. In a situation where standard first aid equipment is not available, vodka may be used to clean dirt from the surrounding area of a wound. Vodka may also be used to disinfect equipment used to treat an open wound.
Eliminate bad smells
Vodka kills odor-producing bacteria.  Since laundry is not available to most people who spend days in the wilderness, freshen clothes by spritzing undiluted vodka onto the clothing and allow it to dry in a well-ventilated area.
What is vodka good for?
There are several other ways that vodka can help solve common trail problems, here are a few examples:
Relieves toothaches
Reduces stress
Skin care – cleans pores
Hair care – helps treat dandruff
Antiseptic uses
Cooking – vodka sauces
Insect repellent
All natural sustainable spirits
Frey Ranch in Fallon, Nevada is distilling a premiere line of "farm to bottle" spirits that feature ingredients solely grown on their farm.  The best spirits to use for Snugglers are high quality products with a smooth taste.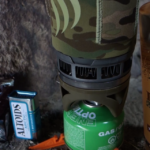 Backcountry Snugglers
This recipe is a backcountry twist on a classic winter cocktail. Use a Jetboil or quick cooking stove.
Ingredients
2

cup

Water

1

Altoid

3

Hersheys Kiss

1/2

cup

Powdered Milk

2

oz

Vodka
Instructions
Add 2 cup water to pot, turn on backcountry stove and bring water to a boil.

When water begins to boil add Altoid and chocolate. Turn down stove to medium, and stir until chocolate and Altoid are completely melted.

Turn the stove off, pour in 1/2 cup powdered milk, and 2 oz vodka. Stir for 20 seconds. Let Snuggles cool for at least 2 minutes.

Pour Heather's Snugglers into mugs or drink right out of the pot used for cooking.
Recipe Notes
Vodka is a very handy tool to take on your next trip into the backcountry.  In addition to use as a spirit you can use vodka to sanitize scrapes and wounds, repel insects, induce sleep, relieve tooth aches, clean skin pores, fight dandruff, and vodka helps cure cold sores. Transfer vodka to a plastic flask or lightweight container to cut down on bottle weight and bulk. Always drink and use alcoholic products responsibly!