Biking the Continental Divide
Thru biker, Marty Ylialto, is biking 2753.9 miles from Canada to Mexico along the Continental Divide Trail, and he needs to find food!  Due to the remoteness of this trial, Marty's next meal is very likely to be found in a gas station convenience store.  Thru biking the Continental Divide comes with many challenges, including many long, remote stretches with lonely gas stations to rely on for resupplying food and water.  The challenge with gas station meals is finding nutrition beyond chips and candy.  Marty shows us how to transform a stop at a convenience mart into a few days worth of provisions.
Great Divide Mountain Bike Route
The Great Divide is one of America's premiere thru routes starting in Banff, Canada and ending at the US/Mexico border.  This expansive network of off-road trails follows the Continental Divide, and is considered one of the most challenging bike routes in the country.  Biking the Great Divide is no easy feet, riders are faced with a multitude of challenges including: intense elevation gains and losses, ferocious weather, isolation, remoteness, finding water sources, and avoiding Grizzly Bears!
Gas Station and Convenience Store Resupply
Marty Ylialto's biggest concern with biking the Great Divide is packing enough water.  He had several liters in dromedary bags stowed on his bike, which left little room to carry food.  Like many thru bikers, Marty relied on supply stations found along the route for fuel and basic necessities.  Knowing how to choose the right foods when faced with aisles of high salt, low nutrition snacks can be difficult, which is exactly why Marty familiarized himself with convenience store nutrition and chooses the foods that are nutrient dense.  The average person biking the GDT needs around 6,000 calories per day, which roughly equates to: 3 frozen burritos, 2 cups of mixed nuts, 2 bags of beef jerky, 2 cans of tuna, 4 trail bars, 3 protein shakes, 4 bananas, 4 sports drinks and 3 ice cream bars!  As you can imagine, finding a way to carry that much food on an already tightly packed bike is a challenge!
Gas station snacks
Surprisingly, we found a lot of great gas station foods that Marty was excited see.  Proteins such as tuna, jerky, protein shakes, and deli meats were extremely sought after, and could be paired with crackers, banana and yogurt for a complete meal.  He predicted that when he was starving after a long stretch of riding, he would "down a can of Campbell's Soup cold while snacking on Cheeze-It crackers."
A person thru-biking the Continental Divide needs to supplement their body with 6,000 calories per day.  Many gas station snacks are filled with calories, but lack nutrition and low sugar.  Below is a list of some of Marty Ylialto's suggestions for ideal gas station snacks when biking the Continental Divide Trail.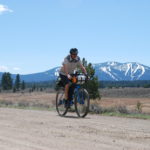 Truck Stop Shopping
Staple ingredients that can be found in most convenience stores. These items are packed with calories and nutrients to help nourish and repair your tired body.
Ingredients
1

Banana

105 calories

1

can

Tuna

157 calories

1

container

Yogurt

100 calories

27

crackers

Cheez-It

150 calories

1

stick

String Cheese

80 calories

1

Hard Boiled Egg

78 calories

1

Frozen Burrito

290 (bean and cheese)

1

piece (.7 oz)

Beef Jerky

82 calories

1

Pre-Made Sandwich

270 calories (ham and cheddar)

1

can

Chili w/Meat

259 calories

1

cup

Mixed Nuts

813 calories

1

cup

Trail Mix

693 calories (average mix)

1

bar

Trail Bar

240 calories (Clif Bar Chocolate Chip)

1

bottle

Protein Shake

170 calories (small Muscle Milk)

1

bottle

Orange Juice

112 calories

1

bottle

Sports Drink

130 calories (Gatorade Cool Blue)

1

cup

Coconut Water

46 calories

1

bar

Ice Cream Bar

171 calories (chocolate covered vanilla)
Instructions
Find the foods that work best for your diet and your tastes and indulge! The average person biking the Great Divide burns between 6,000 to 10,000 calories per day, so fuel up with food packed with nutrition and calories.