Best Beach Snacks
What are the best snacks to bring for a day spent enjoying the beach?  If you're looking for delicious snacks that pair well with sun and fun, check out our top 5 favorite beach foods:
Healthy Asian Spring Rolls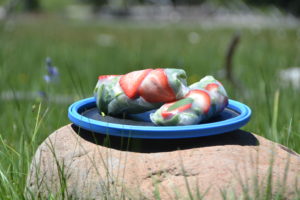 A typical Vietnamese Spring Roll consists of rice noodles, shrimp, pork and fresh herbs wrapped inside a thin rice paper, which when rolled looks like a mini-burrito or a clear egg roll.  You might be surprised to learn that our Spring Rolls are a healthy snack that can help you stay hydrated when you're at the beach.  The fruits and vegetables used in our spring rolls have at least 80% water content as well as nourishing vitamins and minerals.
Beach Ceviche
Ceviche is a raw fish dish that is cooked using the juice of citrus.  This is a popular dish that can be found throughout many beach communities in Central and South America.  You can make Ceviche at home and store in a cooler, or bring the ingredients and prepare Ceviche at the beach with fresh fish. Serve with crackers or tortilla chips for a delightful mid-day snack.
Banana Energy Bars
If you have a sweet tooth but you're not a big fan of melted chocolate treats, try our Homemade Banana Energy Bars.  They have no processed sugar, and they're packed with protein.  Plus, you get a no melt snack with a rich chocolate flavor.  Make at home and store in a cooler for a cool mid-day snack.
Healthy Veggie Salad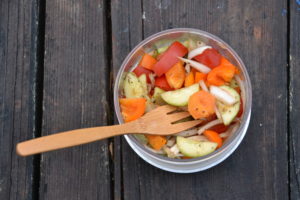 Eating raw vegetables is a great way to replenish your body with vitamins and minerals that are often lost through sweat during exercise.  Pack a salad with durable vegetables (durable meaning veggies with thick membranes that can handle bouncing around in your cooler) and store in a container that won't leak.  For authentic beach flavor, try substituting the capers for seaweed.
Beach Front Charcuterie Plate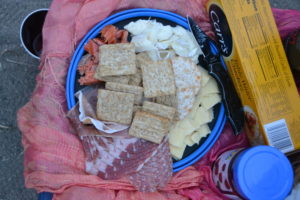 Take ordinary meat, cheeses and trail snacks and turn them into an easy to share appetizer plate. Cured meats and hard cheeses have long shelf-lifes and can maintain freshness without refrigeration.  A great meat and cheese plate has a variety of flavors and ingredients, and is typically served with crackers or flatbreads.  Check out some of our favorite outdoor charcuterie ingredients.