How to Assemble a Wilderness Charcuterie Plate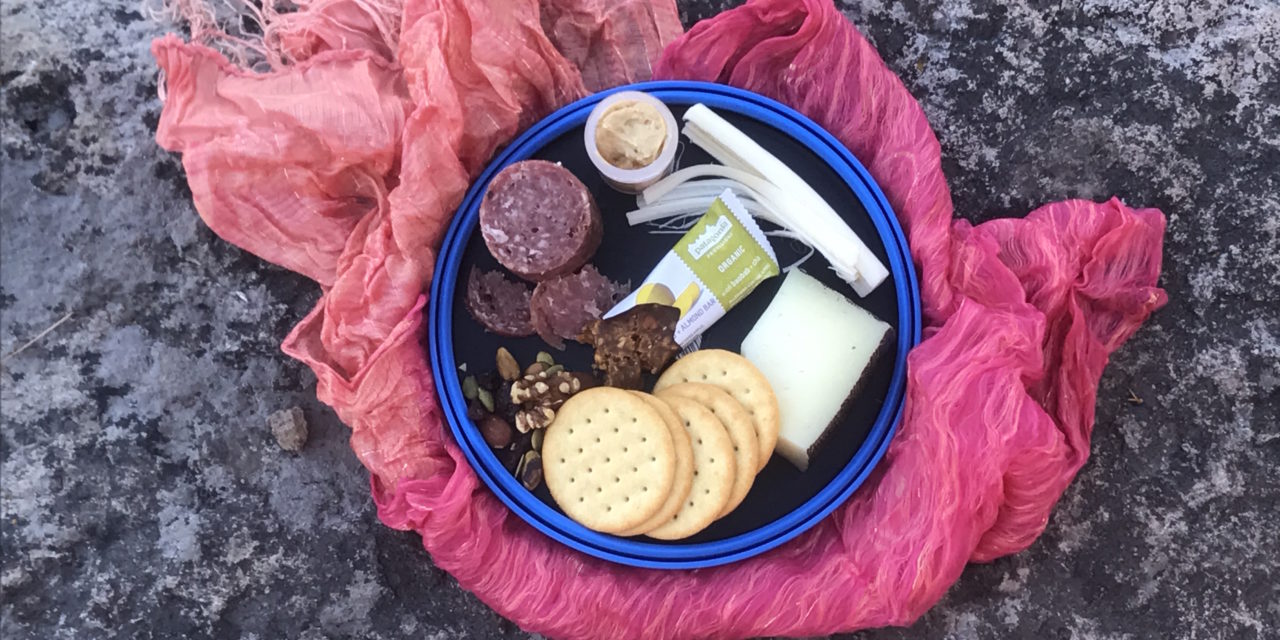 Take ordinary meat, cheeses and trail snacks and turn them into an easy to share appetizer: Wilderness Charcuterie Plate.
What is charcuterie?
Charcuterie (shahr-cute-uh-ree) is a French word for smoked, dry-cured or cooked meats.  The charcuterie plate or board, is any combination of preserved meats, cheese, fruits and spread.  Essentially a charcuterie plate is a self-served appetizer plate that allows the eater to create a personalized bite using the variety of foods presented.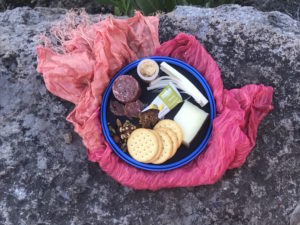 What does charcuterie have to do with spending time in the wilderness?  Charcuterie meats and cheeses can travel for extended periods of time without refrigeration.  Which is why these items are ideal for outdoor travel. Civilizations throughout time have invented ways to preserve meats to extend the self-life of their foods.  Many examples of these perfected methods of preservation can be found in modern grocery stores with foods such as salami, sausage, chorizo, and proscuitto.  Due to the nature of these meats they are made to last a long time without refrigeration.
How to build a charcuterie plate
The best foods to use for a wilderness charcuterie plate have a long shelf-life and can maintain freshness without refrigeration.  A great meat a cheese plate has a variety of flavors and ingredients, these are some of our favorite foods to use:
Hard cheese
Harder cheeses like Romano, Parmesan and Asiago have less internal moisture, and can maintain freshness without refrigeration.  Cheese is packed with fat, protein and calcium, which are all essential to maintaining health in the backcountry.
Dried and cured meat
Get your protein from trail staples such as salami, jerky, and cooked bacon.  Pair with cheese for a salty and creamy bite.
Smoked salmon
Try fish that has been individually packed or smoked for added protein and a good source of Omegas.  Patagonia Provisions Wild Stockeye Salmon is sustainably sourced and trail ready.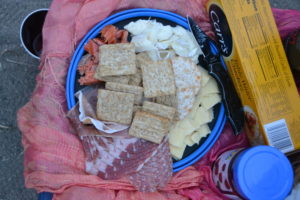 Bread and crackers
Use carbohydrates as a vessel to eat meats and cheeses.  Trail friendly flat breads, pitas, cracker and pretzels pair very well with charcuterie ingredients.  For sustained energy look for whole wheat options such as Wheat Thins and whole wheat pitas.
Dehydrated fruit
Add sweetness to your plate with dried fruits.  Apricots, dried cherries, goji berries, and dried apples taste fantastic with hard cheese.
Spread
Spreads bring big flavors to your plates. Try honey or sweet chili sauce in single serving condiment pouches.  Or make some trail friendly dehydrated hummus.
Foraged foods
Looking for additional items to add to your appetizer? Pick local berries and edible plants for fresh vibrant flavors. Be careful, do not forage unless you are undoubtedly confident that you know what you are picking!