Wilderness Charcuterie Plate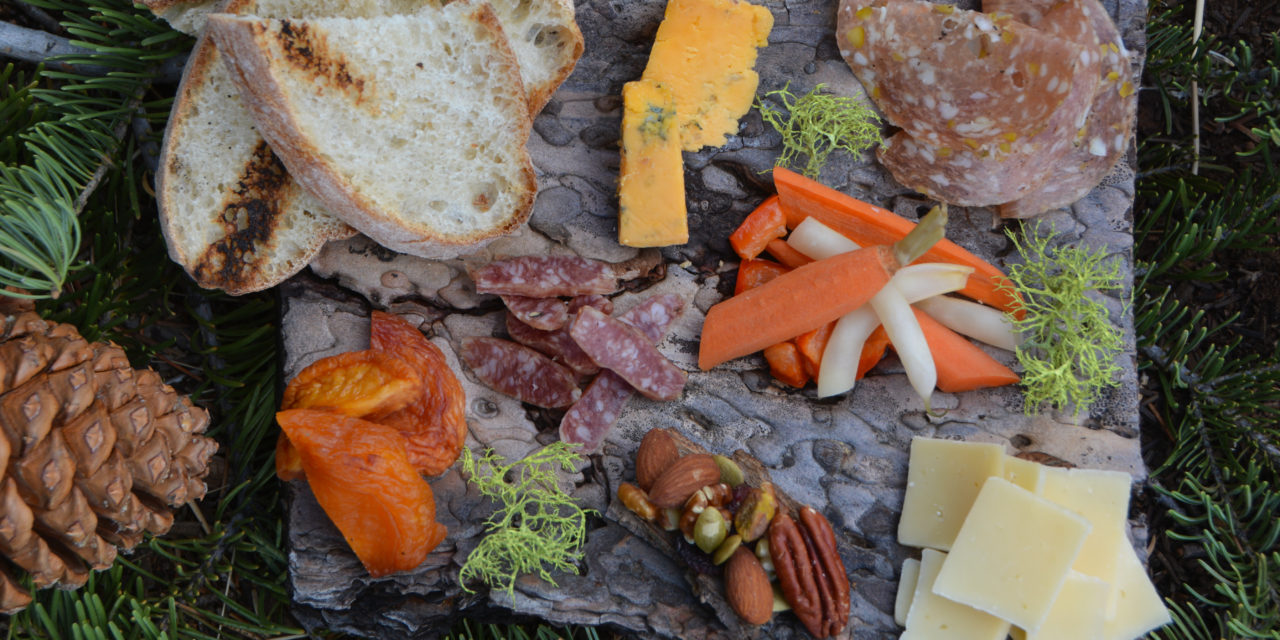 Share an adventure, share a meal with Wilderness Charcuterie Boards.  Charcuterie (shahr-cute-uh-ree), French for smoked, dry-cured or cooked meats, is a perfect vessel for classing up an outdoor dining experience without having to cook.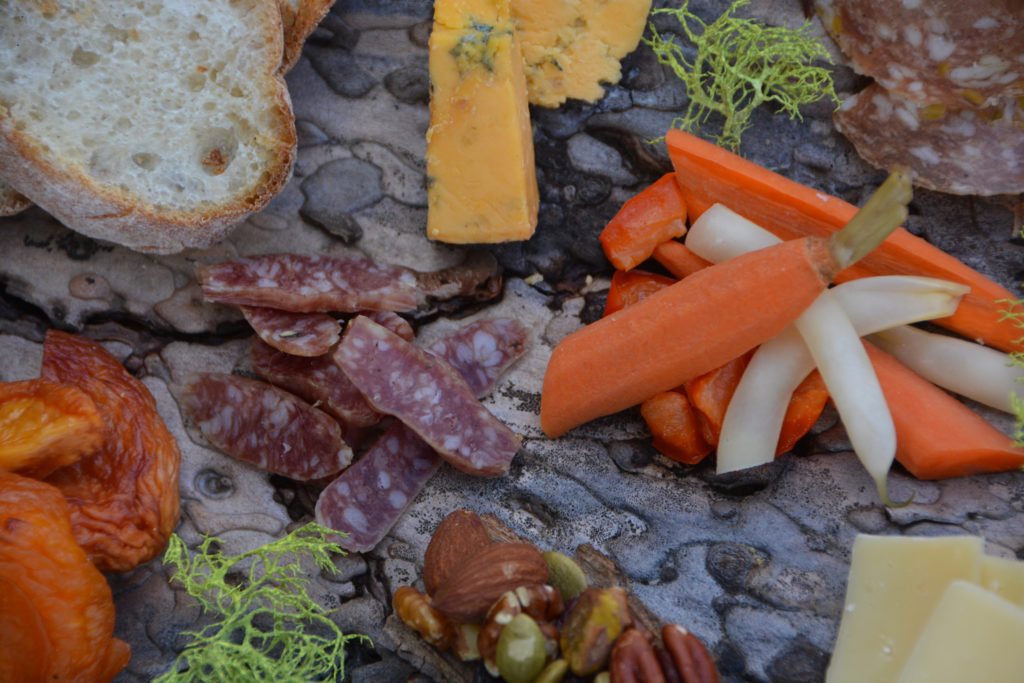 How to Assemble a meat and cheese plate
The best foods to use for wilderness charcuterie plates have long shelf-lives and maintain freshness without refrigeration.  A great meat a cheese plate has a variety of flavors and ingredients, here's what you need to assemble an outdoor charcuterie plate:
A sturdy board or clean surface
Wilderness knife
Assortment of meats and cheeses
Crackers, bread or chips
Nuts and fish
Dehydrated fruit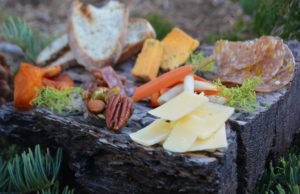 Sturdy board
The board is the vessel which holds all ingredients together. Make sure this surface is clean and sanitized before building a spread.  Look for natural features such as logs and rocks.  Or use ultralight cutting boards or the back pad in backpacks to cut and present a varietal of wilderness friendly ingredients.
Wilderness knife
Use your trusty knife to slice ingredients into small pieces.  The best portions are bite size, and stackable.
Assortment of meats and cheeses
Meats and cheeses with long shelf life are the best ingredients to bring into the wilderness.  Foods like cured meats and hard cheeses stay fresh for many days without refrigeration.  Meats and cheese provide key trail nutrition with protein, fats and calcium.  These are some of our favorites:
Jerky
Romano, parmesan, asiago cheese
Salami
Manchego cheese
Cooked bacon
Summer Sausage
Wax-covered edam cheese
Pepperoni
Cheddar cheese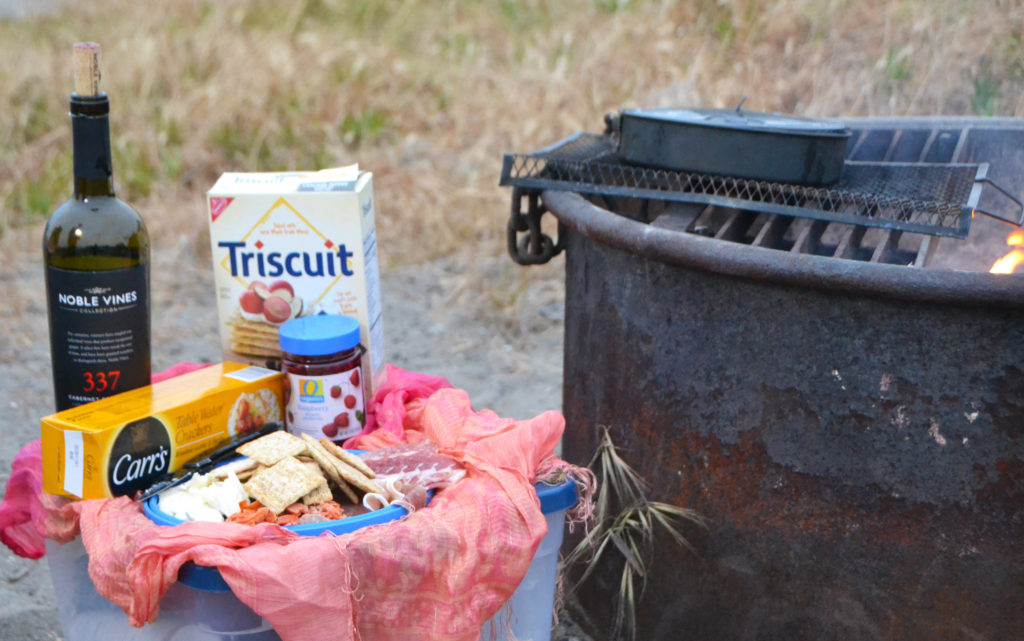 Crackers, bread and chips
Crackers are a type of biscuit invented to last longer than traditional sailor's biscuits without spoiling. They have a long shelf life, making crackers the perfect vessel for spending time in the wilderness.  Crackers pair perfectly with charcuterie ingredients and provide a lovely crunch to each bite.  Looking for variety? Flat breads, pita, pretzels, or chips pair well with meats, cheese an pickled vegetables.
Nuts and fish
Add trail mix, smoked fish, canned fish or foraged nuts for healthy ingredients that bring fun variety to your charcuterie board.
Dehydrated fruit
Purchase or dehydrate favorite and seasonal fruits.  Trail staples such as cranberries, apples, apricots, cherries, even goji berries, pair well with meats and cheese and enhance flavors.
Use a Ziplock bag to pickle your favorite vegetables.  Pickling is a simple way to preserve vegetables.
Spread
Spreads bring big flavors to your plates. Try honey or sweet chili sauce in single serving condiment pouches.  Or make some trail friendly dehydrated hummus.
Foraged foods
Looking for additional items to add to your appetizer? Pick local berries and edible plants for fresh vibrant flavors. Be careful, do not forage unless you are undoubtedly confident that you know what you are picking!