Bourbon Buffalo Stew
Bourbon Buffalo Stew is a hearty one pot meal made to feed a big group – without a big pot!  Our recipe is a unique approach to saving fuel and providing individual personalization for each serving.  Get the recipe below, and find out why Bourbon Buffalo Stew is a must try for your next group adventure.

Group camping recipe
Bourbon Buffalo Stew is cooked in a rich spice-heavy sauce, and served with dehydrated mashed potatoes.  This recipe is unique; 8 servings are cooked in a small pot.  Add dehydrated mashed potatoes to neutralize the amount of spice and flavor prominent in each individual serving.
Bourbon paleo recipe
Bourbon is used in this dish to add rich flavor.  The first step to making Bourbon Buffalo Stew is to bring the bourbon to a boil – this will burn off the alcohol.  Add the dehydrated stock and spices, followed by the jerky and dehydrated vegetables.  As the stew slowly cooks the jerky will begin to soften, and the vegetables will become soft.
How to make stew
A stove with temperature control is critical to a successful stew.  Stews need to slowly simmer in a consistent medium-low heat.  We love the JetBoil Half Gen stove from their Base Camp collection.
Not only does this single burner stove have excellent temperature control, the lightweight Half Gen's have an efficient design that optimizes fuel usage.  This stove is made for rugged trips in the wilderness and was clearly designed by people who understand backcountry cooking.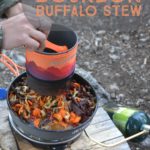 Bourbon Buffalo Stew
Lightweight group meal made on a one burner stove with one pot
Cuisine:
American, One Pot
Ingredients
Stew Paste
15

oz

Bourbon

20

oz

Water

5

packages

Patagonia Provisions Buffalo Jerky

2/3

cup

Powdered Beef Stock

(see recipe notes)

1

tbsp

BBQ Seasoning

2

tsp

Onion Powder

1

tsp

Black Pepper

1

tsp

Garlic Powder

1

tsp

Thyme

1/2

tsp

Sea Salt

1/2

cup

Dehydrated Carrots

1/2

cup

Dehydrated Shitake Mushrooms

1/2

cup

Dehydrated Red Bell Peppers
Paste Additions (after serving)
96

oz

Hot Water

8

cups

Dehydrated Mashed Potatoes
Instructions
Cooking Bourbon Buffalo Stew
Turn burner to medium heat, pour in bourbon and bring to a low boil. Let boil for one minute to remove alcohol.

Add buffalo jerky and dehydrated vegetables. Stir. The jerky flavors will infuse with the bourbon, creating a rich smoky flavor. Let sit for 3 minutes, stirring occasionally.

Pour in 20 oz water, and add seasonings. For easy trail cooking measure at home and combine beef stock, BBQ seasoning, onion powder, black pepper, garlic powder, thyme, sea salt into the same bag or container. On the trail simply pour all seasonings from the bag into the pot. (By doing this you will bring only what you need to prepare this dish, and you won't have to worry about measuring). Stir and let cook for 3 minutes.

After 3 minutes the buffalo jerky should become slightly tender and the vegetables should be rehydrated. If the vegetables are still dry, add 4 oz water and let cook for another 2 minutes. The dish is ready when the vegetables are rehydrated. The stew will have VERY strong flavors and an almost paste-like consistency
Serving Bourbon Buffalo Stew
When stew "paste" is ready portion out to 8 individual serving containers. Allow each person to add warm water and 1/2 cup mashed potatoes to their bowl/cup. More water = soupier and less spice. Less water = thicker and stronger flavors.
Recipe Notes
Check nutrition label of powdered beef stock.  The best stocks for this dish are low in salt and preservatives.  If the only powdered stocks available are high in salt, omit sea salt from the recipe.
For a vegetarian version of this meal, substitute chicken stock with vegetable stock and use a tofu or vegan protein instead of the jerky.
Share this recipe
Great meals are best when shared, add it to your board today!