Pulled Pork Sandwiches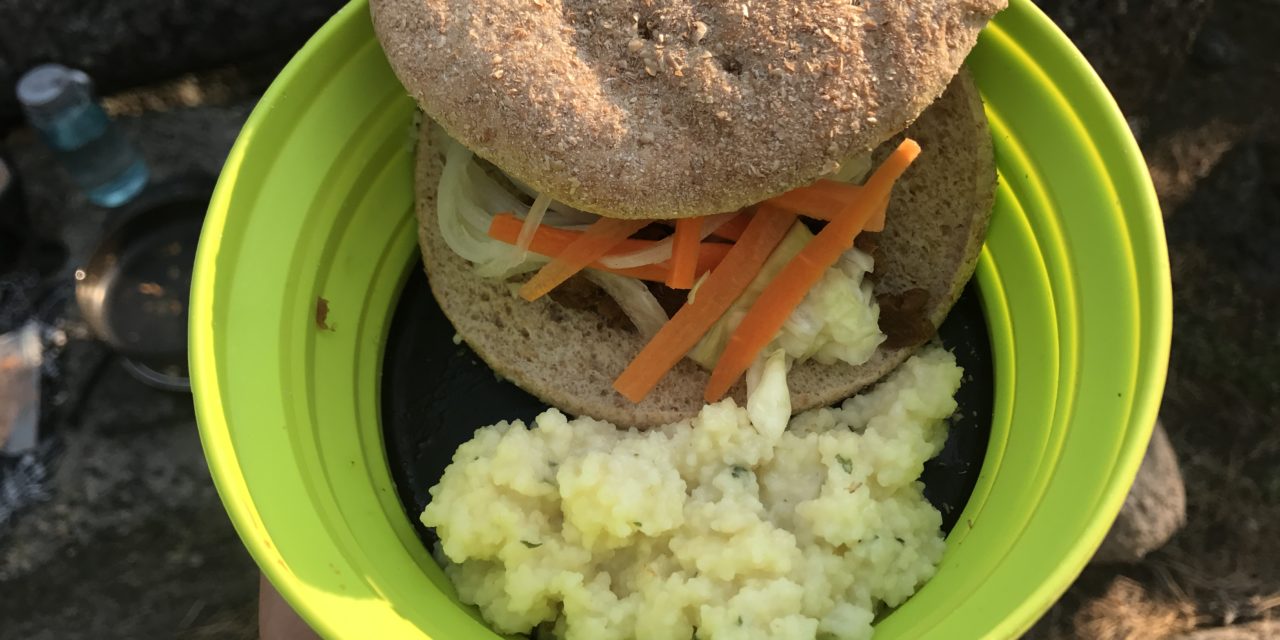 Cook authentic BBQ Pulled Pork Sandwiches on a basic backcountry stove.  Our recipe for Pulled Pork features a popular Asian snack, "pork sung".  The flavors are incredible, and the weight is minimal, making this a must pack for distance trips.  We invented the lightest, easiest, tastiest pulled pork sandwich recipe, find out how to bring BBQ into your backcountry kitchen.
What is pulled pork
Pulled Pork is slow cooked meat that becomes so tender it can be pulled apart.  This is not a food that is typically found in the remote backcountry, but with our recipe you can pack in dehydrated pulled pork sandwiches.
Unfortunately, slow cooking pork is not very conducive to weigh obsessed trail sports.  Fortunately we discovered a fantastic alternative at an Asian Supermarket:
Pork Sung: Cooked dried pork product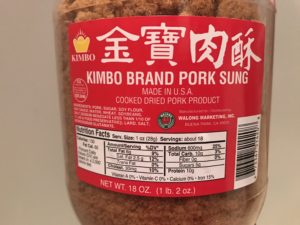 Pork Sung or Pork Floss (1 lb for $12) is dehydrated flavored pork that originated in China. According to "Chinese Gastronomy", by Tsiang Ju Lin, Pork Sung is: "closely trimmed pork tenderloin cubed and slowly stewed for about 2 hours, in a mixture of a LOT of garlic, crushed to a paste; 1/3rd cup red bean curd; water, and some medium or dark brown sugar.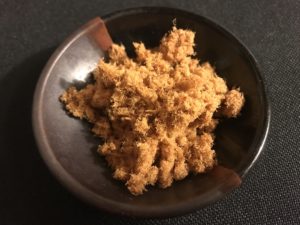 The meat fibers are separated by working it with a wooden spoon. When all the liquid has evaporated and there is oil rendered, the meat and oil are transferred to a large skillet. Over very low heat it is then cooked further, until it resembles "matted wool" and smells a little toasted. The cooking is continued until all the meat is "wooly" and dry and succulent.  It is then placed on paper to dry and cool.  This keeps for months in a tightly sealed container, at room temperature."
How to make pulled pork sandwiches
Pork Sung is a backcountry chef's ideal ingredient.  To make pulled pork sandwiches simply rehydrate the pork with warm water.  For every ounce of pork we recommend half an ounce of water.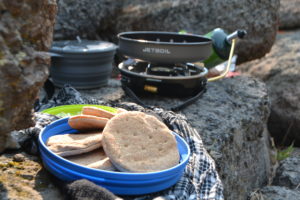 Stir in boiled water, simmer on low, or cook over an open fire.  Once the meat is tender scoop into tortilla, pita, bread or naan; and top with our trail-made Ziploc Coleslaw.  Check out our recipe for Pulled Pork Sandwiches below.
For a vegetarian version substitute Pork Sung with vegan jerky and top with BBQ sauce (get individually packaged sauces from convenience stores and fast food restaurants).  Try paleo pulled pork over quinoa topped with our coleslaw.
AT HOME: Pulled Pork Sliders
Looking for a cheap BBQ meal at home?  Pork Sung is dehydrated, which prevents the growth of pathogens that destroy fresh meat.  With proper dry storage Pork Sung has an 8 month self-life.  This product is sold in large 1 pound containers for only $12.  The cost breakdown makes this a very efficient product and has multiple uses that are great for home and trailside cooking.
To make follow our recipe below.  Add rehydrated meat to a sandwiches, burritos, salads, rice, quinoa, or alone for a protein packed meal.
—————————————————————————————————————————-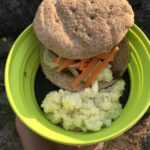 Pulled Pork Sandwiches
BBQ Pork Sliders made with a dehydrated Asian snack food.
Ingredients
2

cup

Safe Water

1

cup

Pork Sung

1

pinch

Black Pepper
Instructions
Bring water to a boil. Stir in Pork Sung. Cook on low heat until pork becomes fully rehydrated (about 5 minutes).

Turn off stove. Stuff meat in sandwich, burrito, pita, or over rice (GF). Top with Trail Coleslaw.

Serve with Couscous Mac and Cheese.