Backcountry Sangria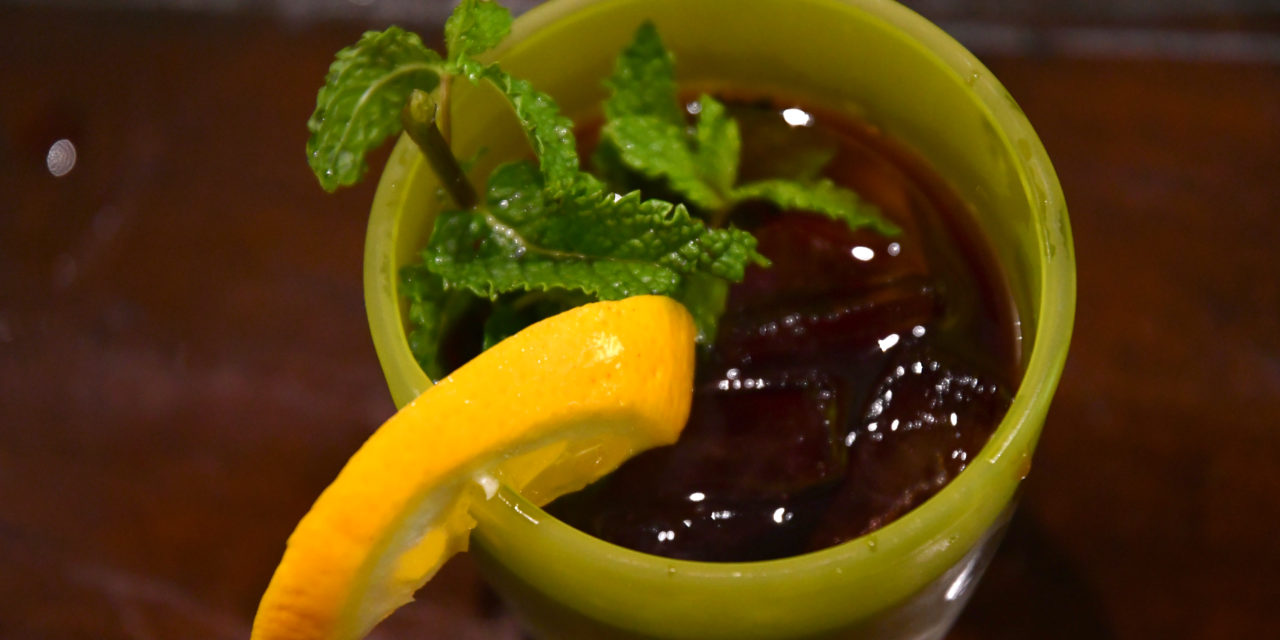 A sangria is an alcoholic beverage with combinations of wine, fruit, citrus and spices.  This mediterranean cocktail has bold flavors and is very easy to make.  Since its not uncommon to find groups of backpackers carrying bags of wine (the bladder inside a box of wine), we invented a backcountry version of one of our favorite reasons to pack extra weight, Backpacking Sangria.
What is sangria
Sangria is the wine variation of a punch, ingredients are mixed together and served over ice.  We have two variations of this recipe: "at home", and "trailside".
How to make sangria, pre-trip prep
The benefits to preparing sangria at home are; the drink has more time to marinate, and you decide how much extra weight you want to carry.  If you make sangria at home you will need a sturdy, tight-sealing bag, like the Canteen from Nalgene.  We did rigorous tests on this product while developing our cold brew coffee recipe, and we can attest to Nalgene's durability and reliability.
Fill 2/3 Nalgene Canteen with inexpensive red wine.  Next add dehydrated fruit, spices and sugar to the wine.  For an extra boost add a shot of brandy, bourbon or spicy rum.  Squeeze out all the air and tightly close the Nalgene.  Check to ensure there is no leakage.
How to make sangria on the trail
The person who carries the big bag of wine gets first sip, thats the rule!  After sharing celebratory swigs pass the bag to the designated bartender.  Collect the cups of each person who is going to have a drink.  Add an inch of dried fruit and a sprinkle of spice to each cup.  Top with wine until two fingers below the rim of the glass.  If applicable, top with clean ice or snow.  Garnish with a sprinkle of spice or a foraged herb, like sage or mint when available.  Serve, cheers and enjoy!
AT HOME: Sangria Recipe
Make Sangria at home by following the "at home preparations" instructions.  Instead of packing your Sangria into the backcountry, enjoy at home with friends.  Garnish with a sprig of mint and a slice of orange, and pair with our Wilderness Charcuterie Board.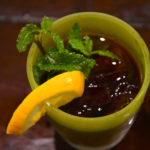 Backcountry Sangria
Follow this recipe to make sangria on the trail or for the trail.
Ingredients
1

bladder

Red Wine

2

shots

Bourbon, Brandy, or Spiced Rum

1/2

cup

Sugar, Honey, or Agave

1

cup

Dehydrated Fruit Mix

Pick your favorites

1/2

tsp

Nutmeg

3

cloves

Star Anise
Instructions
At Home Preparation
Add all ingredients to a tight sealing bladder or Nalgene Cantene. Squeeze out all the air and seal tightly. Check to ensure there is no leakage. Double bag for extra insurance.

Trailside: drink straight from bladder or pour into cups.
Trailside Preparation
Add dried fruit, spices and spirit to a large pot. Pour in wine until pot is 2/3 full. Stir.

Pour mix into cups or drink straight from the pot. Add extra wine to replenish when level in pot gets to half full.
Recipe Notes
Place the wine bladder in snow or a cool body of water to make a refreshing chilled version of Sangria.