High Altitude Cooking
Cooking above the tree line can be a challenging endeavor if you're not prepared.  Above 10,000 feet the environment drastically changes, which has direct results on water availability and a stove's performance. Fortunately we have a high alpine recipe that was invented by Lake Tahoe mountain man Chris Cloyd.  Chris is an avid snowboarder, mountain climber and runner, which has made him a frequent visitor to many Sierra Nevada summits.  In addition to being an athlete, Chris is the Fitness Director at Performance Training Center where he specializes in training performance and endurance athletes.  When Chris spends time at high altitude he likes to eat meals that are both efficient and nutritious.  This is one of his personal favorites, Chicken Sausage with Veggies and Rice.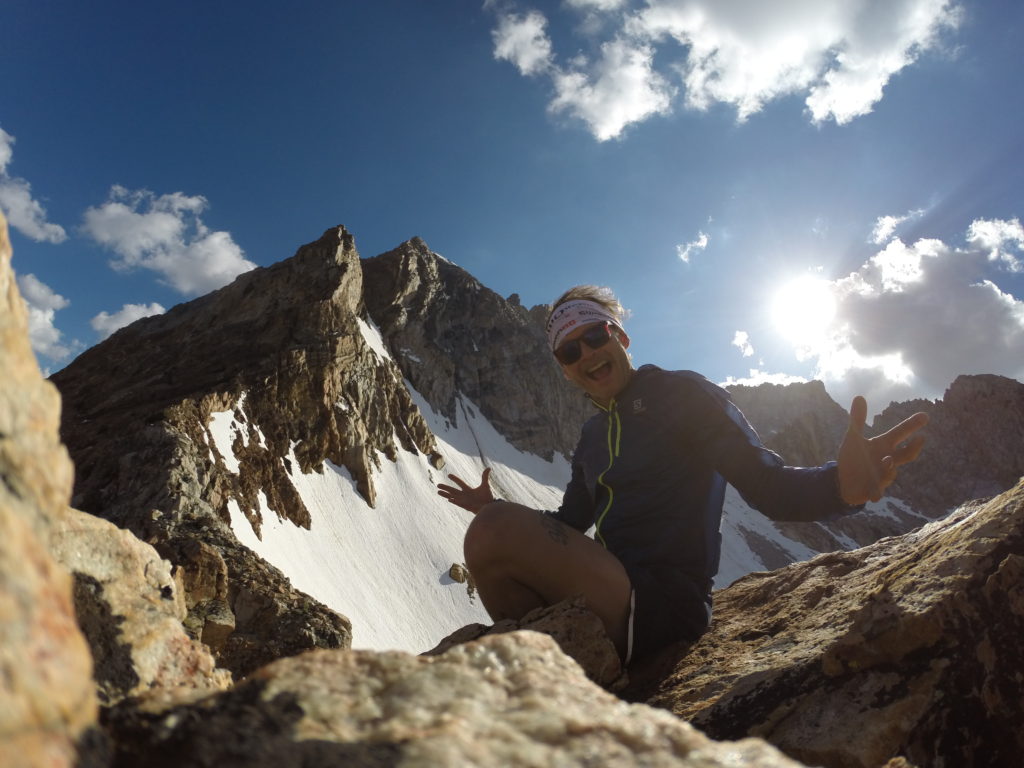 How to cook at high altitude
Altitude decreases air pressure; causing water to take longer to boil and food requires more time to heat through.  The direct result being faster fuel consumption, which can quickly become a problem if you're relying on cooked meals.  Fortunately, Chris Cloyd came up with a simple solution to mitigate this problem: pack pre-cooked and fast heating ingredients that can be prepared using minimal amounts of fuel.  Chris's Chicken Sausage with Veggies and Rice takes just a few minutes to warm using a one-pot JetBoil Zip Cooking System.  In the event that Chris is low on fuel, he can still enjoy his meal semi-warm since the sausage and rice are already pre-cooked. Watch Chris in action to learn how to make this meal a part of your next hight altitude adventure.
Water conservation
Another challenge with cooking above tree line is that you are typically above any water source, which means you have to carry all drinking and cooking water with you.  For this reason it is important to be very resourceful with any water you use when making a meal.  Chris always finds ways to repurpose his water, weather it be for cleaning or use in a cup of tea.  When preparing Chicken Sausage with Veggies and Rice Chris brings one cup of water to a boil, which he uses to heat his sealed bag of pre-cooked rice.  Once the rice is warm, Chris pours 3/4 of the water into his backcountry mug and enjoys a cup of ginger tea while he uses the remaining 1/4 cup to steam the sausage and veggies.  Efficiency is essential when you are miles away from a water source!

Good foods to eat at high altitude
The final reason why Chris's recipe is great for high altitude is nutrition.  Chris is very conscious of the foods that he brings when he hits the trail, as he packs meals that optimize his performance and recovery time.  This is the nutritional breakdown of Chicken Sausage with Veggies and Rice:
Chicken Sausage = Protein.  One link has around 18g of protein
Pre-Cooked Rice = Carbohydrates.  A half cup has around 43g of carbs
Red Onion = Anti-Inflammatory.  Helps accelerate your recovery
Zucchini = Vitamin C.  Also has a good electrolyte profile from magnesium and potassium
Olive Oil = Good Fats.  Packed with monounsaturated fatty acids & anti-inflammatories
Ginger Tea = Digestion. Its common at altitude to lose your appetite, ginger helps with digestion so your body can make the most of the nutrients it receives from food.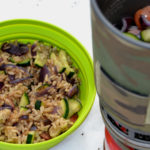 Chris Cloyd's High Altitude Dinner
This meal requires minimal fuel and repurposes water, which are both prime resources when cooking above tree line.
Cuisine:
American, One Pot, Propane Stove
Ingredients
1

cup

Drinking Water

1

package

Pre-Cooked Rice

4

links

Chicken Sausage

1

Chopped Red Onion

1

Chopped Zucchini

1

tbsp

Olive Oil

1

tsp

Salt, Pepper & Oregano
Instructions
At Home
Chop chicken sausage, onion, and zucchini, and store in an air sealed container or bag.
On the Trail
Pour one cup of water into pot and bring to a boil. When water begins to bubble drop in the sealed bag of pre-cooked rice, and cook for 1 minute with lid on pot.

When rice is warm remove from water, turn off stove and set rice aside.

Use 3/4 of the water in pot to make a cup of tea, or add to drinking water.

Keep the remaining 1/4 water in the cooking pot, and add the chopped sausage and veggies. Pour in olive oil, and top with salt, pepper and oregano. Stir.

Turn stove on high and cook sausage and veggies for 2-3 minutes, stirring frequently. Turn off stove when done cooking to save fuel.

When veggies are soft and sausage is warm, open the package of rice, and empty rice into pot with sausage and veggies. Stir.

For maximum dishes efficiency eat directly from pot and share one spoon.

When finished, clean cooking area and remember to always leave no trace!
Recipe Notes
Chris Cloyd suggests Ginger Tea when dining at high altitudes.  The ginger aids in digestion and appetite regulation.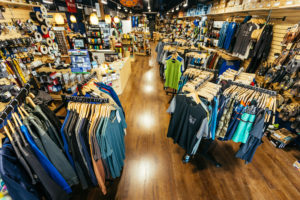 Truckee's Outdoor Store
If you happen to find yourself in Truckee, CA (just north of Lake Tahoe) stop into Tahoe Mountain Sports to find a fantastic selection of outdoor gear!  The knowledgeable staff is friendly and enthusiastic to get you outfitted for your expedition.  Tahoe Mountain Sports is owned and operated by backcountry diehards, so they know exactly what you need to make the most of your time in the great outdoors.  You can follow Chris and other local Tahoe athlete's adventures on the Tahoe Mountain Sports Blog.  Shop local and learn from those who spend the most time exploring Tahoe's mountains!
The Space Cartel
Original music for this episode was written and performed by Denver based band "The Space Cartel". Follow them on SoundCloud for more tasty tracks!