Backcountry Cold Brew Coffee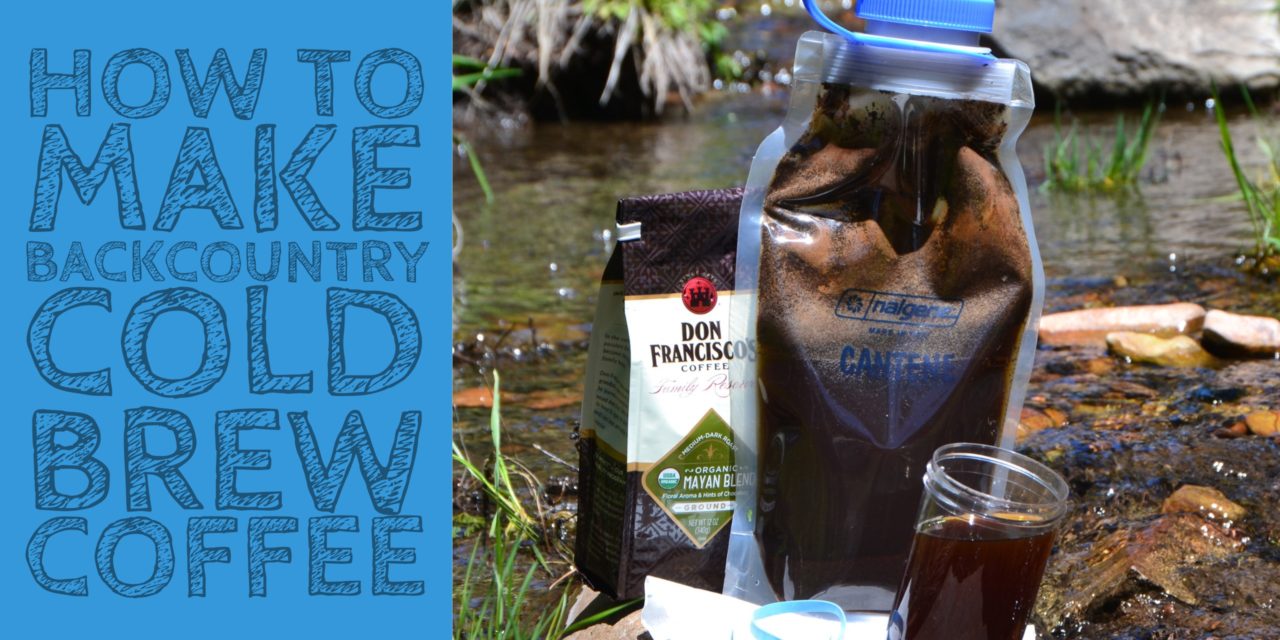 Have you ever complained about not getting good coffee in the backcountry?  You're not alone, bad adventure coffee is a common problem, which is exactly why we discovered the ultimate solution: Backcountry Cold Brew Coffee!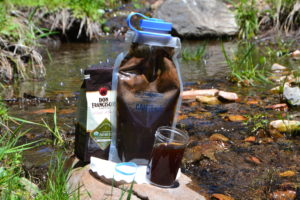 Mornings on the trail can be hectic.  You're anxious to get an early start to your day, and the last thing you want to do is set up a stove, boil water, make coffee, clean everything up, and finally pack everything away.  What if there was a better, quicker alternative to getting your caffeine fix in the morning.  In comes Cold Brew Coffee!  Instead of settling for an unpalatable cup of instant coffee, try making a batch of cold brew the night before, and waking up to a strong, delicious, ready to drink cup of coffee.  If you're the type of person who prefers their morning beverage hot, get out the stove and heat your cold brew.  The flavors will still be outstanding!
What is cold brew coffee
Cold brew is coffee that has been left at room temperature for 12-14 hours to naturally brew.  Using coffee grounds and water (1:4 ratio) the coffee slowly infuses with the water to create robust flavors.  Cold brew has less acid and more antioxidants that a cup of traditional hot coffee, and can be made without using any fuel, which is ideal for no stove and lightweight travel.
How to make Backcountry Cold Brew Coffee:
Backcountry Cold Brew Coffee
Enjoy a luxurious cup of coffee in the morning! Don't rough it when it comes to your coffee.
Ingredients
1

cup

Ground Coffee

4

cups

Filtered Water
Instructions
In a large leak proof container with a tightly sealing lid, add Ground Coffee and Water.

Seal container tightly, shake for 5 seconds. Store in pack, tent, or cool place. Do not freeze. Let soak for 12 hours (overnight).

(In the morning) Place a coffee filter around the mouth of the container and secure with a rubber band or string. Gently pour coffee into mugs. Keep coffee grounds (refer to Recipe Notes).

Discard of filter in Leave No Trace manner, place lid back on container and store in a cool place.
Recipe Notes
What to do with the coffee grounds?
If you're in the woods for several days you can re-use the coffee grounds and add fresh mix to them each night to strengthen the cold brew coffee's flavor.  Keep coffee grounds stored in the same container you use to make cold brew to avoid any spills.  Nalgene Cantenes work great for backcountry cold brew, they're light weight, easy to pack, have a tightly sealing lid, and they're BPA free.
What to do with coffee grounds
If you're worried about what to do with your coffee grounds after your cold brew is ready, there are surprisingly several realistic backcountry uses for used grounds.
REUSE: If you're out in the wilderness for several days, allocate one container to coffee.  The Nalgene Cantene works great because it has a tight seal, is lightweight and BPA free.  Each night add fresh grounds to the Cantene and strain out the coffee in the morning.  Then re-seal the Cantene with the used grounds and store in a pack or cool spot.  Keep adding fresh grounds for up to 4 days.
START A FIRE: Used grounds burn slow and with the right accessories make great fire starters.
CLEAN COOKWARE: Grounds are abrasive and can be used to scrub dishes and clean cookware.  Cleaning with grounds is especially great for cast iron cookware as it helps preserve the cast iron and imparts rich flavors.
DRY RUB: Use grounds with your favorite seasonings to create a delicious dry rub for your bbq. Coffee grounds tenderize and are also great for a marinade.
ODORS: Tame lingering odors with used coffee grounds. Collect dry grounds in a coffee filter, seal so the grounds do not spill out, and you get an odor absorbing pouch.  Place in hiking boots, sleeping bags, or around exceptionally stinky friends.
MOSQUITO AND BUG REPELLENT: Make a mosquito repelling smoke with dried coffee grounds at the campsite.  Use the "odor pouch" from tip #5 to keep bugs away.
What to eat for breakfast
Now that you have your coffee, you need a good backcountry breakfast! Try these Healthy Breakfast Cookies, they're the perfect on-the-go trail meal!