Solar Cooking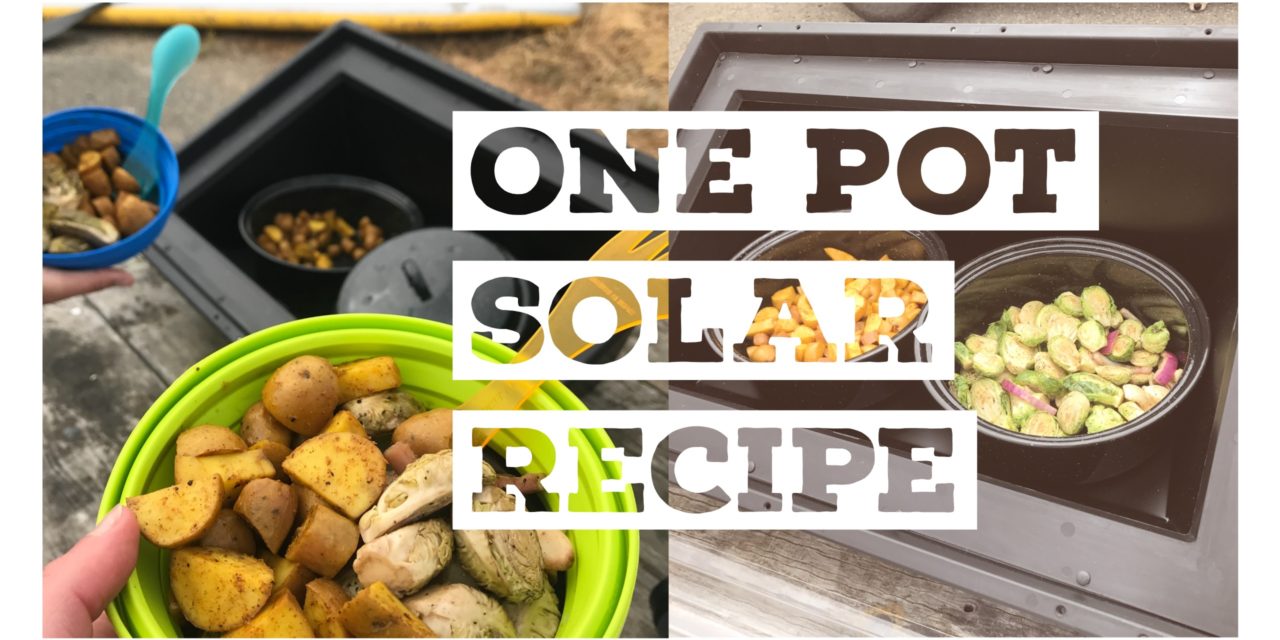 Have you ever considered using a solar oven to make a meal?  Solar cooking is incredibly easy, and its a fantastic fuel free alternative to a propane stove or fire.  A meal cooked with a solar oven is often a one pot dish that is slow cooked in a reflective device that captures the heat of the sun.
How does solar cooking work?
The basic science behind a solar oven is a device which traps light rays and transfers that light into energy, or heat.  Similarly to a conventional oven, the heat is stored inside a box or reflective surface, which is used to cook food and pasteurize water.  Solar cooking is non-pollutant, runs off free and abundant fuel, and its easy to use.  The light trapped inside the oven creates a slow cook environment that you can use to make any of your favorite at home oven recipes while spending time outdoors.  Throughout the world, and especially in rural and impoverished areas, solar is becoming a preferred method of cooking.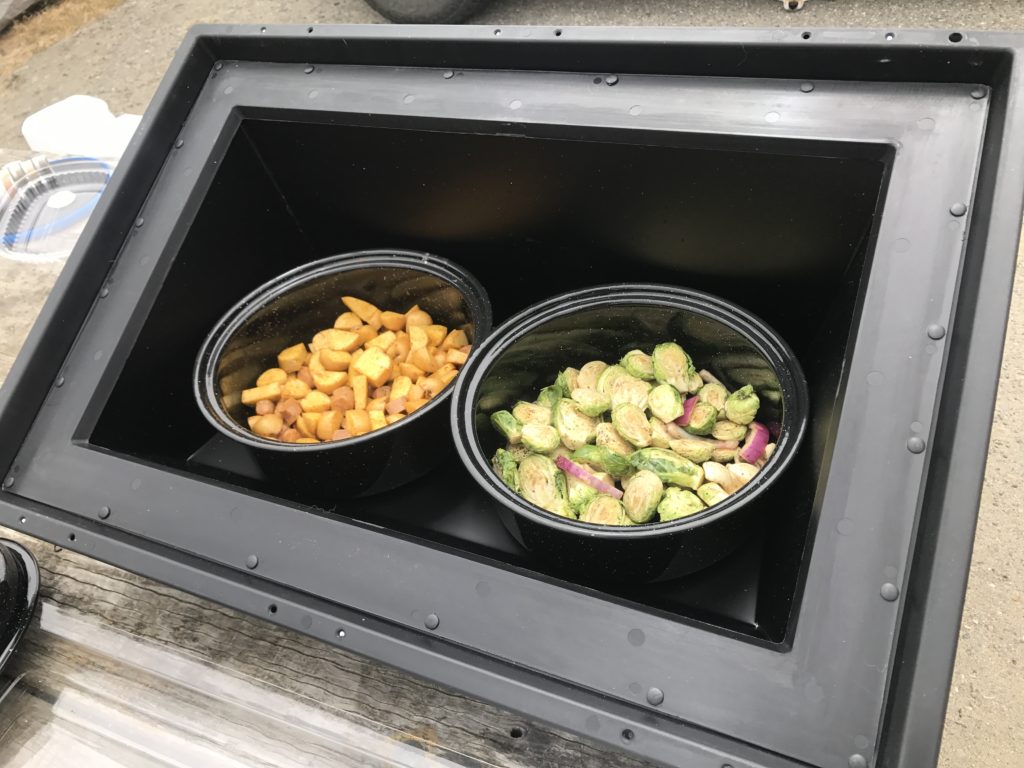 Solar one pot meals
The possibilities of what to cook using a solar oven is seemingly endless!  The best solar dishes are ones that can be left alone to cook in a pot for several hours.  Breads, soups, curries, meats, casseroles, rice, pasta dishes, even recipes that you would make in a Crock Pot would taste great in a solar oven.  We experimented with one of our favorite 'oven' meals: curried potatoes with sausage and brussels sprouts with balsamic vinegar and sea salt (recipe below).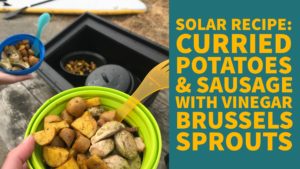 Solar oven recipe
Our dinner turned out incredible!  Everything cooked evenly, and the brussels sprouts retained some of their delightful crunch.  The best part of our solar meal was the ease of cooking.  We used no fuel, and were able to enjoy a day playing outside while our dinner cooked in the sun.  From eating to cooking, the entire experience was thoroughly enjoyable!
Why cook with a solar oven?
Solar cooking is good for the planet.  It relies on a non-pollutant fuel that is free and can be accessed from almost anywhere in the world.  But, in our opinion, the best reason to try solar is because its SO EASY!  With a solar oven all you need to do is place the food inside the pot, angle the oven so it catches the most light, let it cook for several hours and then open the pot and eat.  Solar is so simple!
We tested a Solavore Solar Oven while camping, and in the time it took to cook dinner we went paddle boarding, played bocci ball, read a few chapters in our books, took the dog out for a walk, played instruments, chopped some wood, did yoga, played catch and took a nap.  As you can see this method of cooking is worry and hassle free, which gives you time to relax and enjoy the outdoors.
The downside to solar cooking is that it takes time.  But, the upside is that if you have a sunny place to leave the oven for several hours, you can leave it unattended and return to it when you're hungry.  If you're in an area with bears or critters, no not leave stove and food area unattended.
Buying a solar oven
When it comes to solar cooking, there are a lot of options and everyone has their own opinion about what is the best.  The most important factors to take into consideration are:
Your budget – stoves can range from $5 to $1000
Cooking style – where will you be using this oven, and how many people will you be cooking for?
Portability – do you need a stove that folds down small, or do you have ample amounts of storage?
Frequency of use – is this something you use a couple of times a year, or will you be cooking with it regularly?
There are many oven options ranging from dyi projects using common household items to elaborate cooking systems.  If you're looking to purchase a solar oven, check out Solavore. They have fantastic products, and a global initiative which donates stoves to developing countries.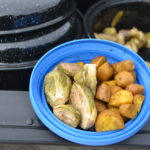 Solar Curry Potatoes with Sausage and Balsamic Brussels Sprouts
Cook in two separate pots in a solar oven, if your oven only has enough room for one pot, prep separately and then combine ingredients and cook in one pot.
Course:
Main Course, Main Dish
Cuisine:
American, One Pot
Ingredients
Curry Potatoes and Sausage
1.5

lbs

Baby Dutch Yellow Potatoes, quartered

4

links

Chicken Sausage, cut into wheels

1

tbsp

Olive Oil

1

tbsp

Curry Powder

1

tsp

Black Pepper

1

tbsp

Sea Salt

1/2

tsp

Cayenne Pepper
Brussel Sprouts
1

lbs

Brussels Sprouts, peeled and halved

1

White Onion, chopped

2

tbsp

Balsalmic Vinegar

1

tsp

Black Pepper

1

tsp

Sea Salt
Instructions
Combine quartered potatoes, sausage, seasonings and oil into cooking pot, and mix. *this is lightly seasoned, if you prefer heavy seasoning, add more salt, pepper, and cayenne.

Combine brussels sprouts, onion, vinegar and seasoning in cooking pot

Position solar oven in a safe and sunny spot. Place potato and brussels sprouts cooking pot in oven, and place lids on pots. Seal oven (if applicable) and begin cooking.

Leave in sun for 3-4 hours (based on intensity of light). Carefully check to ensure food is thoroughly cooked by poking the biggest potato with a fork. If the blades of the fork easily slide through potato, the food is ready. If the potato is tough and difficult to puncture, continue cooking.

When food is ready, dish onto plates or serving dishes and enjoy! Remember to always be careful when opening and closing the solar oven, as temperatures inside will be hot, just like a conventional oven.
Recipe Notes
If you only have enough room for one pot inside your solar oven, prep ingredients (as explained in instructions) and then combine into ONE pot for the cooking process.