Vietnamese Sandwich – Backcountry Banh Mi
Join the movement and get hooked on "Banh Mi", a traditional Vietnamese sandwich made with french bread, meat, pickled vegetables, fresh herbs and Asian bbq sauce.  Don't eat the same boring sandwich when you travel, try our wildness inspired version of Backcountry Banh Mi.
Easy Banh Mi recipe
Banh Mi are surprisingly easy to assemble, and with the right ingredients these sandwiches have a long shelf life.  These are the ingredients needed to make backcountry Vietnamese sandwiches: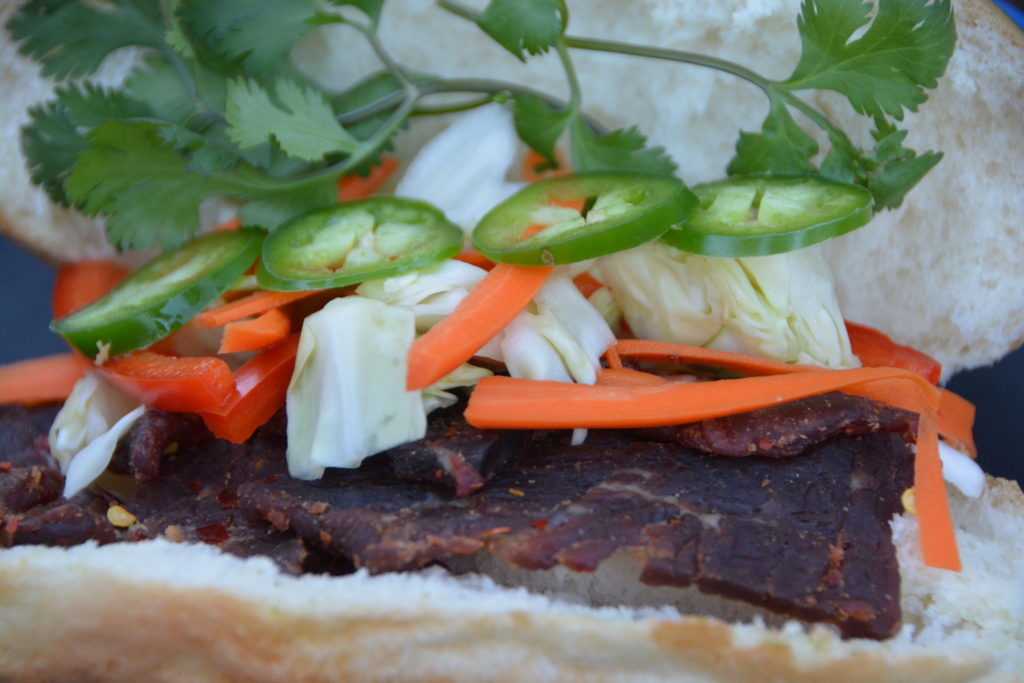 Banh Mi Ingredients
Meat – BBQ fresh meat over on open flame, or for a simple no cook trail version use fresh jerky
Pickled Vegetables – use a Ziplock bag to pickle carrots, cabbage and onions
Fresh Jalapeño – adds an authentic kick. If fresh is not an option, add heat with chili sauce
Fresh Cilantro or Basil – dehydrate for extended shelf life.
French Bread – the authentic vessel of Bahn Mi. Can be substituted with tortilla or flat bread when backpacking.
Asian BBQ Sauce – try Hoisin sauce; many Asian takeaway restaurants have a variety of hoisin or bbq sauce in single serving condiment packs.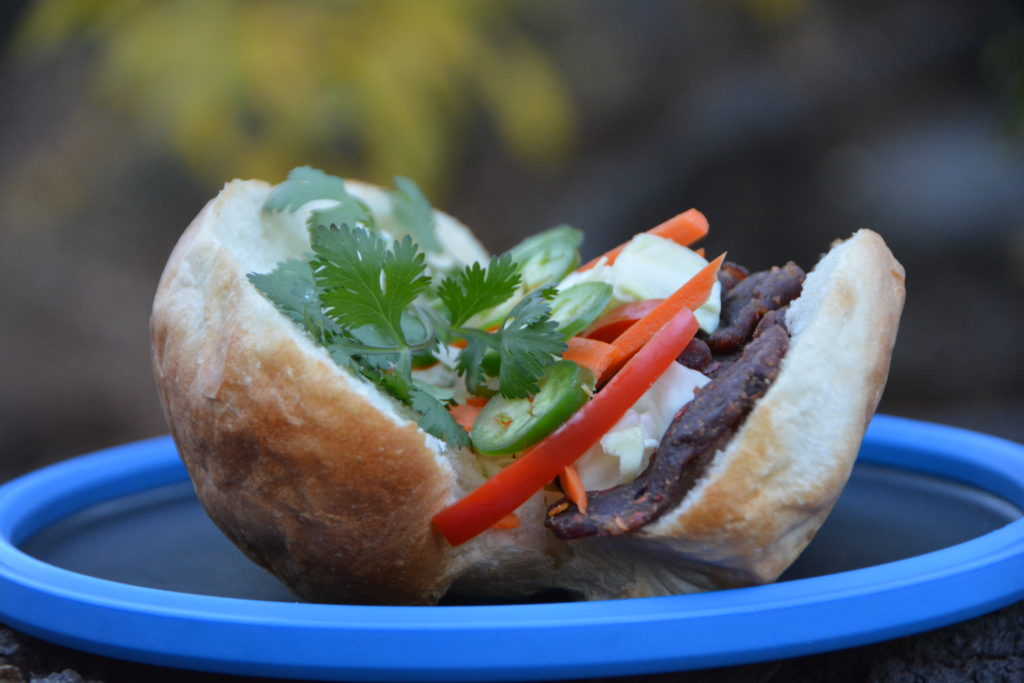 How to make trailside sandwiches
Our version of Vietnamese Banh Mi for wilderness travel lasts up to 5 days without refrigeration (with proper storage).  Simply assemble using fresh or dehydrated ingredients, and enjoy.  If fresh french bread is an unavailable luxury, substitute with flat bread or crackers.
What does banh mi taste like?
French bread and herbs pair beautifully with meat and pickled vegetables to develop bright, balanced flavors.  Backcountry Banh Mi's are a harmonious blend of Asian flavors meets western style sandwiches.  Elevate your dining experience with our easy to execute recipe: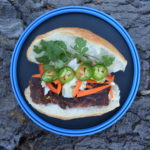 Backcountry Banh Mi - Vietnamese Sandwich
A wilderness inspired recipe for Banh Mi, featuring long lasting adventure friendly ingredients.
Ingredients
Backcountry Sandwich
4

French Roll

2

cup

Soft Jerky or Tofu

cut in small pieces

2

packets

Hoisin Sauce

4

spriggs

Cilantro

fresh or dehydrated
Pickled Vegetables
1/4

Jalapeno sliced thin

1/4

cup

Carrots grated

1/4

cup

Cucumber sliced thin

1

tsp

Coriander

1/2

cup

5.0 precent Vinegar

1/2

cup

Water

1/2

tsp

Sugar

1/2

tsp

Salt
Instructions
Pickled Vegetables At Home
Add jalapeño, carrot, cucumber, coriander and cilantro to a ziplock bag. Top with vinegar, water, sugar and salt. Remove all air from the bag and tightly seal the container.
Sandwiches in the Wilderness
Slice french roll and pull open. Place 1/2 cup of sliced jerky onto bottom layer of bread. Spread evenly.

Cover jerky with a layer of ziplock pickled vegetables - shake excess pickled juice from vegetables to prevent bread from becoming soggy.

Top with 1/2 packet of Hoisin Sauce and cilantro (fresh or dehydrated). Close sandwich, eat and enjoy.
Recipe Notes
For instructions on trail pickling, check out our secretes to successful Ziplock Pickling.
Individual packets of Hoisin Sauce can be found at some asian restaurants and Panda Express establishments. Stock up the next time you eat out.  If you prefer sandwiches spicy, add chili sauce or sweet chili sauce (individual packets also popular at takeaway Asian restaurants).