Campfire Orange Brownies
Campfire Orange Brownies will be the hit of your next camping trip or backyard bonfire party. The flavors from the orange peel melt into the moist, chocolate brownie to create the perfect individually portioned dessert.  And the best part, no dishes, and no mess to clean afterwards.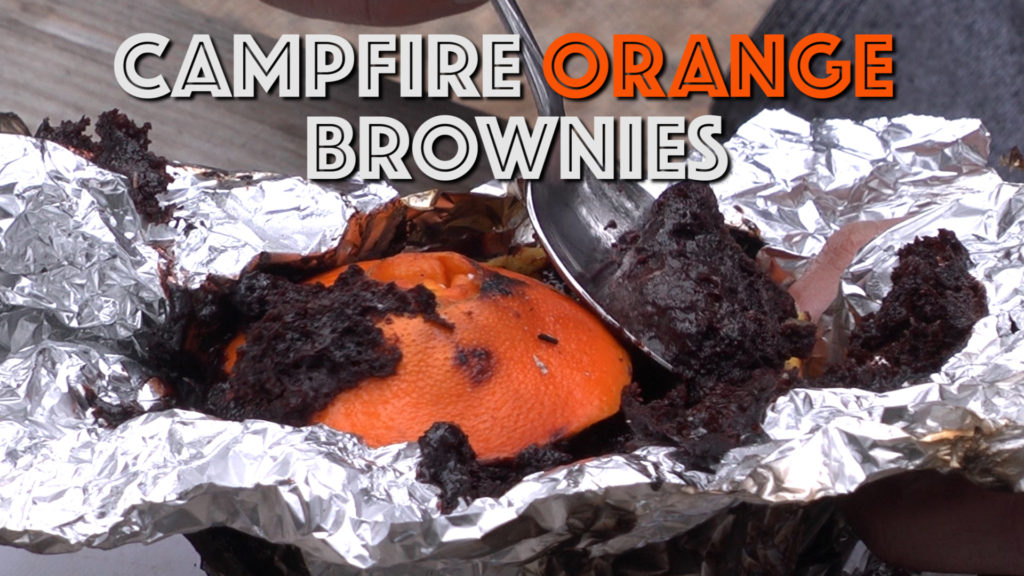 Easy to make, no mess camp fire dessert recipe
For this dessert I used a slight variation of a traditional Campfire Orange Brownie recipe.  Most instant brownie mixes call for eggs and oil.  I found a healthy option from Trader Joe's that only calls for yogurt.  If you're camping chances are you have a cooler, so keeping yogurt cold shouldn't be a problem.  The Trader Joe's Guilt Free Brownie Mix is easier to make because it requires only one extra ingredient, and even though it's deemed the more 'healthy' option its still packed with delicious chocolatey flavors!
This is a fantastic dessert to make with the family.  Kids will love squishing the bag and then filling the orange cups.  Even if you don't have a campfire, you can still make this recipe at home on the BBQ.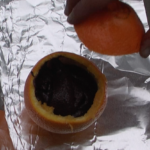 Orange Brownies
Chocolate, orange and campfire, what could be better? Cook in individual aluminum sealed orange shells over campfire.
Servings
:
10
Orange Brownies
Ingredients
10

Oranges

(Large oranges with thick membrane work best)

1

package

Trader Joe's Guilt Free Brownie Mix

1

single serving

Plain Yogurt
Cooking/Prep Equipment
1

Large Ziplock Bag

1

Sharp Knife

1

Sturdy Spoon

1

Pot or Bowl

(use to catch fruit when cleaning oranges)

10

sheets

Aluminum Foil
Instructions
Prep Oranges
The most labor intensive part of this recipe is prepping the oranges. If you have the option, I recommend cleaning out the oranges at home before your trip. Keep orange bowls in a bag in a cooler so they stay fresh.

To clean the orange cut off the top of the orange, two fingers width below the top point. The end of the orange that has the biggest bump is the best side to cut off. Next, use your spoon to remove the fruit from the inside (kinda like cleaning out a pumpkin before carving). Be sure not to puncture the membrane of the oranges. Collect fruit and juice in bowl and use to make juice. Keep orange lids, as you will need these for cooking!
Brownies
Safely build a fire that abides by all local safety warnings.

Empty brownie mix and yogurt into Ziplock bag. Seal bag. Use your hands to combine ingredients within bag. Gently massage ingredients until everything is thoroughly mixed together. (Get kids involved, let them help mush brownie mix)

Place each orange in the center of a sheet of aluminum foil. Remove orange lid.

Use your sharp knife to slice off small corner of Ziplock bag. Use as a pastry bag to empty mix into orange cups. Fill orange cups half way with brownie mix. The mix should stop 2 fingers width below the cut in the orange, as the brownie mix will greatly expand during cooking.

Put lid back on orange cup. Bring aluminum foil up sides of orange (imagine a coin purse with an opening left at the top).

Place oranges onto fires hot coals, with aluminum opening at the top. Surround with more coals, and let cook for 20 minutes.

After 20 minutes check by opening aluminum foil and removing orange top. Brownie mix is ready when it has pours and has transformed from liquid to spongy cake. Check with spoon to make sure center is thoroughly cooked. If brownie is still liquid, keep in fire and remove when ready.

When brownie is thoroughly cooked, remove from fire and let cool for 5-10 minutes.

Remove orange lid, grab your spoon and dig in!
Clean Up
One of the best parts about this recipe is that when you're done eating, all you have to do is throw your orange peel and aluminum into a proper trash area, wipe down your prep area, throw out your Ziplock pastry bag, and you're all done! Always be sure to double check your prep and eating area and make sure you leave no trace behind.
Recipe Notes
I used Trader Joe's brownie mix because all you have to add is yogurt. You can substitute for any brownie mix of your choice, but just remember that many other mixes require oil and eggs, which can be broken when traveling. Take the proper precautions to protect your eggs!