No Cook Tacos
Looking for a simple easy to make meal thats packed with familiar flavors? Check out these No Cook Tacos featuring jerky.  No cook is a simple style of eating that is frequently used by distance travelers who are seeking ways to save time and shed weight.  If you're looking for a quick meal or a last minute camping dinner No Cook Tacos are a great way to go!
Simple no cook tacos
The best jerky for a No Cook Taco is tender and easy to tear apart.  Avoid over-processed jerkys that are dry and difficult to chew.  The reason jerky is the main ingredient of a No Cook Taco is because this backcountry staple can last weeks without refrigeration and brings a lot of big, meaty flavors to this dish.  For a vegetarian option try bean and cheese tacos or use a vegan protein such as Primal Strips.
The best tortillas
Taco tortillas last unrefrigerated one week after the expiration date.  For many brands sold on a shelf, this means you have anywhere from 2 weeks to 45 days to eat before they go bad.  Flour tortillas tend to work best, since corn ones fall apart when bouncing around in a pack.
Taco toppings
Beyond the meat and tortillas, there are lots of great combinations to add to your tacos.  These are a few of our favorites:
Hard Cheese: cheese adds a nice creamy and salty element to the taco.
Chef Brian's Salsa: made with onion, cilantro, salt, pepper and lemon, Brian's salsa brings fresh, authentic street taco flavor.
B. Redi Dehydrated Salsa: great for long distance trips, easy to make and great tasting.
Avocado: this is a luxury, but it will bring a delightful creamyness to your tacos.
Save fuel, save time, and enjoy tacos anywhere with this easy to make recipe for jerky tacos: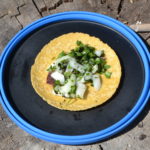 Fire Ban Tacos
If you are heading into the backcountry without a stove, or you're visiting an area with a strict fire ban, these tasty tacos will get the job done!
Ingredients
6

pieces

Soft Beef, Pork, Turkey or Salmon Jerky

(try and use jerky that pulls apart easily)

2

Flour Tortillas

1/4

cup

Shredded Hard Cheese

2

tsp

Cilantro

chopped

2

wedges

Lime

1/2

Avocado

Hot Sauce

(to taste)
Instructions
Chop cilantro and shred Jerky into small pieces

Build first taco. Take tortillas, and top with shredded jerky. Add cheese, cilantro, avocado. Squeeze lime over taco ingredients and top with your preferred amount of hot sauce.

Repeat above instructions for second taco. Eat, and enjoy!

Be sure to clean everything up, dispose of any trash in proper bins, and always leave no trace!