No Cook Tacos
Try these delicious tacos when you're trekking without a stove or traveling in an area with a strict fire ban.  'Fire Ban Tacos' are extremely easy to make, they have a long shelf life for backcountry travel, and they're lightweight.  This is a fantastic meal for many outdoor activities and a great option for no cook recipes.
Simple no cook tacos
Save fuel and enjoy tacos anywhere with this easy to make recipe for jerky tacos.  Jerky is already cooked meat that lasts without refrigeration. The key to successful 'Fire Ban Tacos' is to use a soft jerky.  You don't want overly dry meats that you have to struggle to bite through.  Try Patagonia Provisions responsibly sourced Buffalo Jerky, its very tender and has great flavor.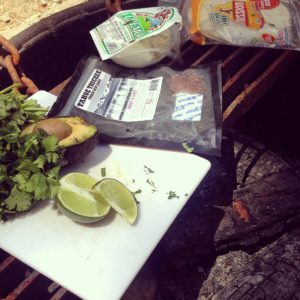 Use a flour tortilla when its cold outside, because corn tortillas fall apart if not warm.  Top Fire Ban Tacos with B.Redi Salsa's ultra lightweight authentic dehydrated salsa.
Fire Ban Tacos
If you are heading into the backcountry without a stove, or you're visiting an area with a strict fire ban, these tasty tacos will get the job done!
Ingredients
6

pieces

Soft Beef, Pork, Turkey or Salmon Jerky

(try and use jerky that pulls apart easily)

2

Flour Tortillas

1/4

cup

Shredded Hard Cheese

2

tsp

Cilantro

chopped

2

wedges

Lime

1/2

Avocado

Hot Sauce

(to taste)
Instructions
Chop cilantro and shred Jerky into small pieces

Build first taco. Take tortillas, and top with shredded jerky. Add cheese, cilantro, avocado. Squeeze lime over taco ingredients and top with your preferred amount of hot sauce.

Repeat above instructions for second taco. Eat, and enjoy!

Be sure to clean everything up, dispose of any trash in proper bins, and always leave no trace!