Backpacking Trail Tacos Recipe
Making tacos on the trail is a lot easier than you might think thanks to Chef Brian Robinson, head chef of the Sierra Club's Clair Tappaan Lodge in Lake Tahoe, CA.  His recipe for authentic, restaurant style tacos in the backcountry is as close to a mexican cantina that you can get in a remote backcountry hut.
What to cook the first night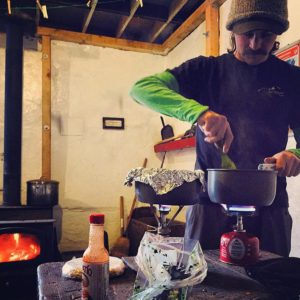 Many backpackers bring a frozen meal for the first night out on the trail.  This practice entails starting the trip with a bag of frozen food that gradually defrosts as you hike to your evening's destination.  By the time you get to camp dinner should be defrosted, and you have an easy to re-heat meal with all the comforts of home.
Wilderness tacos
Brian took this basic concept one step further with his Carnitas Tacos.  What makes this meal the perfect trail food is the versatility of the taco ingredients.  The seasoned pork meat can last 2-3 days (if stored correctly) unrefrigerated, and Brian recommends trying the carnitas with eggs for breakfast the next day, or with bread as a lunch.  The fresh salsa can also last several days without refrigeration and tastes great when you need some freshness and crunch.
Easy taco recipe
The beauty behind Brian's recipe is that it can be prepped before your trip.  If you have a hectic schedule and making a big last minute dinner is the last thing you want to do, cook your meat months before your trip and store it in your freezer.  Follow the recipe below for outstanding tacos made using a backpacking stove.
Brian's Backcountry Carnitas Tacos
Stove: 2 MSR Pocket Rocket Stoves with MSR Fuel
Servings
:
4
hungry people
Ingredients
Carnitas Ingredients
1

tsp

Corriander

2

tsp

Dark Chili Powder

1

tbsp

Cumin

1

tbsp

Hungarian Paprika

1

tbsp

Garlic Powder

1/2

cup

Vegetable Oil

1/4

cup

Soy Sauce

4/12

lbs

Bone-In Pork Shoulder

4

Tortillas

per person
Salsa Ingredients
1

bunch

Cilantro

Chopped

1

White Onion

Chopped

1

Lemon

Juiced

1

pinch

Salt

1

pinch

Pepper
Instructions
Before your trip, prep meat and freeze.
Cut Pork Shoulder into cubes, and place in a large bowl with extra room for mixing

Dump Oil, Soy Sauce, Coriander, Chili Powder, Paprika, Garlic Powder and Cumin into bowl with pork, and stir until ingredients are mixed to coat pork.

Turn stove on medium-high and heat a large pan or skillet over stove. When pan is warm pour seasoned pork into pan. No need to add extra oil to the pan, the oil on the pork will act as a lubricant.

Stir pork and cook until meat is thoroughly cooked through. Check by cutting the largest piece of meat in the pot, if the insides are still pink, keep cooking.

When meat is cooked, turn off stove and place cooked meat into a pot or large dish, set aside and let cool.

While meat is cooling make salsa! Chop onion and cilantro and mix together in a bowl.

Squeeze lemon and add pitches of salt and pepper to onion and cilantro, and stir together. When ingredients are mixed together, empty contents into a sealable plastic bag. Make sure everything is sealed tight and ready for non-spill travel.

After pork is cooled to room temperature place in a sealable plastic bag and freeze. When you leave for your trip put frozen meat and salsa into your pack, and don't forget to bring your favorite hot sauce!
Making Tacos at Camp
The first night on the trail is when you want to cook up this meal. When you reach your destination or when its dinner time, unpack your meat, salsa, stove and cooking utensils and get cooking!

For quick and efficient cooking use two stoves. If you only have one stove, do this next tip in two steps...

In one pot add 1 cup water and cover stove with aluminum foil. Lightly poke foil with 5-10 holes. Turn stove on high. Place up to 3 tortillas on foil, cover with lid and let steam for 2 mins.

Place pot on second stove and turn on medium. Empty contents of pork bag into pot and cover with lid. Let cook for 5-10 mins, stirring occasionally. When meat is hot turn off stove and serve.

Use a hand, towel, pot lid or plate to hold tortilla. Top with pork, cilantro and onion salsa, and hot sauce. Devour!
Clean Up
Brian recruits his dog, Bella, to help with the clean up. Bella is in charge of making sure the pots are licked clean. Even if you don't have a backcountry pet, it is your responsibility to leave your cooking area spotless. Make sure you pack out all your supplies and clean any scraps that fall when cooking. Always leave your backcountry cooking area pristine!